Four Men Arrested In Australia Over Alleged Aeroplane Terrorist Plot
"There was intention and there was quite possibly capability."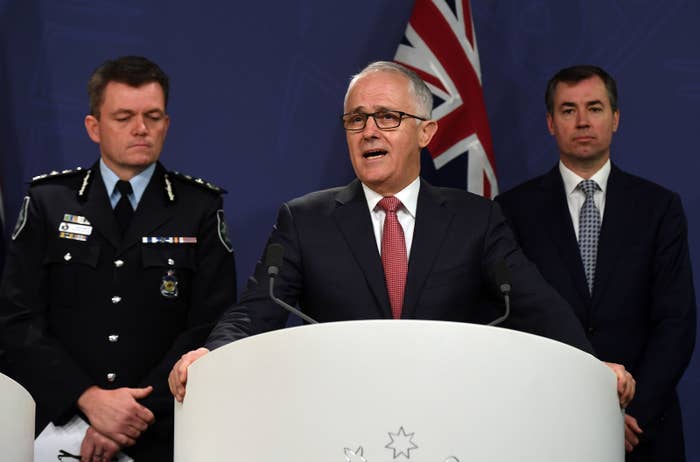 Four men were arrested in counter-terrorism raids in Sydney Saturday night after Australian security and law enforcement agencies uncovered a suspected plot to bring down an aeroplane.
In recent days, a joint counter-terrorism team consisting of the Australian Security Intelligence Organisation, New South Wales police, the Australian Federal Police and the New South Wales Crime Commission received information that people were planning an attack with an improved explosive device.
"At this time, we don't have a great deal of information on the specific attack, location, date and time," said Australian Federal Police commissioner Andrew Colvin in a press conference on Sunday morning.

"However, we are investigating information suggesting the aviation industry was a potential target of this attack."
Colvin said the threat was credible. "There was intention and there was quite possibly capability," he said.
The investigation into the suspected plot is ongoing. Four people are in custody but charges have not yet been laid.

Prime Minister Malcolm Turnbull said extra airport security measures were in place at domestic and international terminals at all major airports in Australia, and travellers should expect delays.
"Some of the measures will be obvious to the country, some will not be," he said. "Travellers should be prepared for additional scrutiny at screening points."
Turnbull said travellers should arrive at terminals at least two hours before flights, limit carry on and check baggage, and look to airlines for further advice on the effect of the measures.

The arrests were made on Saturday evening, with searches occurring in the Sydney suburbs of Lakemba, Surry Hills, Wiley Park and Punchbowl.
Police seized several items of interest in the searches, which are expected to continue for "many hours, if not days", Colvin said.
UPDATE
A magistrate approved an extension of the time the four men can be held in custody without being charged on Sunday evening, the AFP said in a statement.
The extension was granted due to the complex nature of terrorism investigations and cannot exceed seven days.
"The AFP must satisfy the judicial officer before whom the application is made that this specified time is reasonable and necessary," the statement said.
"It should be noted that the presumption of innocence applies to these persons."