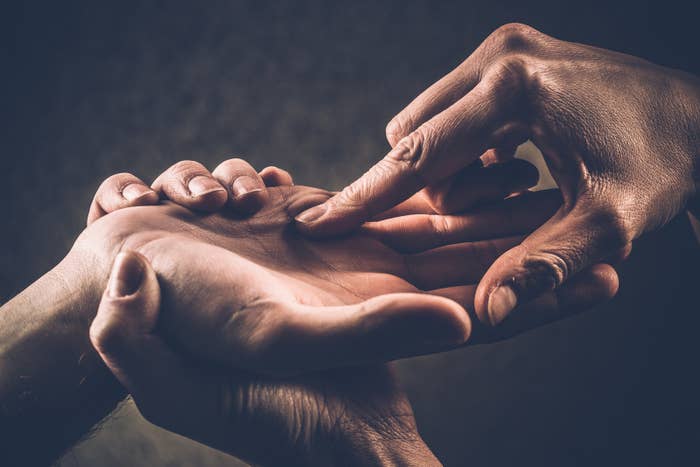 A palm reader charged with sexually assaulting a 14-year-old girl admitted to police that he had sexual intercourse with the teenager and said he thought she was 19, a court has heard.

Arjun Muniyappa, 31, was charged on Monday with three counts of aggravated sexual assault and two counts of sexually touching a child aged under 16.
The Indian national was arrested at Sydney International Airport on Monday evening as he tried to board a flight to Singapore, police said.
Police will allege in court he lured the 14-year-old girl into an astrology business on Liverpool's Macquarie Street, where he worked as a palm reader, by offering to tell her fortune for free.
He then allegedly sexually assaulted her on the premises.
Muniyappa will remain in custody after being denied bail in Liverpool Local Court on Wednesday afternoon.

His lawyer Katerina Chandler told Liverpool Local Court that Muniyappa had admitted during a police interview to having sexual intercourse with the girl.
"He told the police it was in fact consented to and the complainant told him she was 19 years of age," Chandler said.

Chandler argued for Muniyappa to be released on bail on the basis of his visa status, family and health.
She said a "significant factor" was Muniyappa's bridging visa status in Australia and his "strong fear for his own personal safety" in India due to being heavily involved in political activity and elections there.
"He tells me he can't go back to India," Chandler said.
"And yet he purchased a one way ticket to India?" asked the magistrate Joanne Keogh.
"Yes," Chandler replied, adding that was what police said, and that she did not know what Muniyappa's intentions were upon arriving there.
Chandler said Muniyappa was the sole provider for his wife and two young children and only made $1,500 a month working as a palm reader, $1,000 of which went to rent.
Muniyappa and his wife married in India in 2013 and moved to Australia three years ago, residing in the Western Sydney suburb of Fairfield, the court heard. His young family were present in court for the bail hearing.
Chandler also said Muniyappa was suffering from anxiety, and that injuries to his shoulder and hips had been exacerbated in custody.
Police prosecutor Simon Enderwick told the court there was a "phenomenally strong prosecution case" against Muniyappa, citing forensic evidence and the admissions in the police interview.

He faces charges with a maximum sentence of 20 years and, if convicted, would be sentenced to a longer period than he would spend on remand waiting for trial, Enderwick said.
As she refused bail, Keogh noted Muniyappa was facing "extremely serious offences that involve a child".

"It would appear in the circumstances this is not a weak case," Keogh said. "The touching and sexual intercourse did occur on his own admission."

She said the conditions cited by Muniyappa – his visa status, family and health – were not "exceptional or extraordinary" and the types of things many people would struggle with.

"That's not an unusual characteristic for any defendant who's before the court," she said.