The Australian Advertising Standards Board (ASB) has dismissed multiple complaints from extremely angry florists who took offence at an ad for chicken chain Red Rooster that implied bouquets of flowers are a "rip off".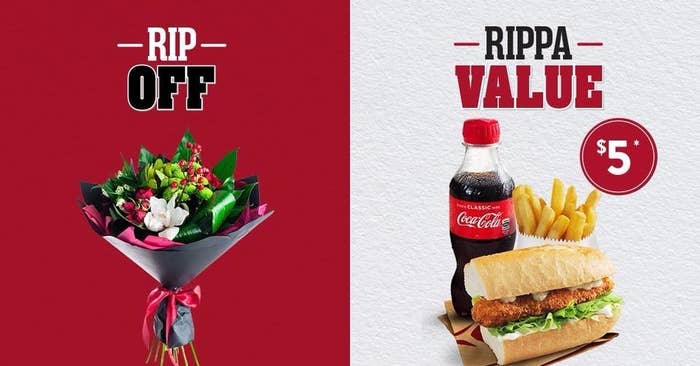 The advertisement was posted on Red Rooster's Facebook and Instagram pages on November 15 last year – and immediately elicited a furious response from several florists.
It shows a bouquet of flowers under the words "Rip Off" and a chicken roll, chips and a small Coke under the words "Rippa Value" and a $5 sign.

Around 30 complaints were submitted to the ASB, mostly from people who identified themselves as florists, slamming the ad as "misleading", "vilifying" and "grossly unfair", and said it made a generally absurd comparison between fast food and flowers.
Here are some of the complaints submitted to the ASB:
"Red Rooster is harming the floristry industry by labelling a bouquet a 'rip off'. They are making an inappropriate comparison as I don't think sending someone a Red Rooster value meal would be a suitable or respectful alternative to flowers for certain occasions, eg a bereavement."
"The comparison to a gift item is not relevant, you don't eat flowers to sustain life as you do food! Different products that do different things. Obviously an advert to provoke the public which is working unfortunately! The bunch of flowers they picture could never be bought for $5.00 and they are not comparing apples with apples. It's much the same as saying a diamond ring is a rip off compared to food, not correct and not relevant!"

"I own a florist. I am a florist. I work 60 hours a week to keep my small business going. I don't need to be denegrated slanderously by Red Rooster."
"IT IS OFFENSIVE TO THE FLORAL INDUSTRY THAT RED ROOSTER IS SAYING THAT BUNCHES OF FLOWERS IS A RIP OFF. FLORISTS TRY TO PROVIDE VALUE FOR MONEY AND NOT BE PORTRAYED BY ANOTHER INDUSTRY AS A RIP OFF."

"I believe this is denigrating to the profession of floristry and claims something unfounded. I don't believe Red Rooster should be able to label all florists 'rip offs' and their comparison is based on what? It's impossible to compare one to the other? They aren't even plausibly linked."
"I am a florist and am deeply offended by this type of claim. We as florists spend a lot of time and energy and love in creating our products. Whether something is a rip off or of value is in the eye of the beholder. I personally feel that this is an attack on florists and its not fair."
"Falsely Slandering an entire industry to attempt to make their product look better."

"This is a baseless claim that discredits the flower industry carte blanche. I find it offensive & assert that this is false advertising. It makes a claim that is not able to be substantiated & it directly damages the good will of the flower industry and as such, my business. It is grossly unfair & unjust."
In a response to the ASB, Red Rooster contended the "light-hearted" ad was simply meant to say the meal was cheap in comparison with "luxury goods that are generally understood by the public to be relatively expensive — in this case, a bouquet of flowers".
"The advertisement was not intended to offend or upset florists," the response said.

It noted the ad was part of a series that featured other "luxury goods" compared to Red Rooster meals, including lobster, a gold watch, smashed avocado on toast, an engagement ring and a bottle of champagne.

Red Rooster took down the ad two days after it was posted after a torrent of complaints from florists.
The chain argued in its response that a reasonable person viewing the ad would see the comparison as "an exaggeration to make the advertisement entertaining and engaging, rather than a serious literal comment about the price of floral bouquets per se".
It also noted that the price of a bouquet of flowers on the website Interflora.com.au ranged from $50-$160.
In a decision handed down on December 6, the ASB found in favour of Red Rooster, saying the ad would likely be taken as a "light hearted humorous play on words".
"The Board considered that the products are not replacements for each other and that for the general audience the advertisement would be taken as humourous and not as a criticism of flowers or florists or a call to action to avoid buying flowers," the decision read.
"The Board considered that the advertisement does not reflect the florist industry in a negative or demeaning manner nor that it implied that florists were overcharging for their services, but simply that a quick service meal is a more affordable choice."
The ASB also found that the ad did not vilify nor discriminate against florists.