Evie Amati Has Been Found Guilty Of Attempted Murder Over The Sydney Axe Attack
Evie Amati, dressed in prison greens, did not react as the jury delivered their verdict — but as they left the courtroom, she lowered her head and started to cry.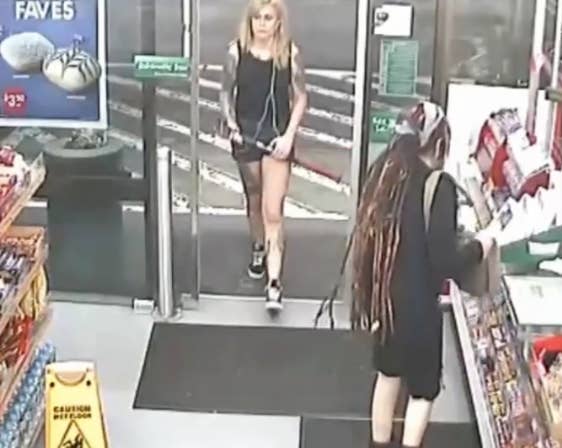 Sydney woman Evie Amati has been found guilty of wounding with intent to murder after she attacked strangers with an axe at a convenience store in the early hours of Jan. 7, 2017.

The verdict came after a three-week trial in the New South Wales District Court, focusing on whether Amati was mentally ill at the time she launched the attack at a 7-Eleven store in the inner Sydney suburb of Enmore.
The blows Amati dealt in the store to customers Ben Rimmer and Sharon Hacker caused the pair serious injuries and were captured in graphic CCTV footage released by the court last month.
A third man, Shane Redwood, narrowly avoided getting hit on the street outside by using his backpack as a shield, the court heard. All three victims were strangers to Amati.
A jury of eight men and four women found Amati guilty of wounding Rimmer and causing grievous bodily harm to Hacker with intent to murder them, and of attempting to wound Shane Redwood, also intending to murder him.
The jury had deliberated for two days.
The crime of wounding or causing grievous bodily harm to a person with the intention of murdering them carries a maximum sentence of 25 years in prison.
Rimmer and supporters were in court to hear the verdict, along with Amati's mother and two of her supporters.
Amati, wearing prison greens in the dock, did not react as the jury foreperson delivered the verdict. But after the jury was discharged by judge Mark Williams and started to leave the courtroom, Amati lowered her head and started to cry.
Outside court, Hacker — who narrowly missed the jury delivering its verdict — said she hoped Amati would get help.
"To be honest I really hope she is able to have some rehabilitation, because ultimately that's what justice is about — to become better people than they could be at the time," Hacker said.
Amati, 26, had pleaded not guilty to the charges on the basis of mental illness. Her barrister Charles Waterstreet told the court there was no doubt Amati's body carried out the axe attack, but that she had been possessed by voices in her head, telling her to "kill, kill".

The complicated trial traversed several issues, including gender dysphoria and discrimination faced by transgender people; mental health and psychosis; and the effect had on Amati by a complex combination of seven different substances in her blood at the time of the attack, including alcohol, cannabis, amphetamines, antidepressants, and hormone medication.
Prosecutors argued that Amati was angry and upset after she felt a Tinder date had rejected her because she is transgender and, disinhibited by illegal drugs and alcohol, she carried out the attack as a manifestation of her homicidal fantasies.
In his closing argument on Monday, Crown prosecutor Daniel McMahon said Amati's intent to kill was clear not just from her actions — swinging a 4.5-pound axe at people with force — but also by messages about killing people she had sent to the woman she met on Tinder and a Facebook status she posted just 25 minutes before the attack.
He read the Facebook post out to the court, noting its perfect grammar: "Humans are only able to destroy, to hate. So that is what I shall do."
"That is what she then did," McMahon said to the jury, "beginning with Mr Rimmer at about 2:19am. Even in a mentally compromised state, if that is even true, a person has the capacity to appreciate the natural consequences of their actions. Hit a person in the head forcefully with an axe, and barring some unusually thick dreadlocks, they will probably die."
Hacker's dreadlocks are thought to have cushioned the blow to the back of her head — but the base of her skull was still shattered, and she struggles to sleep for more than three hours at a time due to continuing nerve pain, she told the court. She was at the 7-Eleven to buy some milk for a coffee.
Rimmer, who had stopped for a pie on his way home from a night out, suffered a broken nose, eye socket, and cheek from the axe blow to his head and underwent a five-hour surgery to reconstruct his face.
McMahon told the jury Amati had acted out of a "deep-seated anger with the world" that was connected to her feelings of rejection and discrimination for being transgender.
He suggested she had been untruthful in her evidence about experiencing psychotic symptoms that night, including hearing voices and feeling her vision narrow.

"Was she experiencing any of those things at all, or was it plain old anger?" McMahon asked the jury.
He said Amati had been cognisant enough to send a message to a man in Queensland inquiring about a job at 1:35am — a time she said she was experiencing psychotic symptoms. She had also hit play on her favourite song, "Flatline" by Periphery, at 2:17am, two minutes before she entered the store, McMahon told the court.
But Amati, who spent about two days on the witness stand, told the court she had no memory of anything that transpired in the 7-Eleven.
She told the court she had spent the night of the attack with a woman she had met on Tinder and her friends, before heading home.
Amati said her last memory from that night was of sitting on her balcony smoking cannabis and crying, before a voice in her head started telling her to kill people and a "sinister smile" was plastered across her face that she couldn't control.

Her mind then went into a "blackout" and the next thing she remembers is waking up shackled to a hospital bed surrounded by nurses and police, she told the court.
Crown psychiatrist Dr Yvonne Skinner gave evidence there was nothing in the material she viewed — including medical history, witness statements, and CCTV footage — that indicated Amati was experiencing psychosis at the time of the attack.
But defence psychiatrist Professor David Greenberg testified that Amati was in a drug-induced psychosis at the time of the attack, which arose from a major depressive disorder caused by the medication she was taking.
Amati said on the stand that she did not feel her worsening depression in the years leading up to the attack was solely due to her gender transition medication. "I think it is a number of factors, social and chemical," she said.
Waterstreet urged the jury to take Amati's "grace and good character" into account when assessing whether she intended to commit the crimes.
"The Crown's answer? She was angry," said Waterstreet. "It doesn't explain what she did. It doesn't explain the words that she posted. It doesn't explain the phrases that came onto the Facebook messenger. That's not Evie Amati. That's someone else."
Amati will face a sentencing hearing on Sept. 12.