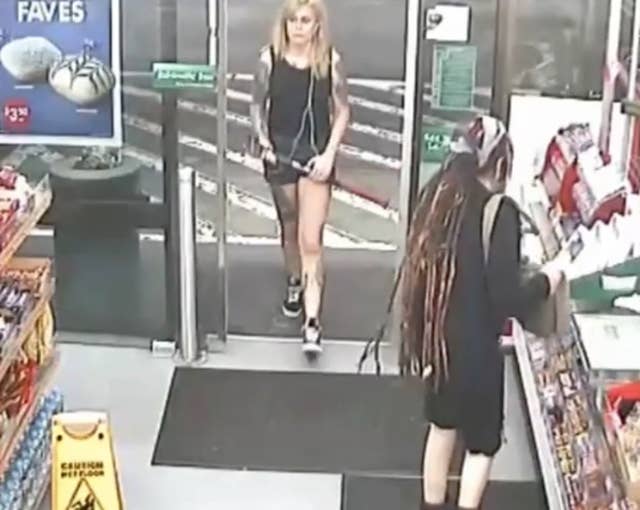 Accused axe attacker Evie Amati says her last memory before she hit customers with an axe at a convenience store was a voice telling her to kill people and "start the rise of hell on Earth", and having a "sinister smile" plastered across her face that she couldn't control.
The next thing she remembers is waking up shackled to a hospital bed, surrounded by nurses and police, a court heard on Thursday.

Amati, 26, took the stand on the eighth day of her trial in the New South Wales District Court, where she publicly gave her version of events for the first time since the incident at a 7-Eleven store in the inner Sydney suburb of Enmore in the early hours of January 7, 2017.

Customers Ben Rimmer and Sharon Hacker were struck with an axe at the store and suffered injuries from the blows, which were captured in graphic CCTV footage. A third man, Shane Redwood, narrowly avoided getting hit on the street outside by using his backpack as a shield, the court heard last week. All three victims were strangers to Amati.
Amati has pleaded not guilty to six charges, including two of wounding or causing grievous bodily harm with intent to murder, with her barrister arguing she was experiencing a mental illness at the time.
She told the court on Thursday that she has no recollection of being at the 7-Eleven, with her memory in a "black out" from the time she was smoking cannabis on her balcony before the incident, until she woke up in hospital.
On the night of the attack, Amati was heading to the Burdekin Hotel in Surry Hills with a carload of people she had met that night, including a woman she had met on Tinder.

Amati, who is a transgender woman, said she started feeling extremely anxious in the car after one of the women said to her something along the lines of "You're so beautiful" or "You're so brave".
"It was completely unprompted, there wasn't any context to what she said," Amati said. "To me it struck me that she had identified me as trans and in one respect or another she admired me for my strength, or whatever. My mind instantly went to the fact that obviously they had talked about it while I was in the bathroom and came to that conclusion together. I instantly started feeling extremely anxious in the car."
Amati said she started to "shut down" and felt like she was rapidly entering into a depressive episode in the car. She said she brushed the leg of one of the other women in the car and felt that the woman "recoiled".
"Not as a natural readjustment, but as if she was burnt," Amati said. "As if she's touched a leper, someone who's infected."
Amati asked the driver to stop the car so she could get out and go home. On the walk back to her house, she said, she started to hear whispers, her vision narrowed, and dark thoughts entered her mind.
"I felt terrible. I felt like I was sliding into one of my depressive episodes. I felt like, you know, I was returning quickly to that place where I didn't want to be here anymore. I just wanted to die. I had nothing to live for because these interactions would keep happening over and over again and I would be defined by being trans for the rest of my life. That's all I'd ever be."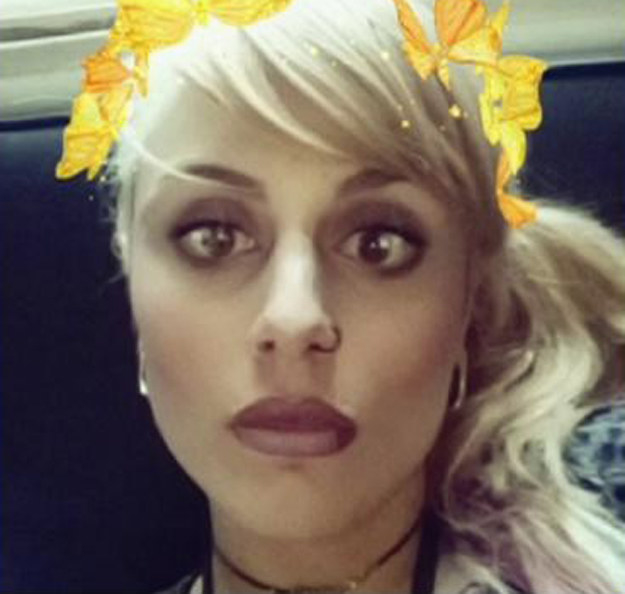 Amati said the next thing she remembers was sitting on the balcony of her inner west share house, rocking back and forth and smoking cannabis, "trying to calm myself down, trying to anaesthetise myself so I would just fall asleep".

She said she was listening to her favourite song "Flatline" by American band Periphery.
Her barrister Charles Waterstreet quoted lyrics from the song in court, saying: "Send an angel to pull me from the hell below / This weight is far too much to own and this body doesn't feel like home."
At hearing those words in court, Amati started nodding before dissolving into tears and burying her face in a tissue.
"I think that's my favourite line, yeah," she said, adding "I just wanted someone to come and stroke my head and tell me everything would be OK."
The first line of the song is "Your eyes judge like a jury locked in a trial", the court heard.
While on the balcony, Amati said, "the voices became louder, they stopped being whispers and started being actual words". She started to see violent visions she had previously had about attempting suicide and became "really teary", the court heard.
After that, Amati said she has just one more memory of that evening.
"That voice that had been telling me to kill, maim, inflict pain on people and start the rise of hell on Earth," she said. "I recall everything going quiet and feeling that voice come inside and I remember that smile. The smile that was not mine. A sinister smile that plastered my face that I couldn't control, and I black out."
Amati said she has no memory of anything that happened at the 7-Eleven, or her subsequent arrest. She denied the suggestion, based on evidence from ambulance officers, that she had been faking unconsciousness after the attack.
"I don't recall a single thing that happened until I woke up shackled to a bed, surrounded by a nurse and police," she said.

"Some time later, I was called into a room, escorted by two police officers, two medical professionals. I didn't know what their qualifications were but they started asking me questions. They told me that anything I said would be handed to the police. When they said that it started indicating to me that something very very bad had happened. If it had been a suicide attempt there wouldn't be that kind of scrutiny."
Amati said she found out what she had done gradually, through the questions and comments of custodial officers, a news report she saw at Silverwater Women's Prison, and from a psychiatrist.
"When I learnt about that, it was the worst day of my life," she said. "I was so appalled that I could have even considered inflicting violence on another person. To think I'd put other people's lives in danger made me feel so ashamed of myself. They were innocent. They did nothing to deserve what happened.
"If I could take every one of those blows and put it on myself I would."

Amati said she had started drafting an apology to Rimmer, Hacker and Redwood, but received legal advice telling her not to.
Amati had a substance called MDA, which is known as "the love drug" and increases emotional bonding, in her blood at the time of the attack, as well as alcohol, cannabis, anti-depressants and gender transition hormone medication, the court heard last week.

She told the court she thought she had been taking MDMA, commonly known as ecstasy, which she had taken before and found "extremely pleasant" and a way of coping with her social anxiety.
Earlier this week, the court heard Amati had been admitted to hospital three or four times in 2016, including one instance where she attempted to jump onto railway tracks and was taken to hospital by police, and had a long history of self-harm, suicidal ideation and suicide attempts.
Prosecutors allege that Amati's actions at the 7-Eleven were her acting out homicidal fantasies she had previously had after she was disinhibited by the mix of substances she had taken that night.
But defence psychiatrists are expected to testify that she was suffering from psychosis and the substances had the effect of a "toxic delirium" on her "fragile mind".
On the witness stand, Amati described the "homicidal fantasies" as visions that were separate from her conscious thoughts. They often occurred on the bus on the way to her job as a union organiser, she said.
"I'd look up and I'd see my hands reaching up and taking the person's head in front of me and twisting it," she said.
"When I started seeing those things I was so scared and also ashamed. It happened a few times before I got the courage to tell someone about it because it was so contrary to everything I've ever been and I didn't know how to handle it. I was so scared, I was disgusted by it."
The trial continues before Judge Mark Williams.
If you or someone you know is experiencing a crisis and needs help, contact Lifeline on 13 11 14.