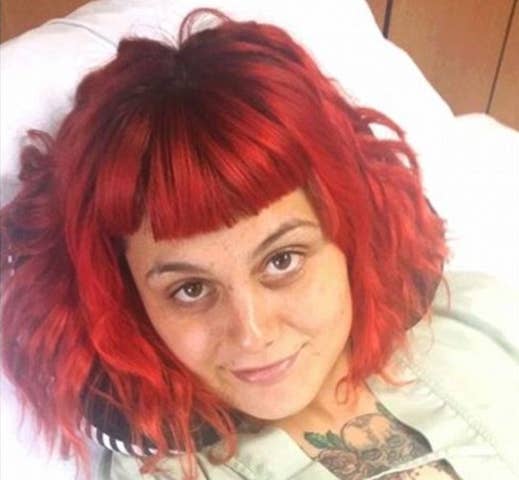 A young woman sent a message on Facebook saying "one day I'm going to kill a lot of people" an hour before she walked into a convenience store and swung an axe at unsuspecting customers, one of whom was semi-protected by her thick dreadlocks, a court has heard.

Evie Amati, 26, is on trial in the New South Wales District Court over the incident, which took place at a 7-Eleven convenience store in the inner Sydney suburb of Enmore in the early hours of January 7, 2017.
A man and a woman were struck with the axe and suffered injuries, and a third man narrowly avoided getting hit, the court heard.
Amati has pleaded not guilty to six charges, including two of wounding or causing grievous bodily harm with intent to murder, with her barrister arguing she was experiencing a mental illness at the time.
Prosecutor Daniel McMahon told the court on Monday Amati had entered the convenience store at 2:19am after a night out drinking and taking drugs with a group of women, including one she had met on Tinder.
At some point in the night, Amati left to go home, but had a "heated" exchange over Facebook Messenger with the woman between 1am and 2am, which McMahon described as being about "Amati's perception that the woman had an issue with her or found her unattractive because she was transgender".
Amati wrote "Most people deserve to die. I hate people" and "One day, I'm going to kill a lot of people" as part of this conversation, the court heard.
After blocking the woman on Facebook, Amati posted a status: "Humans are only able to destroy, to hate. So that is what I shall do."
Twenty-four minutes later, she walked into the 7-Eleven carrying the 4.5-pound axe, which she had purchased a month earlier, and with an 18-centimetre kitchen knife in her back pocket, McMahon said.
Prosecutors believe Amati was listening to the song "Flatline" by US progressive metal band Periphery at the time. "This song has some pretty dark themes," McMahon said.
He laid out what happened in the 7-Eleven according to the prosecution, saying that Amati had entered the store and spoken briefly to a man called Benjamin Rimmer.
CCTV footage shows Amati swinging the axe at Rimmer's head after a woman named Sharon Hacker finished making her purchase and left the checkout, McMahon said.
"The axe penetrates through his skin, through his soft tissue and into the bone, fracturing his nasal bone, eye socket, and his cheekbone," McMahon said. "The wound, which was over 10 centimetres and went from the bridge of his nose to the upper left eyelid, later required surgical intervention."
Amati, wearing a yellow shirt, black pants, and large white earrings, looked distressed as the court heard details of Rimmer's injuries, and broke down sobbing at several points throughout the day.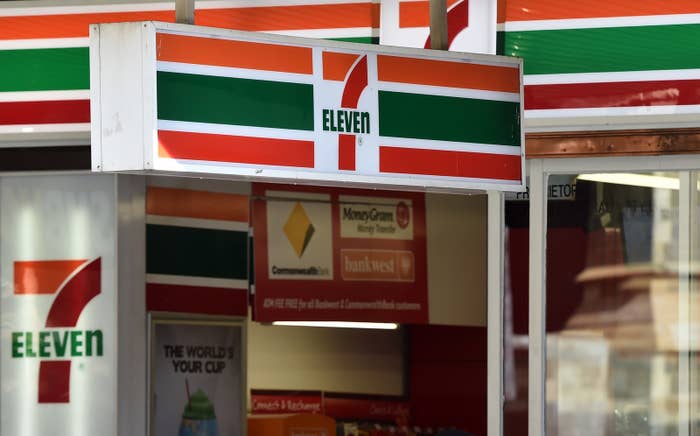 McMahon continued that Amati then quickly turned her attention to Hacker, who had her back turned as she walked out of the store and was "apparently unaware" of what had just transpired.

Amati delivered a "forceful blow" to the back of Hacker's head, causing her to fall to the ground, the court heard. She then raised the axe and attempted to bring it down on Hacker again, but missed and cut the shoulder strap of her bag instead, McMahon said.
Hacker suffered a fractured skull – but, McMahon said, was somewhat protected by her thick dreadlocks.
"As you will see from the CCTV, Miss Hacker was sporting a very thick bundle of dreadlocks running down the back of her head and neck at the time, which thankfully cushioned the impact of the blow somewhat," he said.
McMahon described Amati then stepping over Hacker and walking towards the road, throwing away her earphones and the 18cm knife in her back pocket as she went.
At this point, a man named Shane Redwood was walking past and had seen at least part of what happened at the 7-Eleven. Anticipating what was to come, he took his backpack off his back and used it block Amati's two attempts to hit him with the axe, the court heard.
The second swing was forceful enough to knock the backpack out of Redwood's hands and cause pain to one of his thumbs, McMahon said. Redwood then fled across the road and Amati didn't follow him.
Amati's barrister Charles Waterstreet told the court she was experiencing a mental illness at the time of the attack and should not be held legally responsible for her actions.

It is clearly Amati's body in the CCTV footage, Waterstreet said, but the question is "whether the mind, brain, or soul of Evie Amati holds any legal or moral responsibility for the body's actions that night".

He said she was in a state of psychosis caused by her mental illness and there was a "toxic mixture on a fragile mind" of hormone medication from her gender transition, cannabis, amphetamines, and alcohol.
The court would hear expert testimony that she was in a "toxic delirium" at the time of the attack, he said.
"It's not every day you're at a 7-Eleven and a beautiful young woman comes in with an axe and goes on to hit three people... You might think something has happened to the mind of Evie Amati."

Waterstreet described Amati as a woman of "brilliant" intelligence who achieved an ATAR (Australia's university admission ranking) of 99.4 out of 100 when she completed school in 2009 in Perth. She moved to Sydney in 2010 and quickly obtained a job at a union, which she held for seven years, until the 7-Eleven incident.

"This is a woman of super intelligence. Not an axe murderer, you might think," he said.
In the years before the attack, Amati's mental health worsened, Waterstreet said. She attempted suicide and presented at hospital a number of times.
"For relief from the excruciating pain, both physical [from gender reassignment surgery recovery] and psychic, she was also taking cannabis. She took cannabis as a pain reliever, as a sleeper," Waterstreet told the court.

"During the course of 2016, her cannabis use started to grow. But one thing she never used – ever – was amphetamine. Or methylamphetamine. She had taken ecstasy from time to time, because that had a calming effect on her. But she was dead set against any amphetamine."
He said that on the night of the axe attack, Amati thought she had taken MDMA or ecstasy, a drug she had taken before, but it was in fact the amphetamine MDA.
Waterstreet also said the purchase of the axe was "completely and utterly innocent".

"Yes, she did buy an axe on December 3. And she bought the axe on December 3 to get rid of a couch that couldn't be got out by the size of the door," he said.

"She ordered through Marrickville Local Council to pick up the remnants of the couch as special pick-up."
McMahon told the court Amati had messaged a friend after purchasing the axe, saying: "OMG I just destroyed an old couch with a new axe. It was incredibly satisfying but gives me ideas haha."
This message was a joke, Waterstreet said.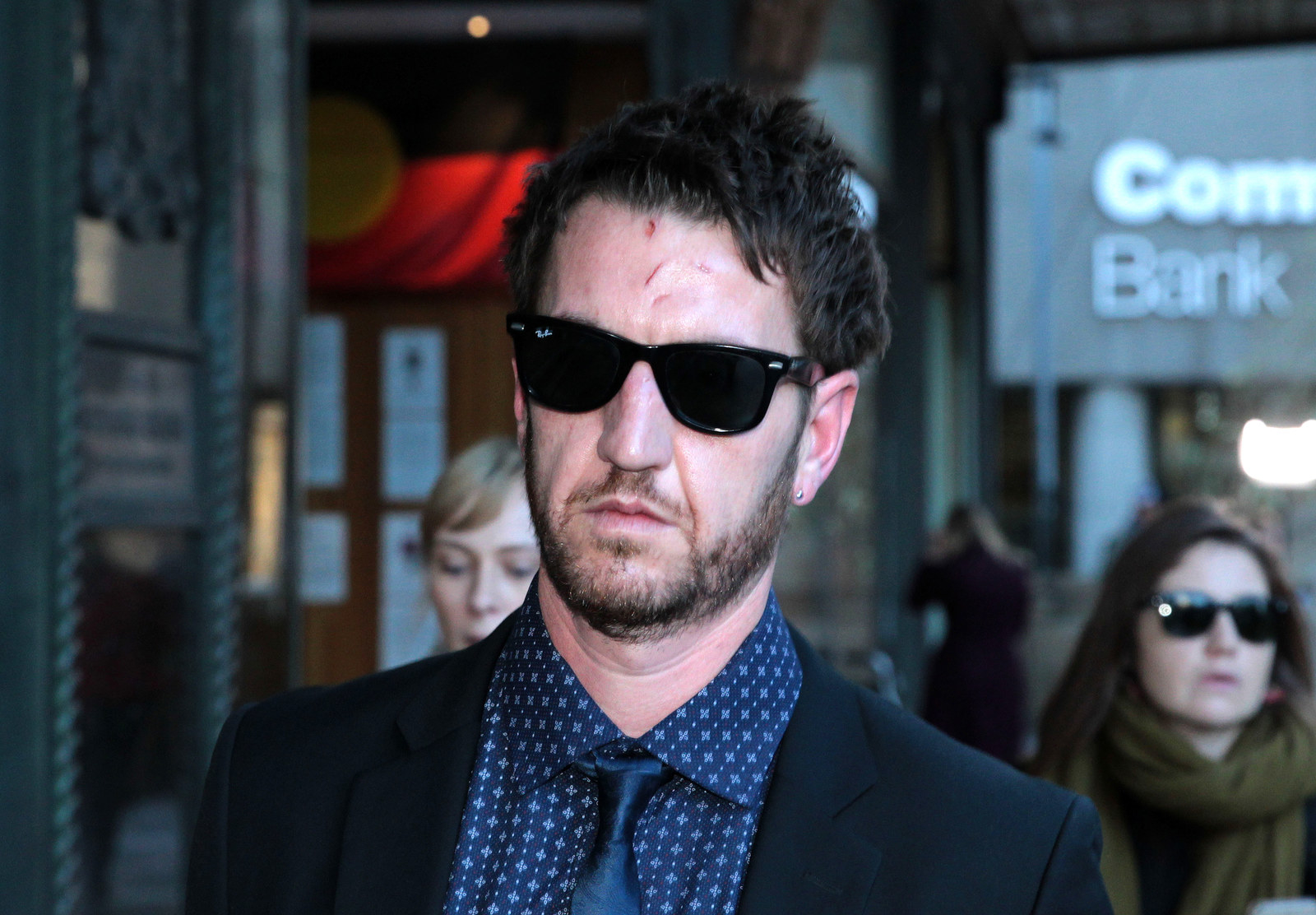 After the opening arguments from McMahon and Waterstreet, Benjamin Rimmer took the stand.

He told the court he was at the 7-Eleven buying something to eat after a night out when he saw Amati with the axe.
He had an "ill feeling" but wasn't immediately alarmed, he told the court.

"Something wasn't right," he said. "I remember thinking it was a prop, someone had left from a fancy dress party or something."
He doesn't remember the conversation others saw him having with Amati. He said he turned away from her, and then he was struck with the axe.
He described it as "like being king hit".
"It knocked me down. It was full swing. Out of the blue," he said. "Then I stood up and all the blood, bleeding profusely, it wouldn't stop. And that's when I started to panic. I thought I would bleed out."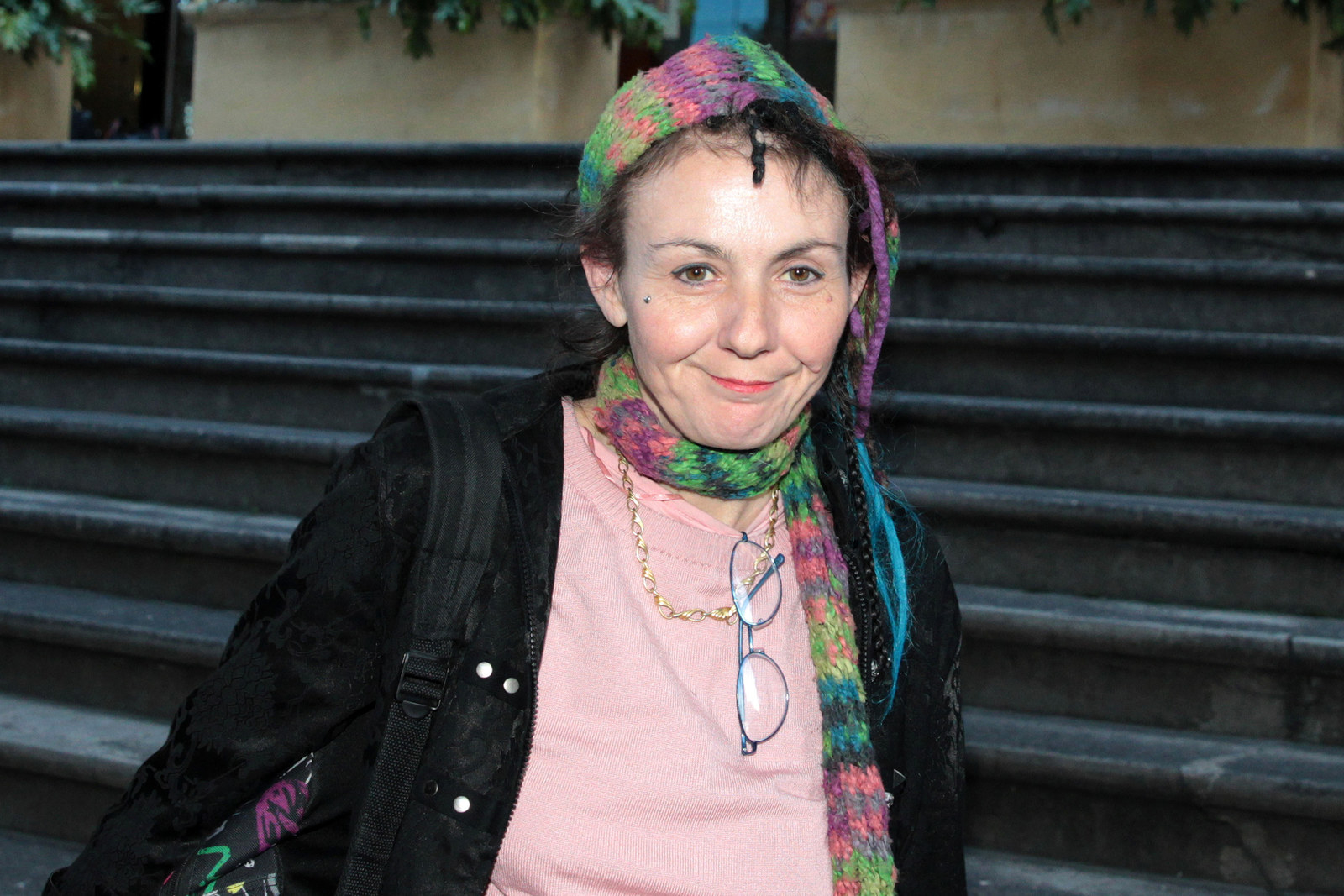 Sharon Hacker told the court she was at the 7-Eleven at 2am because she had to clean a number of fish tanks before catching a flight later that day.

"I woke up because I had a flight to catch later that day and I had a lot to do in preparation for that flight, including clean seven fish tanks, and I needed caffeine in order to keep myself awake in order to do that," she said.
"I went to the fridge and there was no milk, so I made the decision to walk down to the road to the 7-Eleven and get it there."

She said she saw Rimmer talking to Amati – "they were engaged in some sort of affable discourse, it seemed quite friendly" – before heading to the counter to pay for the milk, and leaving the store.

"As I did, I remember hearing a sound like an 'oomph' sort of sound, hard to describe. And then I became aware of a sensation of falling and a really, really strong [force] hitting my head.
"I opened my eyes and I saw a woman with blonde hair, early twenties, roughly 5 foot 6 … who was carrying an axe.
"That's when I realised, OK, I've just been struck in the head with an axe!"
Hacker's thick dreadlocks acted as a sort of shield against the axe, preventing a more serious injury, McMahon said earlier.
During her evidence, Hacker stood and turned around to show her long dreadlocks to the jury.
Hacker said she was in a neck brace for two months and still suffers pain from her injuries.
"I can't sleep more than three hours at a time without suddenly having extreme nerve pain. Side effects of the nerve pain medication are almost as bad for me as the effects of not having it," she said.
The trial continues.
If you or someone you know needs help, contact Lifeline on 13 11 14 or visit Lifeline.org.au.