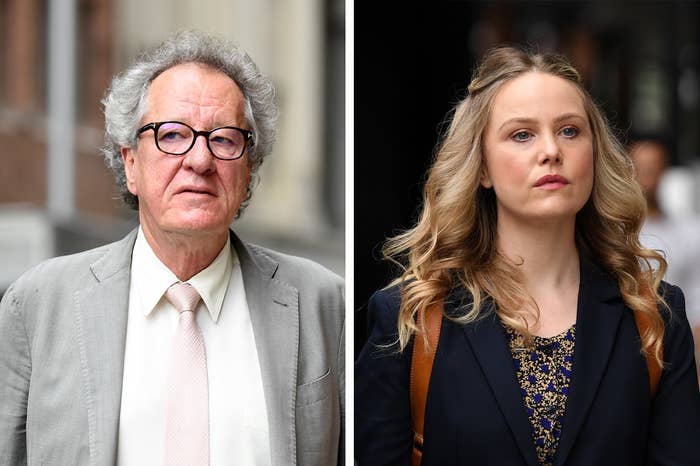 Eryn Jean Norvill didn't speak to the media, desperately wanted to stay out of the limelight, and has no reason to lie about Geoffrey Rush's alleged behaviour towards her as they acted together in a Shakespeare play, a court has heard.
On the penultimate day of the high profile defamation trial between Rush and a Sydney newspaper, the court also heard that Justice Michael Wigney was "grappling" with inconsistencies in evidence from Norvill and another cast member, Mark Winter, about an alleged breast touch that occurred onstage.
Rush is suing the publishers of Sydney newspaper The Daily Telegraph and journalist Jonathon Moran, after they published allegations in November 2017 that Rush had been accused of behaving inappropriately towards a female cast member during the 2015-16 Sydney Theatre Company (STC) run of King Lear.

Rush, 67, has strenuously denied the allegations. He claims publisher Nationwide News defamed him in two articles and a poster by painting him as a pervert, a sexual predator who committed sexual assault while acting in King Lear, and by suggesting his conduct was so serious that the STC pledged to never work with him again.

Nationwide News has argued a defence of truth based on the testimony of Norvill, who played the role of King Lear's daughter Cordelia in the production. Norvill did not participate in the stories and agreed at a late stage to testify for the Telegraph.
At the start of his closing argument on Wednesday morning, Nationwide News barrister Tom Blackburn SC told Justice Michael Wigney: "At the end of the day, your honour has to make a choice between the evidence of Miss Norvill and the evidence of Mr Rush on the crucial points."
He described Norvill, an Australian theatre and TV actor, as a "fundamentally honest witness" who had wanted the complaint she made about Rush to an STC employee in April 2016 kept confidential.
"She made an informal complaint," Blackburn said. "She didn't want Mr Rush notified and she didn't tell the media. Your Honour might think there is absolutely nothing in these proceedings for Miss Norvill except distress and anxiety.
"She wasn't seeking publicity for herself. She wasn't seeking vengeance for Mr Rush. She was just concerned it wouldn't happen to anybody else."
He said Norvill had responded with "dignified restraint" to an accusation from Rush's barrister Bruce McClintock SC that she had told "a pack of disgusting lies" about Rush.
"The only evidence Your Honour has about Miss Norvill's motive [to lie] is that she didn't have one," he said. "She desperately, desperately wanted to stay out of the limelight. Her concern was, as she said, to make sure it didn't happen again."
Norvill, who spent two days on the stand, alleges Rush traced his hand across the side of her breast as they acted out a scene in which Rush, as King Lear, is grieving the body of his daughter Cordelia.
She also said he rubbed the small of her back on occasions before they entered the stage for that scene, that he made gestures towards her to imitate groping her breasts or tracing her hips in the rehearsal room, and that he said she looked "scrumptious" and "yummy".
Rush, who testified over two and a half days, strongly denied all but one accusation, saying he "might have" said to Norvill that she looked "yummy".
Last week, cast member Mark Winter supported parts of Norvill's testimony, with some discrepancies – he said he saw Rush touch her left breast, while Norvill said it was her right.
Justice Michael Wigney said he was "grappling" with the different versions, and that it was "not so much" the fact it was the wrong breast, but that Mr Winter's version of events would require Rush's arm stretching across Norvill's body.
"He'd almost have to be a contortionist to do it," Wigney said. "It goes to the reliability of [Mr Winter's] recollection."
Wigney, who stressed that he had not formed a view and was testing Blackburn's submissions, also questioned whether Rush would do something as "extraordinary and potentially destructive" as deliberately groping Norvill's breast in front of an audience given his "intense approach to acting".
"The thought of him doing this in front of 900 people and perhaps destroying this part of the play, I just find bizarre," he said.
Norvill was cross-examined at length on the stand over discrepancies between her evidence and an email sent by Annelies Crowe, the STC employee she made a complaint to.
"Miss Norvill and Miss Crowe met at a pub in Annandale in April [2016], they had dinner and they drank a lot," Blackburn told the court. "The meeting went for several hours. The reality is Miss Crowe's email was obviously sent the next day after a night out drinking, she took no notes."
He said that parts of the email were consistent with Norvill's evidence and that she had rejected other parts of it on the stand, including an assertion that Rush had followed her into the bathroom at the cast afterparty.
If Norvill had some "ill-identified motive for telling a pack of lies", Blackburn said, she would have gotten in the witness box and "beefed up" her story. "Her refusal to do so is an indication of just how honest she is," he said.
Blackburn also had a lengthy exchange with Wigney on the relevance of Norvill's evidence that Rush told her she looked "scrumptious" and "yummy".
Wigney said "context is everything" and that he was grappling with the significance of the evidence in isolation.
"I wouldn't say yummy and scrumptious to anyone in my workplace, but I'm a boring lawyer, and Mr Rush is an actor in a theatrical workplace where people use florid language," Wigney said.
Blackburn argued that whether or not it was said at the same time as Rush's alleged gestures towards Norvill was irrelevant, and it's the "totality of that conduct that needs to be considered".
Wigney also questioned the "generational" issues present in the case, saying "I don't think I'd use the word scrumptious in any context, not even to describe food" but that an older person might.
What one person considers inappropriate may not be inappropriate to someone else, he suggested to Blackburn, who replied that these are "quintessentially jury questions".
The Rush trial is judge-alone. Wigney said there was a prospect for juries in Federal Court defamation cases when they involve "social norms".
"I think this is such a case," he said.
"Well anyway, we haven't got one," said Blackburn.
"That's true," said Wigney.
The trial continues.