They say the eyes are the window to the soul, but really, it's what you type into the Google search bar.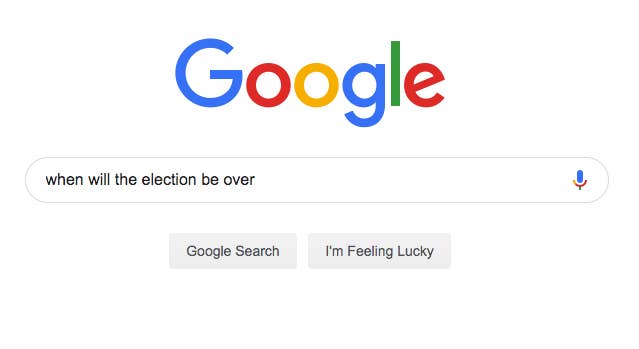 Throughout the 2019 federal election campaign, Australians have been busy googling questions — some sensible, some baffling — in order to cast an informed vote.

And all of it has been recorded on the Google elections trends website. Here are some of the takeouts from the campaign.
As election day has drawn closer, people have turned to practicalities: the number one question googled in the past week was "Where to vote near me 2019".
The top five was rounded out by the following, which can mostly be answered at the Australian Electoral Commission website.
2. When does voting open for federal election?
3. What seat am I in for the federal election?
4. When do election ads finish? (They ended at midnight on Wednesday.)
5. Where to vote early in Adelaide?
Other questions to make the top 20 included "Can I vote at any polling station?" (as long as you're in your state and territory, yes, otherwise you have to go to an interstate centre); "Can I vote early for the federal election" (yes, more than four million people have!); and simply "How the election works" (I don't have the bandwidth right now to answer this).
The question "When did Scott Morrison become prime minister?" snuck into the PM's top five for the final week of the campaign, and look, fair enough. When did anybody become prime minister, honestly. (It was August last year.)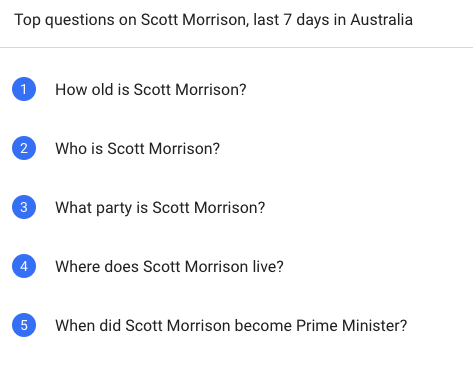 People have been asking the ambiguous and slightly ominous question "What happened to Bill Shorten?" I don't know what they mean by that but I can confirm Shorten is the Labor leader and that he is 52 years old.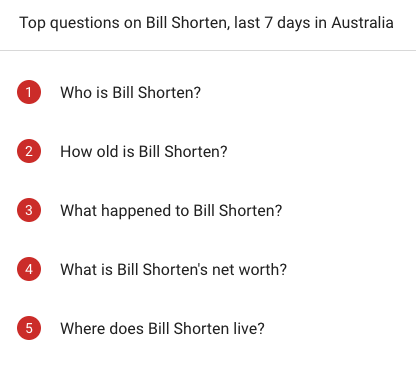 Meanwhile, the questions about who on earth the deputy prime minister is (why, it's Nationals leader Michael McCormack!) have continued right up to the final week. He is responsible, hilariously, for Barnaby Joyce.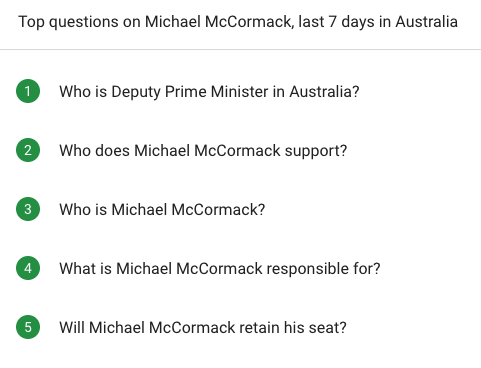 The top questions on each party in the final week of the campaign have included...
Who is winning, Labor or Liberal? (WHO CAN SAY.)
Why is Labor Party spelled without a 'u'? (Great question, read this.)
What is the Liberal party slogan? (Officially: A Stronger Economy. A Secure Future. Unofficially: If you have a go, you'll get a go.)
How to vote Liberal in Warringah? (Tony will be delighted to hear this.)
How to vote for Jim Molan? (The Nationals will not be delighted to hear this.)
What happens if the Greens win? (WHO CAN SAY.)
Is Michael McCormack and the National Party extremist? (Extremism is in the eye of the beholder, but generally speaking, the Nationals are not considered a fringe party.)
Is One Nation Liberal? (No, they are One Nation.)
Why you shouldn't vote for Palmer United [now known as United Australia Party]? (Look, I'm not here to give you voting advice.)
Throughout the campaign, there have been some doozies falling in and out of the various top five questions on the parties and the leaders. Pauline Hanson features heavily:
Is Pauline Hanson a Liberal? (No, she is the leader of One Nation.)

Is Mark Latham married to Pauline Hanson? (Also no.)
What did Kochie say to Pauline Hanson? (He asked if she felt complicit in the Christchurch terror attack due to her party's anti-Muslim policies.)
Is Sarah Hanson-Young related to Pauline Hanson? (No, but can you imagine the family get-togethers?!)
Other questions have included:
Are Greens candidates vegans? (Not all of them, surely.)
How to stop Palmer United Party's ads on television? (Throwing your TV out the window helps greatly on this front.)
How to stop One Nation text messages? (I must once again recommend defenestration.)
For reasons I do not understand, people have also been googling with great enthusiasm how tall everybody (Scott Morrison, Michael McCormack, Richard Di Natale) is, including the even more specific question: "How tall is Bill Shorten in feet?"
He is the same height as Malcolm Turnbull, apparently: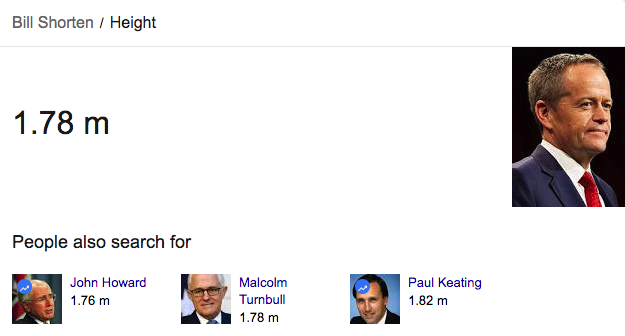 Yes, but how tall is he in feet? Five foot ten.
I hope all of this information helps. Happy voting!