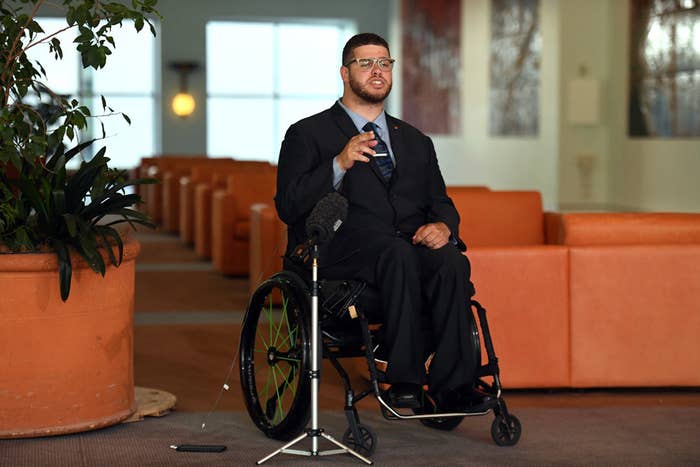 The government will commit $527 million to a royal commission into the abuse and neglect of Australians with a disability in Tuesday's budget.

For Greens senator Jordon Steele-John, who has been doggedly pursuing the royal commission since he entered parliament in Nov. 2017, the announcement is bittersweet.
Steele-John, who has cerebral palsy and uses a wheelchair, replaced former senator Scott Ludlam, who was disqualified during Australia's political dual citizenship debacle.
He is elated at the "incredible win" for the disability rights movement, but also sad that it has taken so long.

"It should not have taken the accidental election of a disabled person through section 44 of the constitution to actually get this thing through," Steele-John said.
"You reflect upon the effort it has taken to look into why we're being raped, murdered and beaten in our homes, workplaces and education facilities. And all the people who have died in the intervening years who maybe wouldn't have had to suffer if we had listened to the community way back."
A senate inquiry into the abuse and neglect of people with disability, chaired by Greens senator Rachel Siewert, recommended a royal commission in Nov. 2015.
Labor adopted it as policy in May 2017 and the Coalition government agreed in Feb. 2019 to a royal commission.
"I wonder sometimes about the hearts of our [elected representatives] when you can read the 400-page Senate inquiry report, read the horrific stories in it, and go, 'nah'," Steele-John said.
Steele-John has repeatedly put questions to the government on the issue, and once entered the House of Representatives to heckle prime minister Scott Morrison, calling him a "coward".

"The lives of disabled people have always been more important than the stuffy rules of an institution (parliament) built by people with privilege, designed to maintain their privilege," he said.
"I can't just go home, turn off the lights and say, this is a sector issue that doesn't affect me ... When I broke down in the chamber last year it's because I saw myself in those stories and I saw my friends in those stories. And they're the first thing you think of when you wake up and the last thing you think of when you go to sleep. And so you do the work."
Steele-John has now turned his focus to the yet-to-be-announced details of the royal commission, including how many of its commissioners will be people with disability.

"We cannot be a minority of commissioners on this board," he said. "To be very frank, if the only disabled person on the commission is an old, white bloke, we've got a problem folks. This is not OK. Statistics around violence, abuse and neglect of disabled women are horrendous."
Steele-John cited reproductive rights as one issue requiring expertise and input from women with disability.
Draft terms of reference released earlier this year indicated the royal commission would consider abuse, neglect and exploitation of, and violence against, people with disability in all settings.
Steele-John said the disability community had three key concerns: the ability to award financial compensation, prosecutorial recommendations, and ensuring the commissioner can set up units to investigate the issues raised.
These aspects were present in the Royal Commission into Institutional Responses to Child Sexual Abuse, but absent from the disability draft, Steele-John said.
"What we are looking for today is evidence that we have been listened to. Have you actually heard disabled people or have you put forward terms of reference that non-disabled people think we need?"