A guard at Nauru detention centre has lashed out at his employer on Facebook after being suspended for posting a picture from the recent Reclaim Australia rally in Brisbane.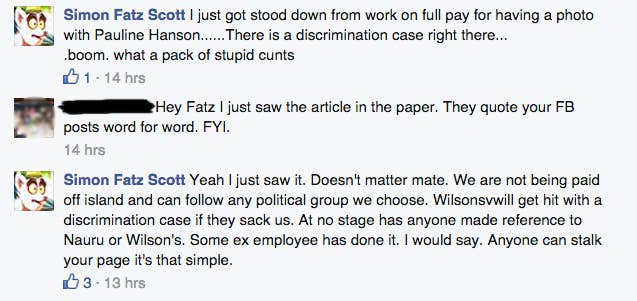 The Guardian has reported that eight guards were suspended as a result of the photograph, which was posted by guard Simon Scott. It shows the group at the rally with former politician Pauline Hanson, and was captioned "What more can I say".
The people in the picture are Dan Connors, Cody Allen, Alan Hartley, Beau James, former politician Pauline Hanson, Graham Motley, Simon Scott, another man who is not a detention centre employee, Jamie Scannell and Harley Levanic.
Scott called his employer Wilson Security "a pack of stupid cunts" in a public Facebook comment, adding that Wilson could be "hit with a discrimination case" if the men in the photograph are sacked.
Scott, Hartley, James and five other guards who appear in the photo have been temporarily stood down, their actions potentially in contravention of the social media guidelines set by centre operator Transfield.
All men are employed by Wilson Security, who are subcontracted by Transfield to work at the Nauru centre.
The Reclaim Australia rallies, held earlier this month, protested the apparent "Islamisation" of Australia. The rallies prompted clashes with activists who said Reclaim Australia was a racist movement that fuelled anti-Muslim sentiment.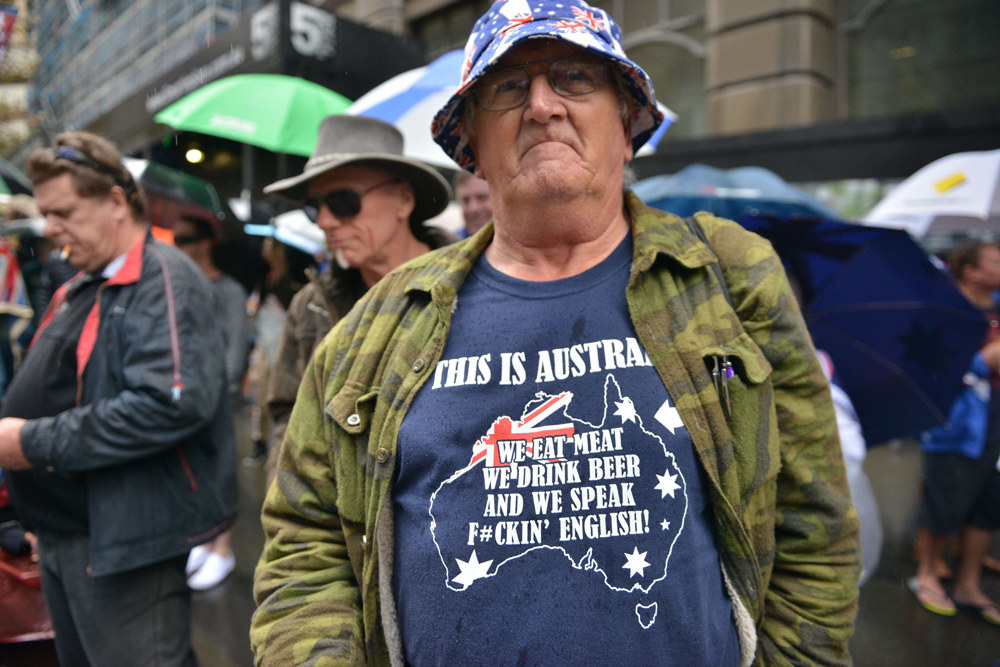 Other Facebook posts made by Simon Scott include a comparison of Nazism to Islam, criticism of Cadbury for having Halal certification, and the comment "Muslims are scum and must be erradicated [sic]...There are no good Muslims".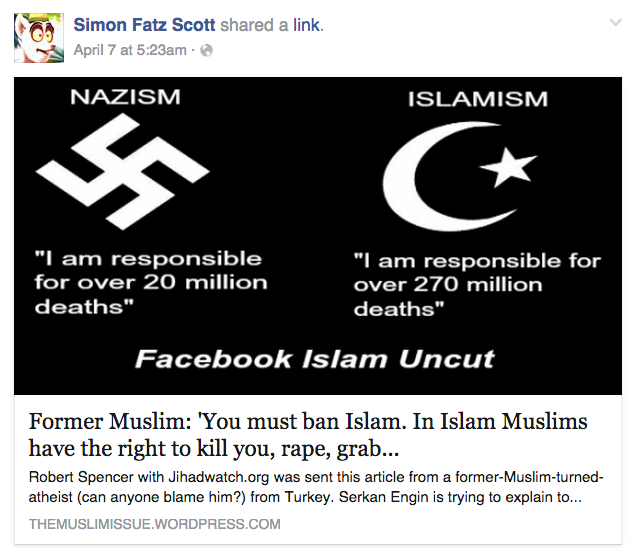 Transfield Services did not immediately respond to a request for comment.