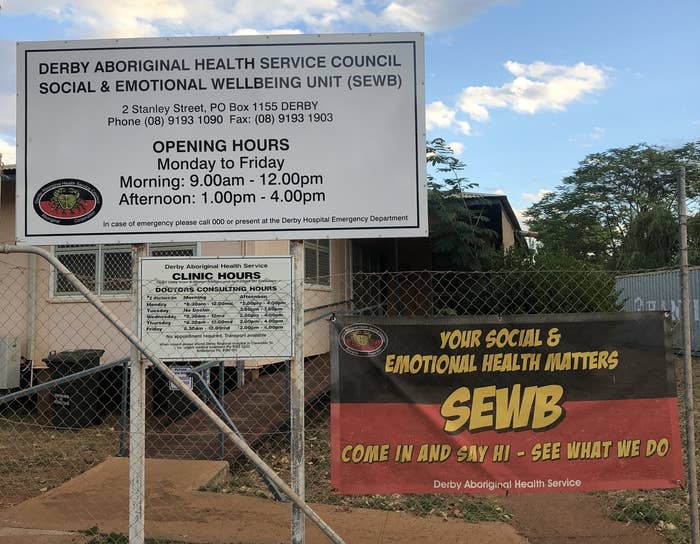 An Aboriginal health service in one of Australia's worst suicide affected regions faces losing its psychologist and Aboriginal mental health worker, after money for the positions was cut in a state funding restructure last year.

The community controlled Derby Aboriginal Health Service (DAHS), located 220km east of Broome in Western Australia's Kimberley region, delivers social and emotional wellbeing (SEWB) services in Derby.
The region has long struggled with the issue of Indigenous youth suicide. Coroner Ros Fogliani's recent report into the deaths of 13 Aboriginal children and young people who died in the Kimberley found that 12 had died by suicide, the tragedies prompted by widespread poverty and intergenerational trauma.
The five person SEWB team in Derby is considered a model for how community mental health outreach should work in remote towns, according to Rob McPhee, the deputy CEO of Kimberley Aboriginal Medical Services.
But in a state funding restructure last year, DAHS lost funding for psychologist Maureen Robertson and mental health worker Ash Bin Omar and is now covering the $330,000 per year with money raised through Medicare consultations. SEWB services are generally funded by the Commonwealth.
CEO Lynette Henderson-Yates said she is unsure how much longer DAHS will be able to find the money.

"We need those two positions given everything that's happening in the community," she told BuzzFeed News. "People know them, they trust them, they will work with them. And it takes a long time to build up that trust with Aboriginal people."
Omar, who works with young Aboriginal men and boys, is also running a new project aimed at families with a low to medium risk of having their children removed to try and improve the situation and keep families together.
"For us not to have a psychologist and an Aboriginal mental health worker is really crazy," Henderson-Yates said. "To my mind, there's no debate about whether you have them or not have them."
Pat Turner, the CEO of the National Aboriginal Community Controlled Health Organisation, told BuzzFeed News it was unacceptable, given the situation in the Kimberley.
"I think it's appalling that we have to raise Medicare funds to subsidise services when the need is clearly demonstrated in umpteen coroner's reports," she said.

There were many gaps in the services that are currently available across Australia, Turner said.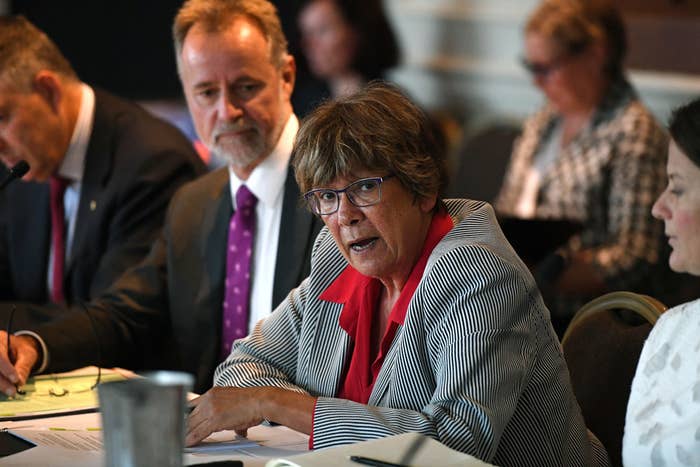 Senator Pat Dodson, who will become Indigenous affairs minister if Labor wins the election on May 18, told BuzzFeed News a Labor government would look to provide Commonwealth funding for two positions in Derby.

Labor has pledged $30 million over three years to support Aboriginal mental health and SEWB services in three high-need regions, including the Kimberley.
"If you don't have these people being employed through the community health services, it just makes the effort to try and assist young people from taking these extreme measures totally impossible," Dodson said.
Indigenous health minister Ken Wyatt told BuzzFeed News in a statement that the $19.6 million for suicide prevention pledged by the Coalition "builds on existing funding" provided through the Indigenous Advancement Strategy (IAS) in the department of prime minister and cabinet.
The sum includes $15 million for the rollout of mental health first aid training in 12 Indigenous communities and for youth, as well as continuing training for frontline workers. Another $4.6 million will go towards community-led programs — designed to complement existing services — in areas such as leadership, sports and culture.
The IAS currently funds about $55 million per year for SEWB, Wyatt said.
Turner welcomed Labor policies to move SEWB funding into the federal health department, as well as its proposed multi-disciplinary teams of paediatricians, social workers, psychologists and Aboriginal counsellors.
But she criticised the "piecemeal approach" of the major parties, saying "What governments don't get is that the overall needs based funding required for Aboriginal community controlled health organisations (ACCHOs) to deliver fully on comprehensive primary healthcare … hasn't been built in to our model of care funding."
As a result, the sector has had to seek additional funding for services like SEWB, instead of receiving a sufficient level as the base, Turner said.
She called for money to go to ACCHOs instead of mainstream services for Aboriginal healthcare.
"We have a much better understanding of the issues [Aboriginal communities] deal with day in and day out," she said. "I also believe there should be workers engaged in the communities who are available out of hours, because most people don't suicide between 9 and 5."
If you or someone you know needs help, you can call Lifeline Australia on 13 11 14 or Beyond Blue Australia on 1300 22 4636.