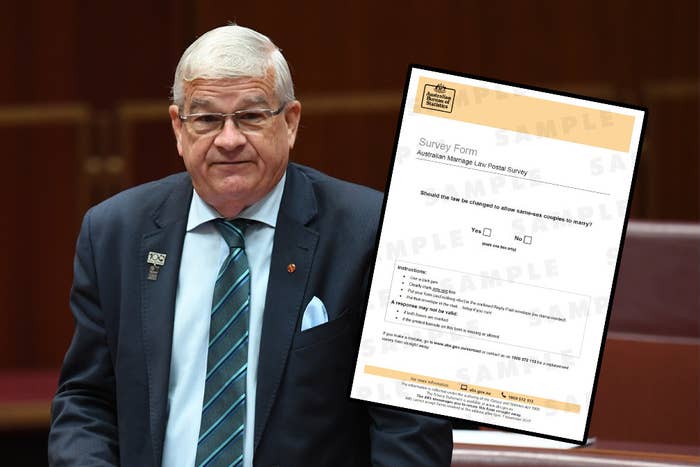 One Nation senator Brian Burston says he was "deprived" of a say on same-sex marriage because his survey form didn't arrive in the mail.

In his speech to the Senate as part of the same-sex marriage debate on Tuesday morning, Burston revealed that he hadn't voted in the survey — but he would have registered a "no".
"Despite millions of Australian receiving their postal votes in the mail, there were many who did not receive their forms and so were deprived of their right of participating in this survey," Burston said.
"I was one of those deprived Australians, robbed of my opportunity of expressing my democratic right to participate in this survey. I'll further add that my vote would have been no."
Asked why he didn't request a survey form from the Australian Bureau of Statistics, Burston said "I did".
He said he would fill BuzzFeed News in on the whole story when he had a break from the Senate today.
Unlike the vast majority of Australians, Burston does get a vote on whether the bill actually becomes law.
Earlier in his speech, he contended that just as water is not ethanol, heterosexual and homosexual marriage cannot be the same thing.
He spoke after One Nation leader Pauline Hanson, who delivered a speech that meandered into various topics, including the 1967 referendum on Aboriginal Australians, education in schools, her claim that a very small number of gay couples actually want to marry, and the cost of the postal survey, which Hanson believes should have been a referendum held at the next election instead.
Several Labor senators who oppose marriage equality also spoke on Tuesday morning, including Chris Ketter, Jacinta Collins and Don Farrell.
These senators indicated they will vote against the bill itself — but the party will vote as a bloc against the several amendments that have been proposed by a group of conservative and libertarian government MPs, the Greens, David Leyonhjelm, and One Nation.
Earlier this morning, Labor leader in the Senate Penny Wong and shadow attorney-general Mark Dreyfus announced no Labor senator had requested a conscience vote on any of the amendments.