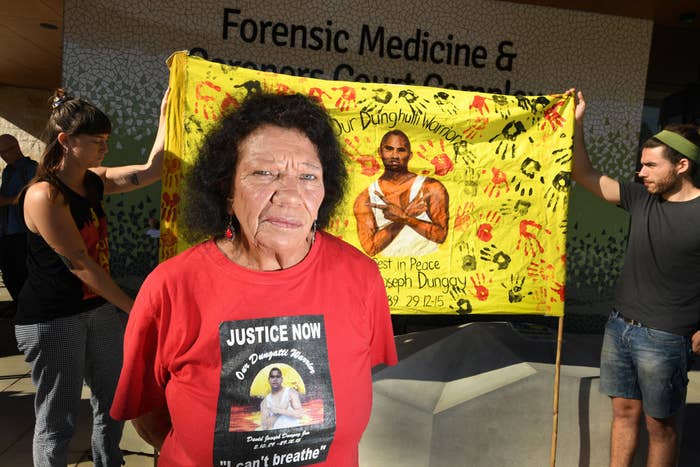 Leetona Dungay took the stand just after lunch on the 15th and final day of the inquest into her son's death.

"I'd like to say hello," she said to Coroner Derek Lee and the lawyers, journalists, supporters, and others who had gathered in the large courtroom at the new Coroner's Court building in Sydney's west.
"You mob have been talking for three weeks," she said. "Not about my son. I have had to sit quietly and listen to it all."
Now, it was Leetona's turn to speak.

Her son David was 26 when he died in the hospital within Long Bay jail in Sydney on the afternoon of Dec. 29, 2015.
A video of his last moments shows corrective services officers storming his cell, restraining him, moving him to a different cell, and restraining him face down again, as he screams "I can't breathe" repeatedly in a high, agitated voice.
After a nurse injected him with a sedative in the second cell, David became unconscious and could not be revived. These events occurred after David, a diabetic, refused to stop eating a packet of biscuits, and there was concern it might affect his blood sugar levels.
Leetona told the court about David: born in Kempsey in 1989, a "dearly loved boy" who started playing football when he was five years old.
"My son David Dungay Junior was a proud Dunghutti warrior," she said. "I could see it in his eyes, and the way he moved, right through from when he was just a toddler."
David was diagnosed with diabetes at age seven. The condition was difficult for the whole family, Leetona said, but as David grew up, he took responsibility for his health, carrying jellybeans and Jatz crackers for his blood sugar levels, and was proud of how he managed it.
"He completed the Year 10 certificate successfully, something we were very proud of as many of our boys do not make it this far," she said.
At the time of his death, David was serving nine and a half years in prison for robbery, attempted aggravated sexual intercourse, and assault occasioning actual bodily harm.
"David made some bad mistakes and was locked up for this. He did time. He'd done an extra year over, of his time," Leetona told the court.
David was first eligible for parole in July 2014, but it was refused as he had not taken part in rehabilitation programs.

"He paid the debt for society. He was determined to come out and start a new life. He was so close to being free and being with all of us again," Leetona said.
She paused and eyed the 13 lawyers in the courtroom, all representing various people involved in the inquest.
"I have nothing against all you lawyers in the expensive suits who all went to good schools here in Sydney," she told them.
"You all worked hard to get where you are. But face facts. You have no idea what it is like to grow up as an Aboriginal person in this country.
"Imagine a game of football, like David used to play, but one team has to play with their hands tied behind their back."
That, she said, is what racism feels like.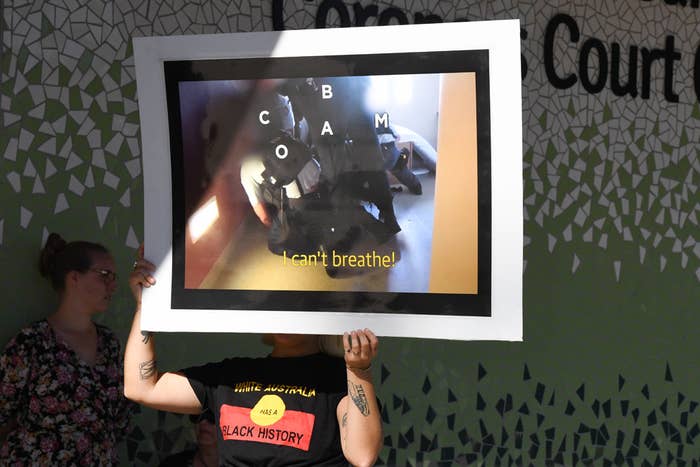 She said that the world had seen the footage of her son "begging for his life".

"Screaming 'I can't breathe' to his last gasp," she said. "One minute my beautiful son was alive and the next he was dead."
She said there had been testimony that there was no immediate need to intervene and stop Dungay from eating the biscuits.
"Why did they raid his cell?" she asked. The pain she has endured since that decision, Leetona said, was "awful".
"It's not the sort of pain you find neatly written about in medical textbooks, or legal textbooks," she said.
David's father, David Hill, also gave a statement to the court, which was read out by counsel assisting the coroner Jason Downing.
"My son did his time for what he had done and did not deserve to pay the ultimate price with his life," Hill's statement said.
Leetona said she and her family had "one strong burning desire" that had carried them through the inquest: "We want to see justice for David's death."
Earlier that morning, the family had heard an apology from Kevin Corcoran, the assistant commissioner for corrective services, on behalf of commissioner Peter Severin.
Corcoran enumerated three wrongs: Corrective Services did not train the officers who entered Dungay's cell on the risk factors for positional asphyxia. It did not have procedures to work more closely with Justice Health staff to recognise those risk factors. And it did not train officers to exhaust de-escalation techniques before they entered Dungay's cell.
Corcoran characterised the flaws as "organisational", saying they did not reflect on the actions of the officers involved.
"For all these failures," he said, "I would like to apologise to the family for Mr Dungay's death."
Coroner Lee will hand down his findings at a later date.