Head Of Counselling Association Slams Comments Linking Gay Parents To Child Abusers
"It's like saying that there [are] more rapes in summer and people eat more ice cream in summer, so there's a connection between ice cream and rape."
The CEO of the Australian Counselling Association (ACA) has slammed comments made by a Sydney counsellor linking same-sex parents and child abuse.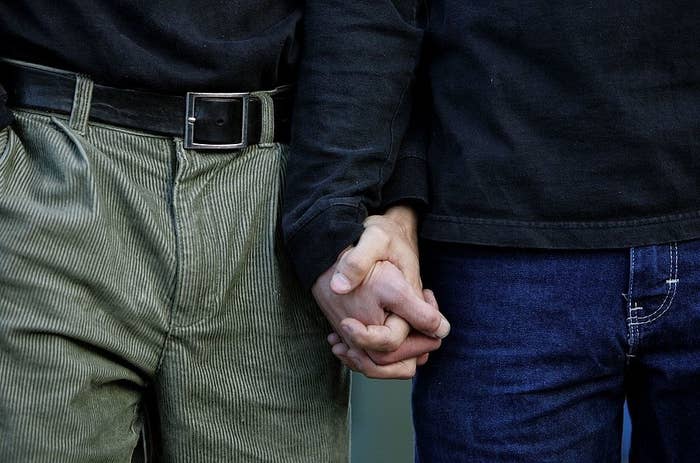 Cheryl Parrott, a counsellor at Rich Relationships in Sydney, Australia, implied same-sex relationships could be unsafe for children, in comments made public last Tuesday.
"Research has shown that children are safest in their biological families," she wrote in a submission to a Senate inquiry. "That the highest rate of child abuse is usually perpetrated by an adult not the biological parent of a child. In a same-sex relationship one (if not both) of the adults will not be the biological parent of that child."
Philip Armstrong, ACA chief executive, said he believed Parrott had taken research about non-biological parental figures such as stepmothers, stepfathers, aunts, uncles and grandparents, and incorrectly applied it to same-sex parented families.

He criticised her connection of the two as unfounded and unscientific: "She's fleshing that out – it's like saying that there [are] more rapes in summer and people eat more ice cream in summer, so there's a connection between ice cream and rape. The problem is a lot of people – not just counsellors – a lot of people in allied health are not trained to read research."
Parrott made her comments in a public submission to the current Senate inquiry into the government's proposed draft Marriage Equality Bill.
It is unknown what research she was referring to in her submission.

A 2013 literature review published by the Australian Institute of Family Studies (AIFS), the government's key research body in the area of family wellbeing, said there was "strong evidence same-sex parented families constitute supportive environments in which to raise children".
A 2016 fact sheet published by AIFS stated "children from same-sex parented families progress emotionally, socially and educationally at the same rate as other children".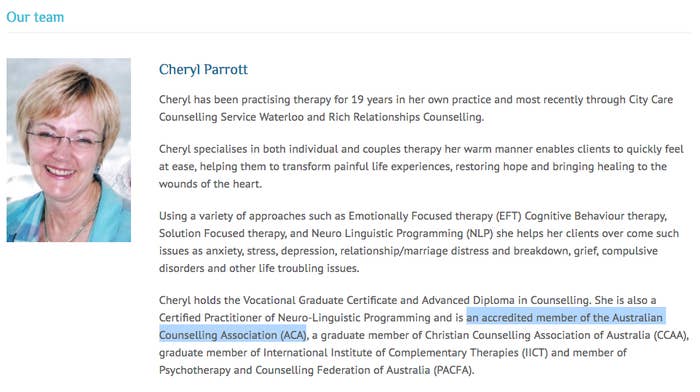 Armstrong said Parrott's claim on her website that she was a member of the ACA was also inaccurate, and that he had asked her to remove the reference on Thursday.

By Monday, the Rich Relationships website had been taken down and replaced with the message: "This website is under construction. Please check back soon."
Armstrong pointed BuzzFeed News to a list of the ACA's principles when it comes to counselling LGBTI people, which include a commitment to reduce stigma and discrimination against LGBTI people, and to disseminate accurate information to clients about LGBTI identities.

"ACA does not condone or support therapeutic interventions, such as conversion and reparative therapies that proactively aim to change a person's sexual or gender identity," the principles read. "Careful attention should be paid to avoid subtle influence, manipulation or coercion in this regard."
Parrott is a registered member of the Psychotherapy and Counselling Federation of Australia, which has a near-identical position statement to the ACA on LGBTI counselling.
PACFA told BuzzFeed News there is no one available to comment.
Parrott did not respond to a request for comment.

UPDATE
PACFA CEO Maria Brett told BuzzFeed News on Wednesday that the organisation stands by its LGBTI position statement.
However, she declined to comment on whether Parrott had breached the statement by implying gay parents are more likely to abuse children.
"I can say unequivocally as the CEO that I couldn't support that view," she said. "I'm not going to comment on what an individual member has said."