People Are Boycotting Coopers Beer For Supporting The Bible Society
"A good drop for the Good Book."
As part of a deal with the Bible Society, Coopers has released 10,000 cartons of commemorative Premium Light beer. Each can has a "Happy 200th birthday" message to the Bible Society printed on the side, while the cartons sport verses from the Bible.
Bible Society national media and communications manager John Pearson told BuzzFeed News the campaign was a "bicentennial gift" from Coopers Brewery and no money changed hands.
"We didn't pay for it," he said. "Coopers was making their usual profits out of the sales of the beer. No money changed hands whatsoever.

"Coopers have been a long time supporter of the Bible Society. As far as this partnership goes, the participants were [equally enthusiastic] to go down this path to produce a Premium Light beer with Bible Society branding for our Bicentennial."
The debate on same-sex marriage featured federal MPs Tim Wilson (who supports same-sex marriage) and Andrew Hastie (who opposes it) and is the first in a series of "light discussions on the heaviest topics" to be hosted by the Bible Society as part of the campaign.

Coopers' sponsorship of the Bible Society prompted a flurry of criticism on social media.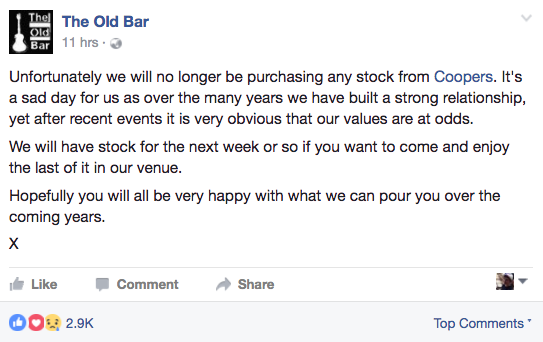 In response to the backlash Coopers released a statement on Saturday afternoon, saying the video featuring Wilson and Hastie was "a light hearted but balanced debate about an important topic within Australia".

"As a mature community it's a debate we need to have but in a good spirited and good natured way," the statement read.
"Coopers isn't trying to push religious messages or change your beliefs by celebrating 200 years of charitable work undertaken by the Bible Society... "
Late on Saturday the brewery released a second statement – this time clarifying it did not give permission for the Premium Light beer to feature in the video with Wilson and Hastie.

"We respect the beliefs of our community and do not wish to try and change them," the second statement read.
"Our family brewery is made up of individuals from a number of different backgrounds, all of whom hold differing views on politics and religion, which we think is reflective of the wider community. We would like all Coopers fans to know that we support and embrace all of our beer drinking community."
John Pearson told BuzzFeed News the Bible Society was not aware of any significant backlash to the campaign.
"As far as I know it's not negative, I've only seen positive reactions," he said. "We're certainly not apologising for the campaign."

He said the organisation did not have an official position on same-sex marriage and the video was meant to "keep it light".
"That's part of our philosophy, to keep life light," he said. "We respect the position of both of the politicians in the video. That's why we had the debate."