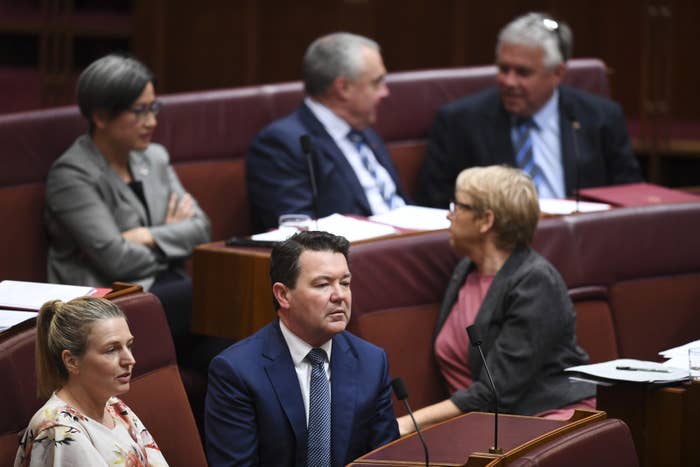 A series of conservative amendments to the same-sex marriage bill have been voted down by large margins in the Senate, defeated by a powerful coalition of Labor, the Greens, the Nick Xenophon Team, Derryn Hinch, and a handful of government senators.

The amendments would have added far-reaching exemptions into the bill, including the right for all celebrants to refuse to solemnise gay weddings on religious or conscientious grounds and legal protections for people who don't believe in same-sex marriage or think gay relationships are wrong.
Their decisive defeat is a considerable victory for the "yes" campaign and LGBTI advocates, who feared opponents of same-sex marriage would try and insert clauses into the bill that would roll back anti-discrimination law.
A day and a half of speeches on the bill itself wrapped up around lunchtime with a heartfelt speech from attorney general George Brandis. The Senate waved through some uncontroversial technical amendments to change the language in several other pieces of legislation to recognise the changing definition of marriage – and then turned to consider five amendments proposed by Liberal senators James Paterson and David Fawcett.

Paterson and Fawcett made the case for each amendment, backed up by a group of staunch opponents to same-sex marriage, including Eric Abetz, Ian Macdonald, and Concetta Fierravanti-Wells.
But their arguments that the amendments were necessary to reassure "no" voters and protect various freedoms were met by staunch rebuttals from Liberal senator Dean Smith, Labor senate leader Penny Wong, Greens senator Janet Rice, and others. And when it came to voting, the latter group prevailed, bringing a majority to the chamber at the ringing of the bells again and again.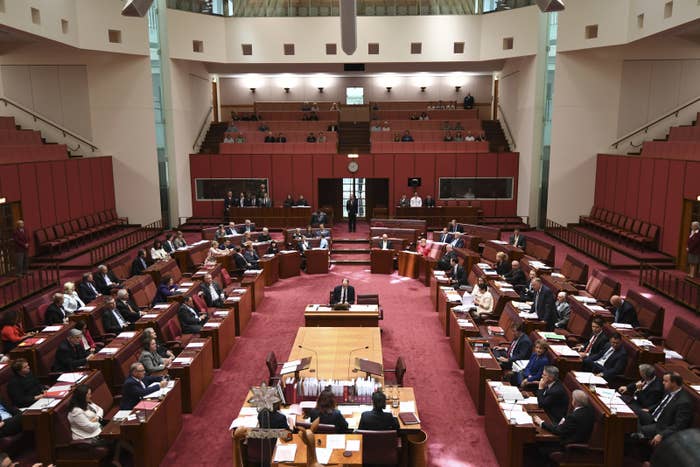 The government senators voting against the amendments included ministers Marise Payne, Simon Birmingham and Nigel Scullion, along with Smith, Linda Reynolds, and Jane Hume.

Cabinet ministers Mathias Cormann, Michaelia Cash, and Mitch Fifield were among the government ministers on the losing side of the votes.

Meanwhile, a glum minority remained on the government benches as the night went on, with some senators growing noticeably testy as they lost vote after vote. Macdonald criticised Greens senator Peter Whish-Wilson for wearing a marriage equality badge while in the chair, while Abetz sniped at Greens senators for leaving the chamber and Labor senators for looking at paperwork or phones as he spoke.
The first amendment debated by the Senate would have effectively allowed civil celebrants to refuse to marry same-sex couples based on their religious or conscientious beliefs. It was defeated 42-24.
The second would have legislated widespread legal freedom of speech protections for people who hold various beliefs, including those against same-sex marriage but also against same-sex parenting and relationships, as well as an anti-detriment clause and a legislated parental right to pull children out of classes that mention the relevant beliefs. It went down 44-20 after a few hours of debate.
On this amendment, Nationals senator Bridget McKenzie, a strident opponent of same-sex marriage, and Liberal Democrat David Leyonhjelm joined the majority voting it down.
A further amendment relating to defence force chaplains was also defeated, as were amendments in relation to registered charities and religious organisations, with similar margins.
After the five amendments from the conservative bloc were defeated, the Senate also voted down two amendments from Brandis and resources minister Matthew Canavan.
The first, defeated 36-27, would have inserted a line about religious freedom taken from the International Covenant of Civil and Political Rights into the bill, and the second, defeated 38-25, would have extended a right to civil celebrants to refuse to solemnise gay weddings.

Further amendments from the Greens, One Nation, and David Leyonhjelm are yet to be debated.
BuzzFeed News understands that supporters of the legislation are confident that very few, if any, amendments will get up and the Smith bill will pass the Senate largely unamended.

Of the 72 senators currently sitting (four have resigned over dual citizenship), the Labor, Greens, Nick Xenophon Team, and Derryn Hinch voting bloc alone holds a majority – even before it's joined by the five or six government senators opposing the amendments.
If that bloc continues to vote against amendments – excluding the Greens amendments, which Labor and the government are expected to oppose – it is possible the bill could pass the Senate with no substantive changes at all.