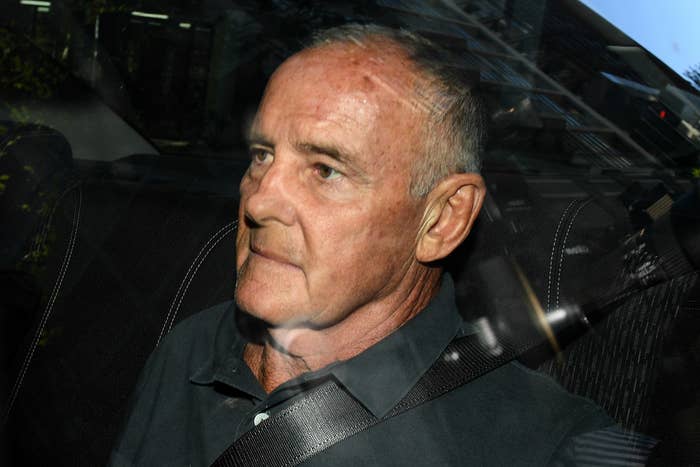 Accused killer Christopher Michael Dawson scoffed and said "You're kidding!" as a prosecutor argued he could take advantage of the fact he has a twin brother to skip town if he is released on bail.

Dawson, 70, is accused of killing his wife, Lynette Joy Dawson, who has been missing since Jan. 9, 1982.
He faced a bail hearing on Friday morning in Sydney's Central Local Court and will stay in prison over the weekend before Magistrate Robert Williams hands down a decision on Monday afternoon.
Lyn is the subject of Australian true crime podcast The Teacher's Pet, which catapulted her disappearance back into the public eye as it became a global hit and was downloaded millions of times.
According to court documents, Dawson is alleged to have murdered Lyn between 9pm on Jan. 8 and 7am on Jan. 9 in 1982 at Bayview on Sydney's northern beaches. Her body has never been found.
Police began reinvestigating the 1982 disappearance in 2015 and sent a brief of evidence to prosecutors in April 2018. On Dec. 5, Dawson was arrested in Queensland and extradited to New South Wales the next day, where he was charged with Lyn's murder.
Dawson has been in custody since his arrest and appeared at the bail hearing via video link, dressed in prison greens. He appeared agitated throughout the 90-minute hearing, often putting his head in his hands or clasping his hands in front of his face.
Prosector Craig Everson told Williams that Dawson was a flight risk, arguing "it's true that Chris Dawson has had this hanging over his head for some years, but he hasn't been charged with murder before".
Everson pointed the magistrate to a "relatively recent" photo of Dawson standing next to his twin brother Paul, and suggested Dawson could use his likeness to his brother to flee the country if he is released.
Dawson laughed audibly and said "You're kidding!", earning a rebuke from Williams, who told him: "Mr Dawson, it's best if you be quiet please."
Dawson replied: "Sorry Your Honour, I didn't know you could hear me. Sorry."
Although Lyn's body has never been found, Everson told the court that all the evidence led to the "irresistible conclusion" that Lyn died in 1982.

"She didn't collect her last pay check. She left contact lenses at home. Her clothes were left behind," he said.
"She didn't drive. She didn't have a license. She has never left an Australian point of international departure. Never been to the doctor. No Medicare record relating to her. No tax file. Hasn't changed her name. She was a registered nurse. Has not maintained a nurse registration since the time of her disappearance."
Everson said that Dawson's second wife – who is slated as the prosecution's star trial witness – alleges Dawson approached a man with criminal connections and asked him "how he might go about getting rid of his wife".
Another witness would give evidence at trial "to the effect that [Dawson's second wife] had said something about a hit man", the court heard.
Everson said reported sightings of Lyn Dawson after her disappearance were all "from a distance" and "unconfirmed", and said the only person who claimed to have spoken to her after Jan. 9 was Chris Dawson.
Dawson's solicitor Greg Walsh told the court the Crown case against Dawson was "far from strong" and based entirely on circumstantial evidence.

"There is evidence … that [Lyn] was seen alive after the 9th of January 1982, that there are actual transactions involving the use of those bank cards," he told the court.
He said there was "very, very important evidence" in the diary of Lyn's mother Helena Simms that suggested Lyn was still alive after Jan. 8, 1982.
"There is also a woman who was adamant she saw Lyn at the time of the visit of Prince Charles and ... Diana to Sydney in 1983," he told the court, adding that police had returned to interview the woman.
"Despite the fact that she's 99 years of age she has very good cognitive facilities and is adamant she saw Lyn in that year in those circumstances," he said.
Walsh strongly rejected there was a risk of Dawson approaching witnesses in the case if he is released on bail, asking "over 36, 37 years where is the evidence this man has approached or sought to influence witnesses?"

As he said Dawson had "close loving relationships" with his family, Dawson became upset, placing his head into his hands and breathing loudly.
"He's a good father, a good husband. Police have known where he's been for all these years. When he got off that plane in Sydney, I happened to see the broadcast, and as an experienced lawyer I noted he wasn't even in handcuffs," Walsh said.
Everson quizzed Walsh about the five-minute doorstop interview he gave to journalists following Dawson's first court appearance last week, during which Walsh said Dawson was entitled to the presumption of innocence and expressed concerns over media reporting on the case.
"In this particular case, there has been quite clearly an orchestrated campaign to portray this man as being guilty," Walsh told the court on Friday.
"The representations that I have researched, the podcast and in the media, and remarks made by various media personalities, radio stations and the like, have been enormously prejudicial to this man's fundamental rights — that is the presumption of innocence and proof beyond reasonable doubt."
Everson described a recently aired theory from Dawson's brother Peter that convicted Australian serial killer Ivan Milat might be responsible for Lyn's disappearance as "outlandish" and asked Walsh if he agreed that the statement had fuelled the intense media scrutiny.
Walsh answered that what Peter says is a matter for him, but added "it's much more preferable that such comments aren't made".
Chris and Peter Dawson have offered a combined $1.5 million in surety, and if bail is granted, Dawson would reside with his third wife in Queensland at Mount Coolum, the court heard.
Williams will hand down his decision on the bail application on Monday at 2pm.