Muslim Leader Says Christchurch Shooter Has "Failed Woefully" To Divide New Zealand
A mass burial of many of the Christchurch victims is expected to take place later this week.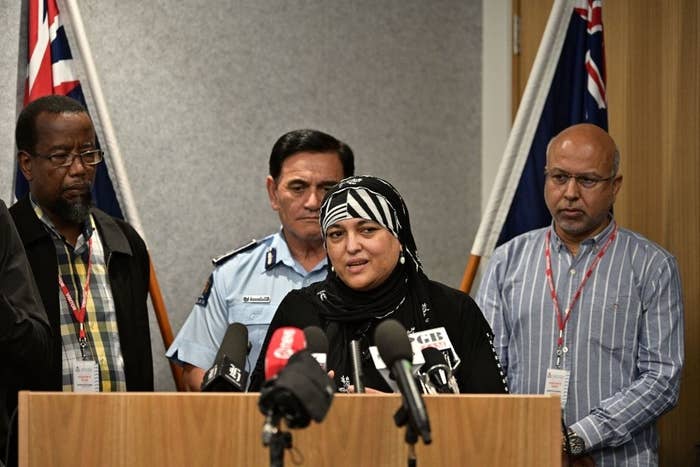 You tried to divide us – and you failed woefully, a New Zealand Muslim leader has told the man who allegedly launched a deadly terror attack in Christchurch three days ago.

Speaking at a press conference on Monday afternoon, Dr Mustafa Farouk, the president of the Federation of Islamic Associations New Zealand (FIANZ), thanked the public for their support and said: "We know we are living in a country where we are welcome".
"I think those right-wing individuals who are trying to promote hatred around the world picked our beautiful and peaceful country for the same reason we are prideful to go around and say we belong to one of the most beautiful countries in the world," he said.
"They want there to be friction, hatred, division between our communities and that's why they picked this country. And I would like … to give them a reply, a message: That they have failed woefully.
"Because what they have done, if anything, is increase the love and feeling we have for our country and we have also seen the tremendous outpouring of love, what we call Aroha, here in New Zealand."
Alleged gunman Brenton Tarrant, 28, has been charged with murder. He reportedly intends to represent himself in court – a plan that has given rise to fears he may use a trial as a platform for his views.
Farouk said Tarrant should receive due process. "We believe in the justice system here and we know it will do what is right," he said.
People returned to work in Christchurch on Monday morning, following a quiet and sombre weekend where the city reeled from New Zealand's worst massacre since 1943.
Deputy police commissioner Wally Haumaha said the two mosques where the shooting took place had been blessed this morning and could be reopened as soon as Friday, pending the criminal investigation.
"We hope to have those premises in place by the end of the week to allow our Muslim community to go back and undertake prayer," he said.
Meanwhile, 90 people have been working round the clock to identify the bodies of the 50 people who died at the mosques, including children.
"The process has been very emotional and highly stressful for all," said Haumaha. "You can imagine the emotions are running high as in accordance with the Islamic faith the family has wanted the bodies to be returned as soon as possible and we are ensuring that we do that."
Dr Anwar Ghani, the media liaison at FIANZ, said there would likely be a large number of the victims buried at the same time in a mass funeral later this week.
Other families may choose to bury their loved ones alone or in a small group, while some victims are expected to be repatriated to their home countries for burial.
Before burial can take place, the community will "honour the body" of their loved ones, said FIANZ women's coordinator Rehanna Ali.
"Men will wash and prepare the men's bodies and women will wash and prepare the women's bodies. We treat the body as if it is still alive. We cover it. We use only warm water. And we cleanse it as we would before we are about to pray. Because we believe this soul and this body are about to undertake the journey to God and this is a form of worship," she said.
"Once we have washed the body, we will wrap the body in pieces of white, unsewn cloth. The reason for doing this is that we believe in eternal life, in the life of the heart. And when we return to God, all that we take with us is the heart. Everything else that we accumulated in life we leave behind. And that's what the white, unsewn pieces of cloth represent."
Graves are being dug at the Memorial Park cemetery in Christchurch.