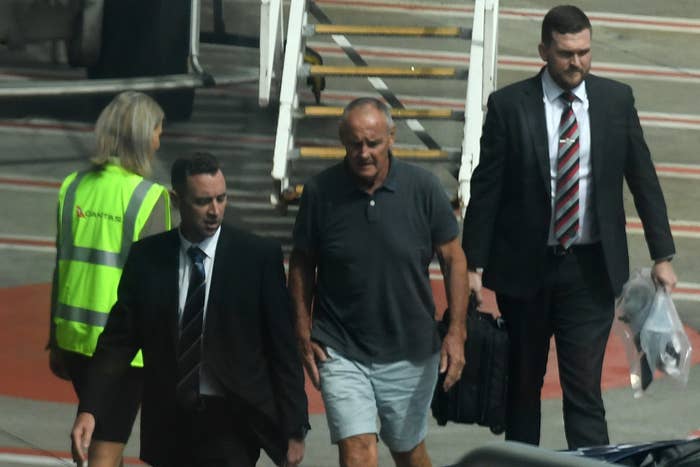 Christopher Michael Dawson has been granted bail with $1.5 million surety while he awaits trial for the alleged murder of his wife Lynette Joy Dawson in 1982.
Magistrate Robert Williams said on Monday afternoon that the Crown case against Dawson, 70, was "not a weak case", but said considerations such as delay meant his release was appropriate.
Dawson's lawyer Greg Walsh said his client had been subject to threats in prison that had been referred to police, and was "naturally" relieved to be released.
Lyn is the subject of Australian true crime podcast The Teacher's Pet, which catapulted her disappearance back into the public eye as it became a global hit and was downloaded tens of millions of times.
According to court documents, Dawson is alleged to have murdered Lyn between 9pm on Jan. 8 and 7am on Jan. 9 in 1982 at Bayview on Sydney's northern beaches. Her body has never been found.

He has been in custody since his arrest on Dec. 5 and appeared at Monday's hearing via video link, dressed in prison greens.

Williams said it was clear the case against Dawson is "entirely circumstantial", and outlined the prosecution argument that Lyn having died on or about Jan. 8 1982 was an "irresistible conclusion" from the whole of the evidence.

At the bail hearing last week, Dawson's lawyer argued that there was evidence to suggest Lyn was alive after Jan. 8, 1982.
The Crown argued that such sightings are "unconfirmed when balanced against Lynette Dawson's complete and utter disappearance", Williams said.
Handing down his decision, Williams said "I consider that the Crown's case is not a weak case", but said its strength was outweighed by a number of factors when it came to granting bail, including Dawson's need to prepare his case and the length of time he would spend in custody before trial.
The time before Dawson goes to trial is estimated at between 15 months and 18 months, and there is an immense volume of material to go through, Williams said.

Williams noted that Dawson has a "limited or nil" criminal history, that he had strong community ties and that he had been employed for some years.
"He has resided in Queensland for a number of years and has close family including grandchildren," Williams said.
Williams also noted there was no evidence Dawson had interfered with witnesses over a long period of time, and that he had had prior opportunities to leave Australia and remained here.
Outside court, Walsh said Dawson was "naturally" relieved to be out and that he had been subject to threats while in prison.
"I'm not seeking sympathy for him, but he hadn't been in custody before. There were threats. There are ongoing threats," he said.
The threats are being investigated by police, Walsh said.
Dawson's bail conditions include daily reporting to police, surrendering his passport and putting up $1.5 million in surety.
Dawson is to reside at Mount Coolum in Queensland with his current wife and not travel more than 20km from his home unless attending court.