Five organisations focused on children's rights and welfare have joined forces to urge Australians to vote "yes" in the current postal survey on same-sex marriage.

The Australian Council of Social Services, Save the Children, Early Childhood Australia, Relationships Australia and Good Shepherd Australia New Zealand released a statement on Monday saying "every child deserves equal rights".
Save the Children acting CEO Mat Tinkler told BuzzFeed News that his organisation had weighed in on the issue because it "stands up for the rights of children all over the world".
"This isn't a child rights issue per se ... but it does have implications on children both in terms of their future rights, and their psychosocial health in terms of how the debate is carried out," he said. "It can very quickly descend into a scenario where children who belong to a particular type of family feel devalued or isolated.
"The fact that there is a very public debate around sexual orientation, sexual preference, has the capacity to bring out difficult emotions and feelings in young people that they can't always deal with themselves. It is important they are supported."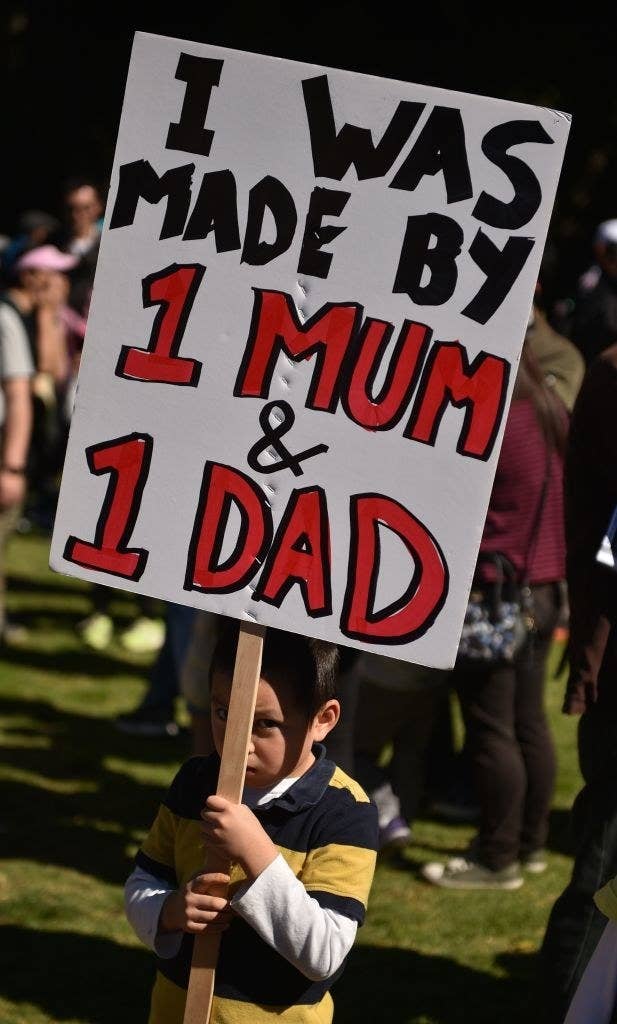 The statement comes amid prolonged debate about what same-sex marriage might mean for Australian children.

The "no" campaign frequently invokes children in its arguments, saying that same-sex marriage will be harmful by stripping children of the right to a mum and a dad.
Sam Page, the CEO of Early Childhood Australia, told BuzzFeed News: "We don't accept that argument."
"What children need is loving parents who have the capacity to look after them," she said. "That doesn't have anything to do with the gender of the parent. I think it's unfortunate how children have been a football in the campaign."
Tinkler agreed, saying that from the perspective of Save the Children things such as whether children are loved, allowed to grow and flourish, and have access to an education, are more important than the gender of the parents.
Comprehensive research reviews from, among others, the government agency Australian Institute of Family Studies and Columbia Law School, have found there is no significant difference in wellbeing between the children of same-sex parents and opposite-sex parents.