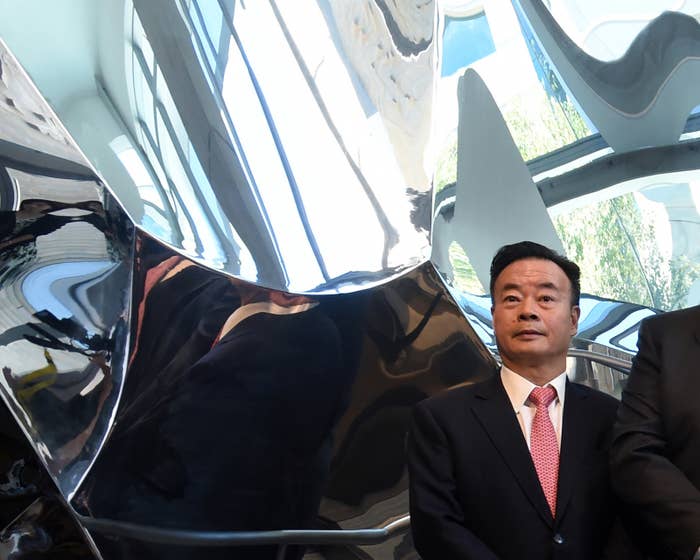 Businessman Chau Chak Wing says his reputation was damaged so severely by a news article suggesting he bribed a United Nations official that he fears suffering a heart attack from the toll the allegations took on his health.

The billionaire is suing Fairfax Media, the publisher of The Sydney Morning Herald, and journalist-turned-political adviser John Garnaut, over a 2015 online article Garnaut wrote about Chau's alleged connections to a bribery scandal involving the former president of the United Nations General Assembly, John Ashe, who died in 2016.

Chau claims the article defamed him by suggesting he bribed Ashe, that he acted in so seriously wrong a manner that he should have been extradited to the US to face criminal charges, and that he created his business empire in Australia by making "illicit payments to government officials".
Fairfax is defending the lawsuit in the Federal Court of Australia, saying it was "good journalism" and a "hard-hitting article" that alleged Chau was a suspect in a bribery scandal.
On the first day of the hearing on Tuesday, Chau, a China-born Australian citizen, told the court he felt "very upset" and that it was "painful" when he first saw the article about him.
He told the court that after reading the article he could not sleep and saw doctors for an irregular heartbeat.
"My feeling is that for the many [decades] past in China and in Australia I never did anything illegal, anything against the law," he said, via an interpreter.
"My concern is that my reputation is damaged severely. If it is to continue, my health, my body, I may even be subject to [a] heart attack."

His barrister Bruce McClintock SC told the court a reference in the article to "illicit payments" was "absolutely devastating" for the case.
"There is not one iota of evidence my client ever engaged in an illicit payment," he said.
He said an email Garnaut had sent to a journalist at The Daily Telegraph showed a "puerile attitude of resentment and gloating towards my client" and that the article had been thrown together "hastily".
McClintock added that it is well-known Chau is a wealthy man now, but that "it was not always so".

"He was brought up in circumstances of poverty in China. He recalls times the family did not have enough to eat. Through his own endeavours, he's created the wealth that he now has. [Fairfax] seems to think there's something wrong with that, and something wrong with the philanthropy he has engaged with."
McClintock added that Australians had "a puzzling and perhaps disturbing attitude" to wealthy people who give away their money, and cited Bill Gates and Warren Buffett's pledges to donate the vast majority of their fortunes.
James Hmelnitsky SC, acting for Fairfax and Garnaut, said his clients "make no bones about the fact this is a hard-hitting article directed to Dr Chau and that would be understood to damage his reputation".

"That is because it contains a serious allegation that he is a suspect in a bribery scandal. He is strongly suspected of being involved in a bribery scandal. The language of the article makes that perfectly clear.

"What happened in early October 2015 was that Sheri Yan and Heidi Park and John Ashe were indicted and arrested in New York by the New York district attorney on serious charges of bribery. There is no dispute about that, it's on the public record, the indictment was online."

The indictment referred to a Chinese businessman allegedly connected to the scandal as "CC3", Hmelnitsky told the court.
"From the description of CC3 and the event in question, the evidence will be that not only Mr Garnaut, but a slew of journalists around the world, drew the conclusion that the reference to CC3 was a reference to Dr Chau Chak Wing," he said.

"It was that that prompted the article. It was that that prompted the investigations that subsequently took place."
Every effort was made to contact Chau and his daughter prior to the story being published, and everything they told the journalists was reported in the article, Hmelnitsky said.
"Mr Garnaut had good sources. Good reliable sources for what he published. The allegations were put to Dr Chau. Our submission ultimately will be this was good journalism."
Chau was taken through a number of his philanthropic donations on the stand, including $20 million to the Frank Gehry-designed Dr Chau Chak Wing Building at the University of Technology, Sydney, and $15 million for a new museum – to be named the Chau Chak Wing Museum – at the University of Sydney.
He has also donated to political parties including Liberal and Labor, but told the court he couldn't remember how much money he had donated in total prior to October 2015.