Marriage will be defined as between "two people" and both religious and civil celebrants will have the right to refuse marrying a same-sex couple, under legislation proposed by the government.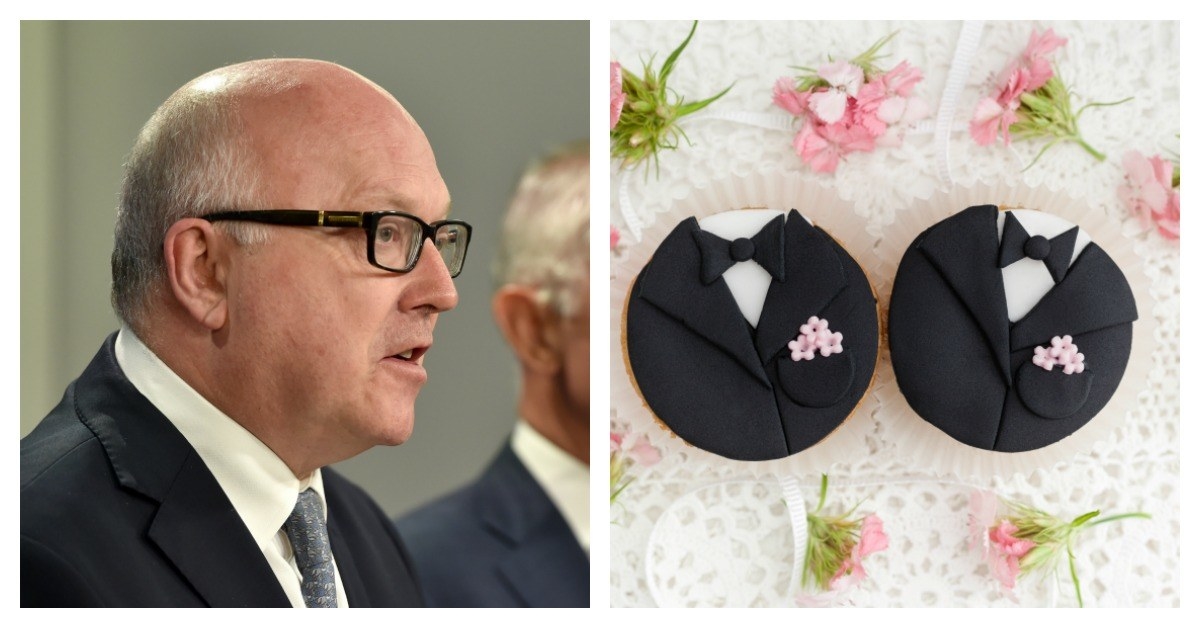 Attorney general George Brandis released a draft bill of the proposed changes to the Marriage Act late on Monday night following a meeting of cabinet.
He said the draft bill will "form the basis for ongoing consultation should the same-sex marriage plebiscite go ahead".
The changes would see "a man and a woman" replaced with "two people" in the Marriage Act. All other conditions for a valid marriage – consent, marriageable age, etc – remain the same.
Foreign same-sex marriages would also be recognised in Australia.
Ministers of religion would have the right to refuse to solemnise same-sex marriages. Civil celebrants would also have this right, on the basis of conscientious or religious beliefs.
Religious bodies and organisations – basically meaning businesses owned by the churches – would be able to refuse to provide goods and services for same-sex weddings.
In a statement, shadow attorney general Mark Dreyfus and Labor spokesperson for equality Terri Butler said the proposal would introduce new forms of legal discrimination against LGBTI Australians.
"Religious organisations would also be allowed to refuse goods and services to same-sex couples for their weddings," their statement read.
"That means a same-sex couple can be barred from hiring a reception hall, for example, or using a particular caterer, if it is ultimately owned by a religious organisation, even if the good or service has nothing to do with religion at all."
Dreyfus and Butler also hit out at the plan to exempt civil celebrants, saying the government needed to explain why this was necessary.
Alex Greenwich from Australian Marriage Equality described the civil celebrant and religious organisation exemptions as "unnecessary".
However, while LGBTI advocates have criticised the exemptions, others believe they do not go far enough.
The exemptions do not extend to allowing businesses, such as bakers, florists, and photographers, to legally refuse to provide services to same-sex couples.
This is expected to be controversial among hard-right conservative backbenchers, including George Christensen, Cory Bernardi and Eric Abetz.
Speaking to ABC radio on Tuesday morning, Abetz said it should be legal for businesses to refuse to provide services to same-sex couples.
"I believe it is a fundamental right if you are a person of conscience against gay marriage that you and your business should not be forced to provide a cake that celebrates gay marriage," he said.
Currently, the Sex Discrimination Act makes it illegal for businesses to refuse service on the basis of sexual orientation.
Brandis said on Tuesday morning that exemptions for businesses would constitute a "significant winding back" of the current anti-discrimination preventions.

He also told the ABC that people on both sides of the debate are unhappy with the proposed exemptions, and he believes they hit "the sweet spot in the middle".