This Man Says He Was Forced Onto A Centrelink Payment Plan For A Debt He Doesn't Owe
Curtis Dickson is paying Centrelink $60 a fortnight for a debt he believes he doesn't owe.
Curtis Dickson is paying back a $750 debt to Centrelink – but he doesn't believe he owes them any money.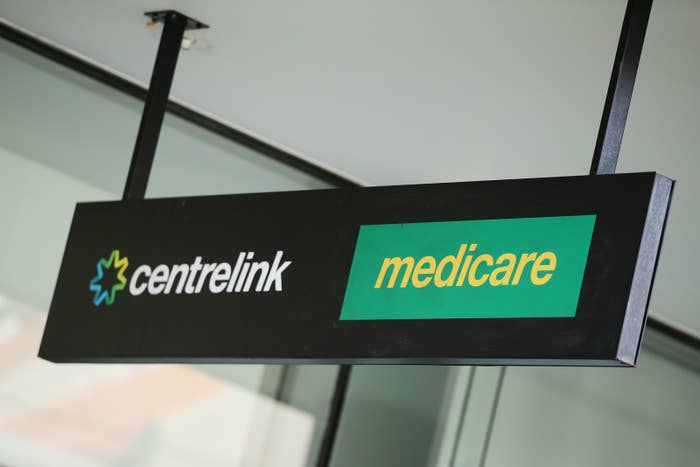 The 31-year-old Sydney man told BuzzFeed News he was left with no choice but to embark on a payment plan, after a staff member at Centrelink said it was either that, or face the debt collectors.
Dickson, a PhD student at Sydney University, has been caught up in the controversy over debt recovery letters sent out by Australia's government welfare agency Centrelink.

Since moving to an automated system in July last year, 169,000 letters have been sent asking people to explain discrepancies in welfare payments and reported income. But some people who use Centrelink say the calculations are wrong, and that the letters refer to money they don't owe.
Dickson told BuzzFeed News he was "diligent" with reporting his income and was surprised to receive a letter asking him to check his income information. He believes the $750 discrepancy arose from an eight-month period over 2011 and 2012 in which he did not receive Centrelink.

"They can see that I didn't get Centrelink for eight months. But they don't know which fortnights I earned the money in my tax return in," he said.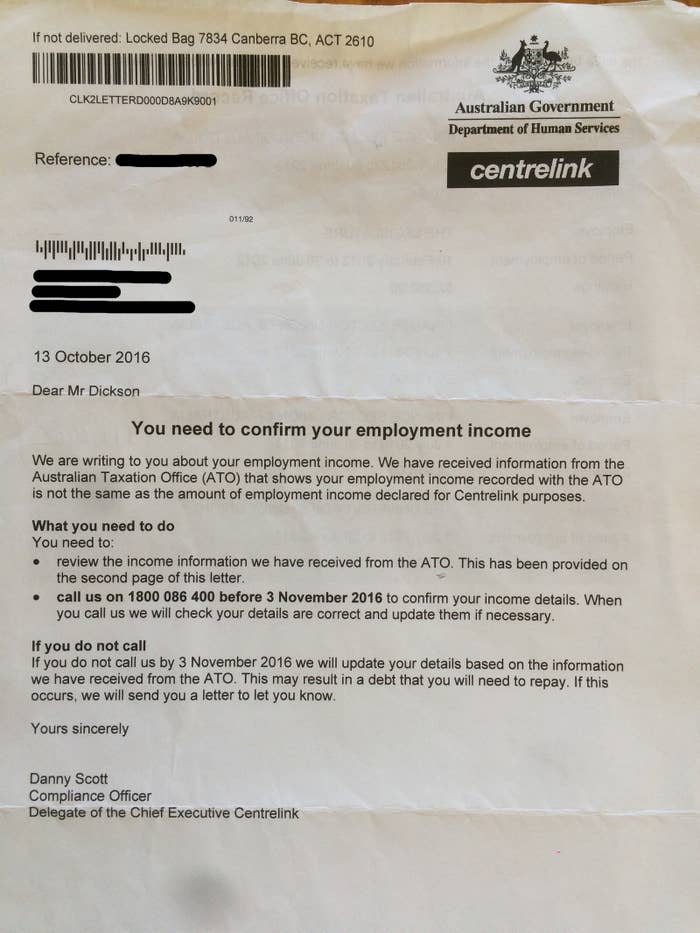 After he worked out the problem, he rang Centrelink to explain.

Dickson said a staff member told him he needed to show proof of income - incorrectly saying he needed to provide pay slips for the entire four-year period he received Centrelink – before the debt could be reviewed.
"They said, 'In the meantime, while that's going on, you have to go on a payment plan, because the debt will just go to a debt collector'," he told BuzzFeed News. "They justified it by saying, 'If it turns out it's wrong, we'll pay you back'."

Dickson set up the plan at the end of November and Centrelink gave him four weeks before it started.
"At that point, I was like, 'OK fine, I'll set it up, this will be resolved in four weeks time'. I set the first payment for the day after Boxing Day."

He filed his pay slips in early December, called Centrelink to confirm it had received them – it had – and sat back to wait for the results of the review.
"Just before Christmas I still hadn't heard anything so I rang them back, on December 23. They said, 'There's no record of the last phone conversation we had with you. No review has been started, but we can start one now for you if you'd like."

The four weeks was up, and the first $60 payment came out of Dickson's account on December 27.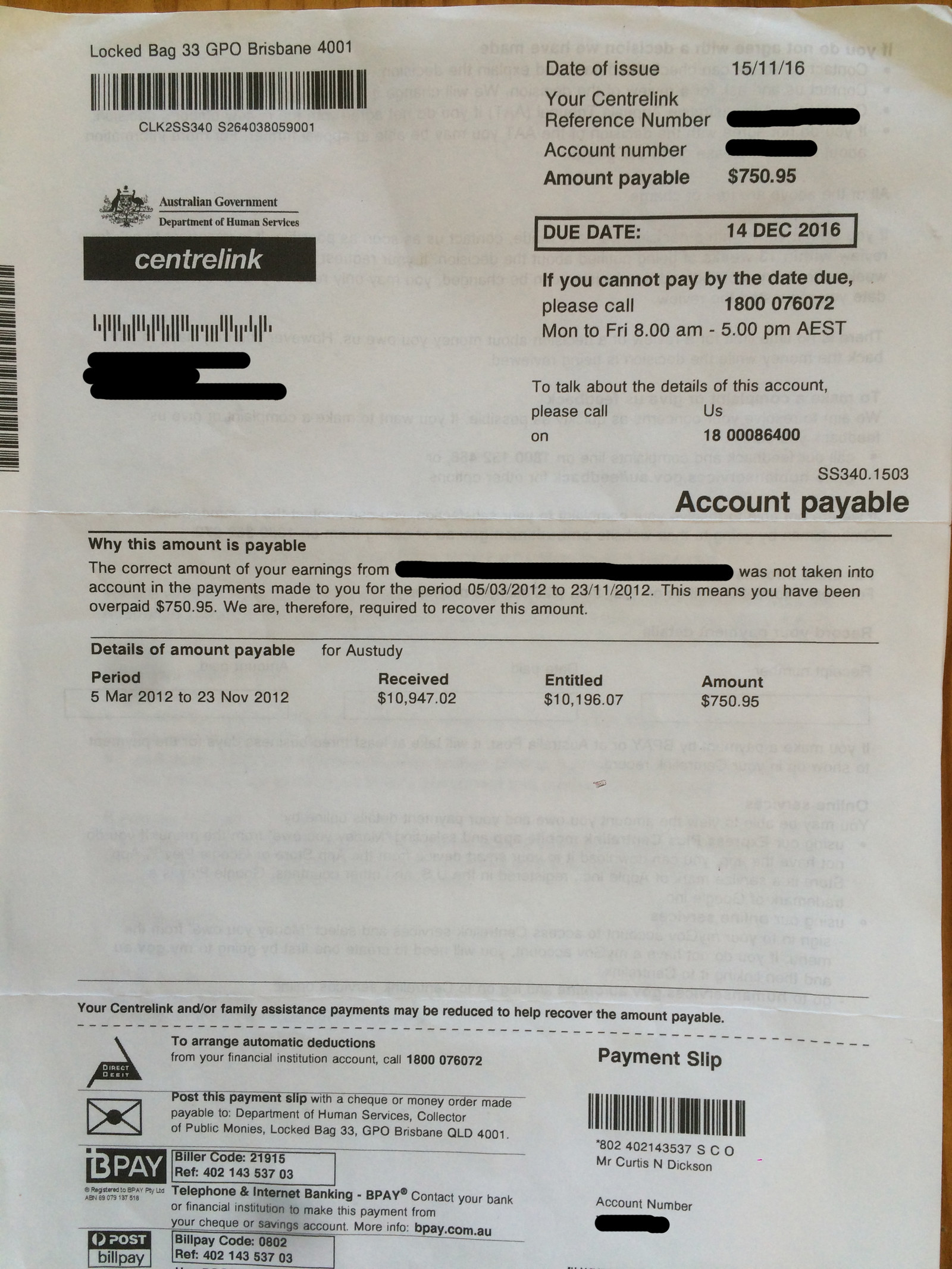 On January 5 he called to check on the review and was told there would be a further delay of at least two weeks.

"I asked if I could at least pause the payment plan," he told BuzzFeed News. "They said, 'You need to give us seven days notice to pause the direct debit, and the next payment is coming out on Tuesday, so you can't do that'."
Scores of Australians have taken to social media to complain about the letters, using the hashtag #NotMyDebt.

Many say they have been given the same options as Dickson: payment plan, or face the debt collectors.
"I was banking on the fact it would be resolved pretty quickly, but it's dragging on and on and on," he said.

The government has remained staunchly supportive of the automated system since media reports emerged of mass discrepancies late last year.

However, politicians from the Labor opposition and minor parties have slammed the government's handling of the issue.

Independent Andrew Wilkie said on Wednesday that the methodology behind the payment recovery calculation was "designed by a dunderhead", and that the stories he was hearing from constituents were "just bizarre".

"I'm blaming the government," Wilkie said. "I'm blaming the relevant ministers; I'm blaming the PM who is responsible for his government."
Dickson said it was "galling" to see social services minister Christian Porter come out and say the system was "working really well".

"It seems like either he is trying to cover up what's happening, or alternatively, has no idea what is going on."

The Human Services media office did not provide answers to questions by time of publication.