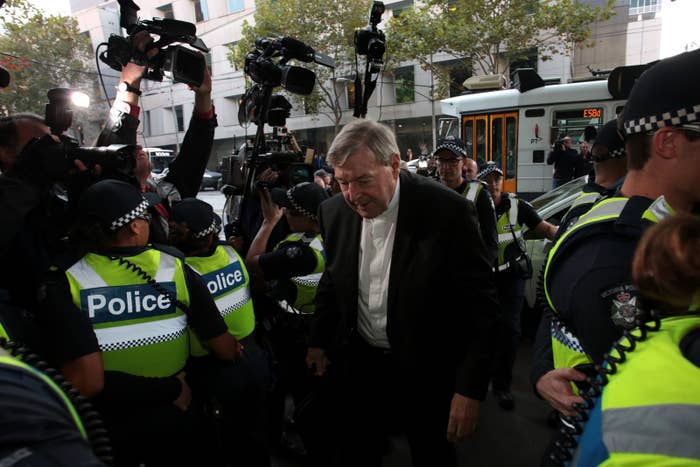 Cardinal George Pell will face a jury trial on a number of historical sexual offence charges, a court has ruled.
The decision to commit Pell to trial on some of the offences he had been charged with was handed down by magistrate Belinda Wallington in the Melbourne Magistrates' Court on Tuesday morning.

She dismissed half the charges that had been brought against Pell on the basis there was insufficient evidence for conviction.
Pell, 76, is Australia's most senior Catholic, and the highest ranked Catholic in the world to face charges of historic sexual offences.
He was charged with multiple offences from multiple complainants, the details of which cannot be reported for legal reasons.
Pell has strenuously denied the allegations against him. He entered a plea of not guilty after Wallington delivered her ruling on the committal hearing.
Pell was granted bail under the conditions he must reside at a fixed address, remain in Australia, and not contact witnesses for the prosecution other than Catholic priest Charles Portelli.
In 2014, Pell moved to Rome to take up the role of Prefect of the Secretariat for the Economy, effectively the treasurer of the Vatican, appointed by Pope Francis.
He has taken leave from that role while facing legal proceedings in Australia.
A number of accusers, their family members, and other witnesses testified at the committal hearing, which ran for about four weeks in March.
The purpose of a committal hearing is for a magistrate to hear the evidence against the accused and decide whether it is sufficient to commit them to stand trial. It is not a determination of guilt or innocence.
The first one and a half weeks of the hearing were closed to the public as the complainants against Pell gave evidence, which is routine for committal hearings involving sexual offences.
Pell attended each day of the committal hearing, usually flanked by police officers as he entered the court.

Wallington heard final arguments in the committal from Pell's barrister Robert Richter QC and prosecutor Mark Gibson SC in mid-April, and then took two weeks to make her decision.
Pell's lawyers said in a statement provided to BuzzFeed News: "Cardinal George Pell has at all times fully cooperated with Victoria Police and always and steadfastly maintained his innocence. He has voluntarily returned to Australia to meet these accusations."
"He will defend the remaining charges. He would like to thank all those who have supported him from both here in Australia and overseas during this exacting time and is grateful for their continuing support and prayers," the statement said.
The archbishop of Melbourne, Denis Hart, released a statement saying that he wouldn't make any comment about the decision to commit Pell to trial.
"Archbishop Hart expressed his confidence in the judicial system in Australia and said that justice must now take its course," the statement said.
The matter will now move to the Victorian County Court, with a first initial hearing at 9am on Tuesday May 2.