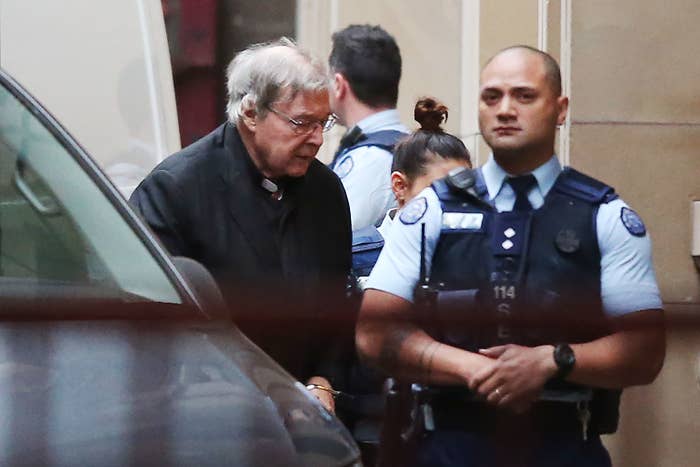 Cardinal George Pell will appeal his conviction for child sexual abuse in Australia's highest court.
Pell, 78, was Australia's most senior Catholic and an inner circle adviser to Pope Francis before being charged with four counts of indecent assault and one count of sexual penetration with a child. He was found guilty by a jury last year.

The High Court announced it would hear arguments on the appeal on Wednesday morning, making its decision based on filed documents only and not requiring any argument from lawyers.
It is Pell's final chance to overturn his conviction, and will likely be heard in 2020.
The Crown case at trial rested on the testimony of one man, now in his thirties, who testified that Pell had sexually abused him and a friend in 1996 and 1997 when they were 13-year-old choirboys at St Patrick's Cathedral in Melbourne.
The other victim died in 2014 and, as far as the evidence suggested, never disclosed the abuse to anybody. Pell was the archbishop of Melbourne at the time.
Pell appealed against the verdict in the Victorian Court of Appeal earlier this year, but it was dismissed.
Two out of three appeal judges found there was "nothing" in the evidence that suggested the jury who convicted Pell must have doubted his guilt.
"Justice Maxwell and I accepted the prosecution's submission that the complainant was a compelling witness, was clearly not a liar, was not a fantasist and was a witness of truth," chief justice Anne Ferguson said in the decision.
The third judge, Justice Mark Weinberg, disagreed, finding there was a "significant possibility" Pell may not have committed the offences.
Following the Court of Appeal decision, Pell's surviving victim, who legally cannot be identified, said in a statement that the process had been stressful and he had experienced dark moments along the way: "I just hope it is all over now. I need to be able to define myself away from all of this."
The Vatican is yet to defrock Pell and released a statement in August saying: "The Holy See recalls that the Cardinal has always maintained his innocence throughout the judicial process and that it is his right to appeal to the High Court."
The High Court has discretion over the appeals it hears. It typically accepts cases that raise new points of law, raise conflicts between lower courts that need to be resolved, or that are of high public importance.
In Pell's case, the court has not yet granted special leave to appeal, but rather has referred the application to the full bench to hear arguments "as on an appeal". This means the judges will hear the appeal arguments, but could still determine not to grant leave.
Pell is currently in prison, serving out a six-year sentence with a non-parole period of three years and eight months.