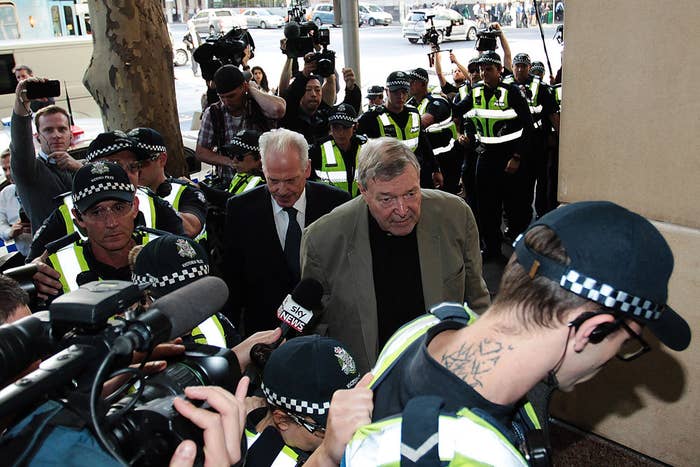 Cardinal George Pell has faced court on the first day of a month-long committal hearing to determine whether he will stand trial for alleged historic sexual offences.

During a 25-minute hearing on Monday morning, Pell's lawyer argued for witness statements he described as "exculpatory" (in favour of the defendant) to be included in the brief of evidence to magistrate Belinda Wallington.
Pell, 76, is the highest ranked Catholic in the world to face charges of historic sexual offences. He has been charged with multiple offences from multiple complainants. He denies all allegations against him.
Pell was flanked by police and surrounded by a media scrum as he entered the Magistrates' Court in Melbourne, Australia, on Monday morning.
An elderly protester, wielding a stick with a rat poison box affixed to the top, repeatedly shouted "George Pell, go to hell!" as the cardinal walked past her.
Journalists packed into a modest courtroom on level five of the Melbourne Magistrates Court for the open hearing, with more than 20 local and international outlets reserving seats.
Pell's barrister Robert Richter QC told the court he had provided 21 statements to police and said they ought to remain in the brief of evidence, as they are relevant to the alleged offences.
"I know it doesn't suit the prosecution because they are exculpatory of the cardinal, but they are still there and in possession of the police," he said.
Richter also told the court a report into how Victorian police should investigate "prominent people" ought to remain in the brief, and suggested police had not followed procedure.
Crown prosecutor Mark Gibson SC sought permission for witnesses giving evidence to have access to a "victim support dog". He explained the role of the dog, named "Coop", is to calmly lie or sit beside the witness as they give evidence.

Magistrate Wallington said she thought the dog was an "excellent initiative" and noted that it is intended to provide support to "vulnerable and traumatised" people.
Richter said he was fine with the dog, as long as it didn't "make any comment".
"Whatever comfort the dog can give, we don't object to the dog," he said.
Richter asked for Pell to have a support person as he gave evidence, saying it was "appropriate" given Pell's age and medical condition. Gibson did not object.
Prosecutors also sought to amend some of the charges against Pell. Details of the charges and complainants cannot be reported for legal reasons.
The court adjourned until 2pm, when the first witness will take the stand. The court is expected to be closed to the media and the public for up to two weeks while complainants give evidence, which is standard in sexual offence committal hearings in Victoria.

Prior to the 10am hearing, a handful of protesters lined up outside the court, holding signs decrying Pell and the Catholic Church more broadly.

Valda Ann Newman held a folder containing the death certificate of her brother, George, and a pole with a Ratsak box attached to it.
Newman told BuzzFeed News she was there "to let everyone know my brother and I have been abused by the Catholic Church for years".
"Not George Pell," she said. "Other priests and that." She singled out Brothers of St John of God, saying, "They were the worst."
Karen Baxter and her mother Beverley Hastie showed up in support of Pell after he had already entered the courtroom, holding a sign saying: "No trial by media".
"We're here supporting Pell for the right to have a fair trial," Baxter told BuzzFeed News. "We are a little bit worried that between the media there's a 'Go get him' mentality."