Take Some Time To Read This Powerful Same-Sex Marriage Speech From George Brandis
"To the boy or girl who senses a difference from their friends, which they find difficult to understand and impossible to deal with."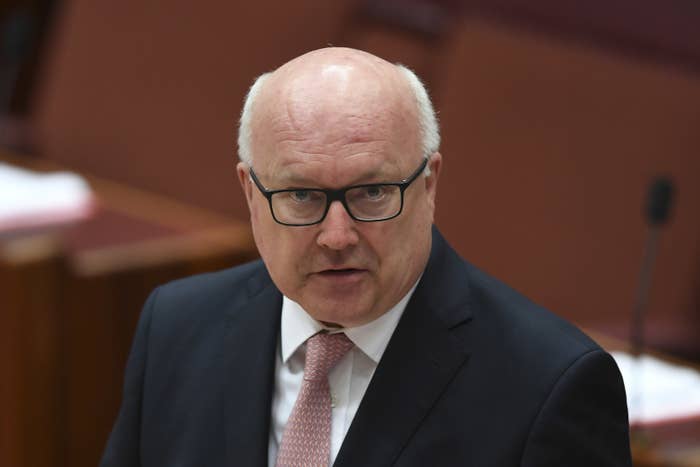 Attorney-general George Brandis has told young gay Australians "there is nothing wrong with you" in a heartfelt speech supporting same-sex marriage in the Senate.

On Tuesday morning, Brandis brought to an end speeches from over 50 senators as part of the debate on a same-sex marriage bill that parliamentarians expect to pass.
Brandis said the passage of the bill will "demolish the last significant bastion of legal discrimination against people on the grounds of their sexuality".
"At last, Australia will no longer be insulting gay people by saying: different rules apply to you," he said. "After centuries of prejudice, discrimination, rejection and ridicule, [this bill] is both an expiation for past wrongs and a final act of acceptance and embrace."
Brandis spoke at length of the pain and confusion often experienced by young gay people, saying the passage of marriage equality would send a message that ameliorated their hurt.
"I want to reflect for a moment on the message this will send, in particular, to young gay people: to the boy or girl who senses a difference from their friends, which they find difficult to understand and impossible to deal with," he said.
"In his first speech in the parliament, my friend Tim Wilson spoke movingly of his own experience of confronting that knowledge, as a tormenting fear 'that took an energetic 12-year-old and hollowed his confidence to eventually doubt his legitimate place in the world'.
"How many hundreds of thousands of young Australians have known that fear? How many have lived with it, silently and alone? How many have failed to come to terms with it and been overborne by it? By passing this bill, we are saying to those vulnerable young people: there is nothing wrong with you. You are not unusual. You are not abnormal. You are just you.
"There is nothing to be embarrassed about. There is nothing to be ashamed of. There is nothing to hide. You are a normal person and, like every other normal person, you have a need to love. How you love is how God made you. Whom you love is for you to decide and others to respect."
Brandis made historical references through the speech, starting with the South Australian push to decriminalise homosexuality, which began in 1972. He also cited a 1989 essay by conservative writer Andrew Sullivan, Here Comes The Groom, saying: "It proved to be one of the most influential publications of the late 20th century, because it kicked off the gay marriage debate."

Brandis said legalising same-sex marriage would "stand as one of the signature achievements of the Turnbull Government".
"It rises above tawdry day-to-day politics as an imperishable legacy," he said. "If I may draw a comparison: nobody today remembers the arguments about the state of the economy, or the policy controversies or the political intrigues, that took place during the government of Harold Holt. Like all political ephemera, they have faded into history.
"But people do remember the 1967 referendum, that great act of inclusion of Indigenous Australians. As the years and decades pass, its significance only grows.
"And I predict that, like the 1967 referendum, this decision by the Australian people, enabled by their government and enacted by their parliament, will come to be seen as one of those occasional shining moments which stand out in our nation's history, about which people will still speak with admiration in decades, indeed in centuries to come; one of those breakthroughs which have, as the wheel of history turns, defined us as a people."
Brandis described November 15, the day it was revealed Australians had voted "yes", as a triumphant and joyous day.

"Like all of the best and most enduring social change, it was not imposed from above," he said. "The will for it germinated in the hearts and minds of the people themselves. Now that the Australian people have spoken, it is for us, their elected representatives, to respond.
"And so, let us now complete the task which they have set us, and for which so many of us have worked for so long."

The ensuing vote to move to debate on amendments, carried on the voices, was in one way significant, as the first time either house has voted in favour of marriage equality. In another way, though, it marks just another procedural step along the complicated path to the bill becoming law.
The Senate is now debating a series of amendments to the same-sex marriage legislation.