Three people were stabbed, one fatally, and their alleged attacker shot dead by police in a terror-related knife attack in the Melbourne CBD on Friday afternoon, police say.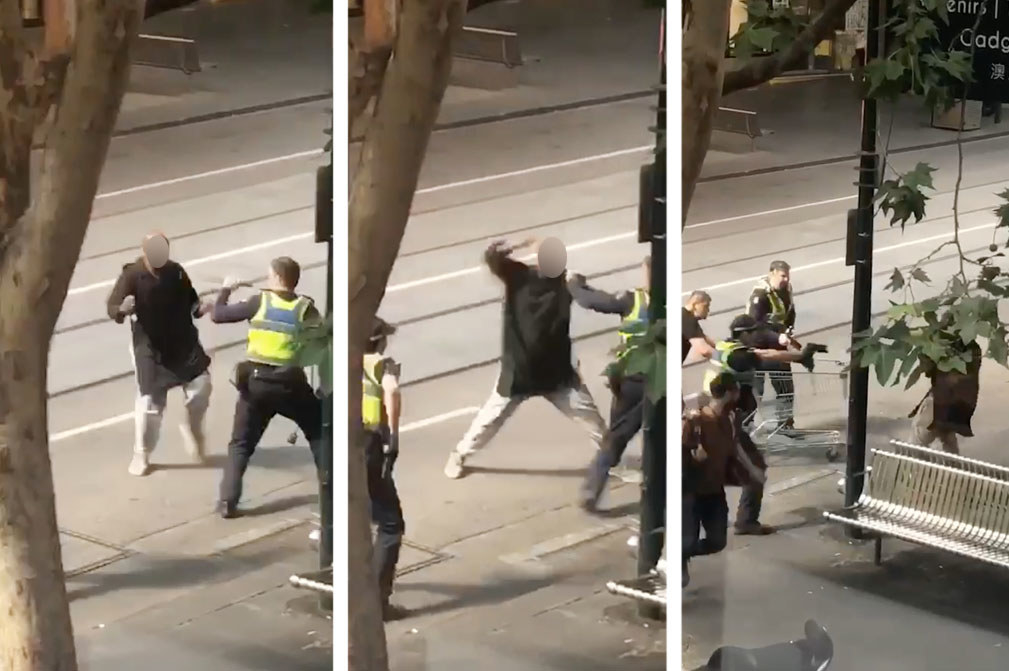 The attack unfolded on Friday afternoon on Bourke Street, a busy thoroughfare in Melbourne's CBD.
Three men were stabbed at the scene. One of them has died, and two others are still receiving medical treatment for non-life-threatening injuries, according to police.

The identity of the deceased man has not been publicly released.
Police confirmed on Friday night that a fourth man, the suspected attacker, died in hospital after he was shot in the chest while being apprehended by police.
Victoria Police Superintendent David Clayton said police had responded to reports of a ute going up in flames near the corner of Bourke and Swanston streets at about 4:20pm.

"As they got out of the car, they were confronted by a male brandishing a knife and threatening them," Clayton said. "At the same time, passers-by were calling out that members of the public had been stabbed."
There were gas cylinders of the type usually used for barbecues inside the ute, police say.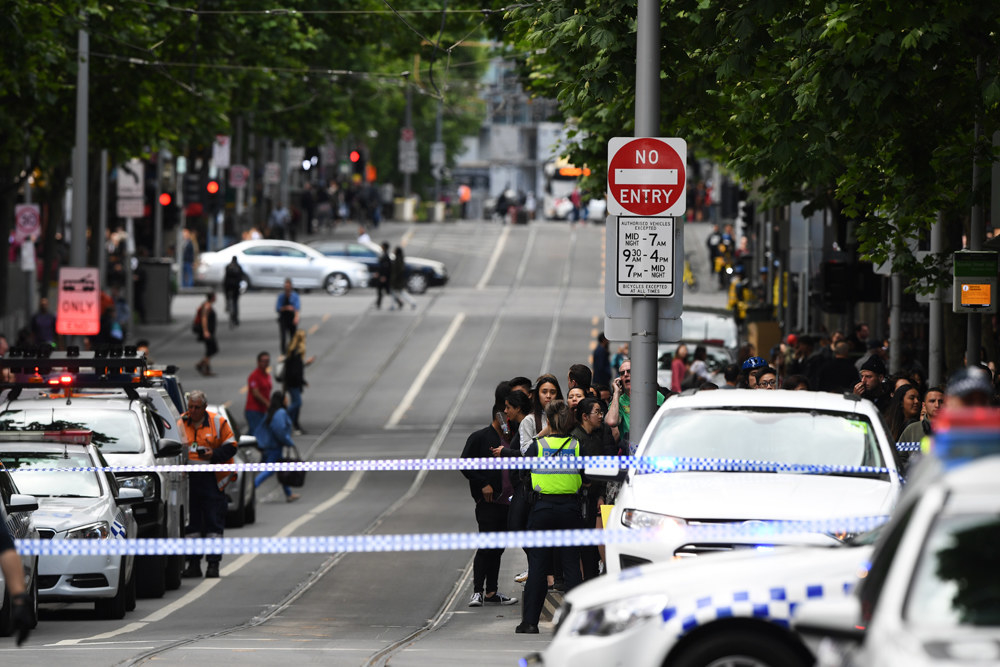 Victoria Police Commissioner Graham Ashton said on Friday night that the attack was being treated as a "terrorism incident" and that the suspect was known to Victoria Police and to federal intelligence agencies, mainly due to his relatives.
"He's got family associations that are well known to us and, as a result of that, he's also known to us," Ashton said.

Ashton did not name the man, citing the ongoing counterterror investigation, but said he lived in Melbourne's northwestern suburbs, moved to Australia from Somalia in the 1990s, and had a minor criminal history relating to cannabis use, theft, and driving offences.
He said police did not believe there was any ongoing threat, but there would be an increased police presence at public events in Melbourne over the weekend.
"Tonight, in fact, I think the Christmas windows have been open and there are a number of families in the city," he said.
"We have extra police there, as we will have over the weekend to just engage with the families, if they want to do that, to provide further reassurance at that time."
Several videos being circulated on social media, filmed from a number of different angles, appear to show a man lunging at police before he is shot. They also show another person attempting to roll a trolley at the man.
Some of the police officers who apprehended the man suffered minor injuries but are "OK", police said.
Photographs from the scene show a body lying under a white sheet on the road with blood on the asphalt.
Victorian premier Daniel Andrews said the attack was an "evil and terrifying thing" and thanked the police and bystanders for their rapid response.
"They've done each and every one of us proud," he said. "Equally, those strangers, people who were bystanders who knew nobody involved, who stepped in without a moment's hesitation, to render support and assistances to the brave members of the Victoria Police, they too ... make all of us proud as well."
Trams and traffic along the street ceased and a heavy emergency presence held people back as the incident unfolded.

The site around Bourke Street and Swanston Street is likely to be blocked to the public until 8am as crime scene investigations take place.
People are warned to avoid the area.

Police have asked anybody with information or who witnessed the incident to go to Melbourne West Police Station to make a statement.
They have also asked anyone who took video of the incident to upload it to the Victoria Police public evidence submission site.
The attack comes during the Victorian Supreme Court trial of James Gargasoulas, who allegedly killed six people as he mowed down pedestrians along Bourke Street Mall in January 2017.
He has pleaded not guilty to six counts of murder and 27 counts of reckless conduct endangering life.