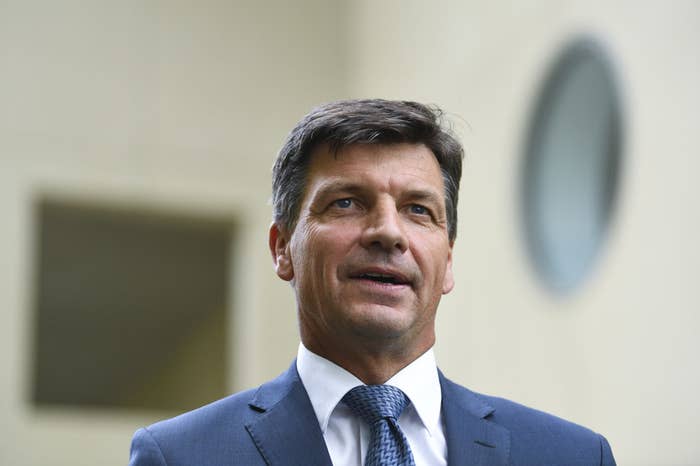 Government minister Angus Taylor has threatened journalists with legal action for allegedly sharing a Twitter thread that he says was "grossly and indefensibly" defamatory of him.

Lawyers acting for Taylor sent letters dated April 12 to journalists Margo Kingston and Michael West, placing them on notice that the federal minister for energy may sue and seek damages and costs.
The letter sent to Kingston, through her website No Fibs, says: "We are instructed that on or around 12 April 2019 you tweeted a thread posted by Ms Ronni Salt headed "Money for nothing (and your tricks for free)".
"The thread contained with the tweet clearly conveys the defamatory imputation that our client has acted corruptly. That imputation has absolutely no basis in fact, and your publication of it is indefensible," the letter reads.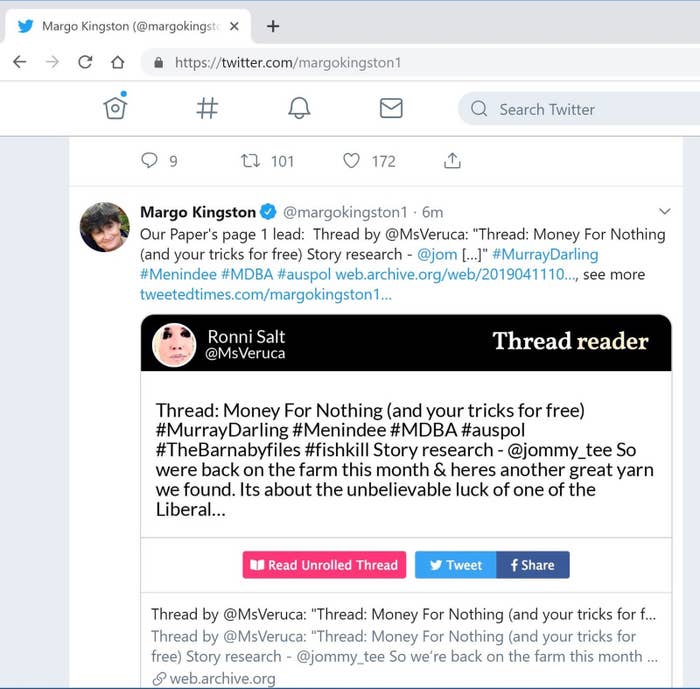 Kingston initially told BuzzFeed News she had a "strong belief" she had never retweeted or shared the thread.
After viewing a screenshot of her account tweeting the thread, provided to BuzzFeed News, Kingston said it had been posted automatically as part of a service she is signed up to called the Tweeted Times, which collates items a person's followers have been tweeting about and posts them.
"It's completely automatic. It's nothing I do intentionally," she said.

The tweet has since been deleted, but Kingston said she doesn't specifically recall having deleted it.
She explained this by saying she deletes Tweeted Times posts as a matter of course when something is sent out that she disagrees with or doesn't want posted from her account — giving the example of when her account posted the link for subscribing to The Australian newspaper.
"I'm very concerned about this and I have decided to disable my Tweeted Times," Kingston said. "I have a very firm policy of not tweeting material that is unethical or with serious legal risk."
The letter sent to Kingston is signed off by Paul Svilans, a lawyer at the firm Mark O'Brien Legal, and marked "confidential" and "not for publication".

Kingston posted the letter on Twitter where she is followed by more than 36,000 people. She said she understands confidentiality to be based on a relationship or prior agreement, and therefore not applicable to the letter.
"Some stranger sends you a threatening email out of the blue, I thought, I'm going to post it," she said.
Lawyer Adam Houda has agreed to act pro bono for Kingston in the matter.
Kingston told BuzzFeed News she was not aware of anybody who had received a letter other than herself and West. Taylor's office did not respond directly to a question on how many letters were sent out.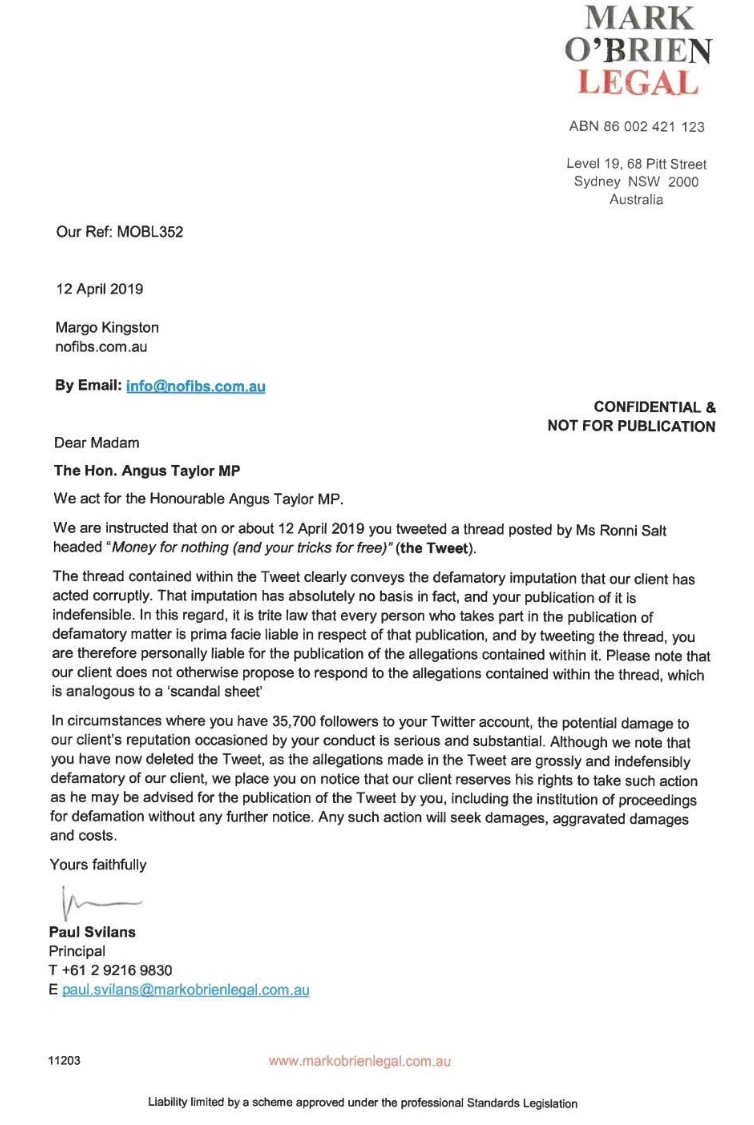 West, who retweeted the thread and added a comment of his own, confirmed to BuzzFeed News that he had received the letter.
"They haven't responded to the actual claims [in the thread], they have only responded by threatening lawsuits," West said.

"I've been exploring the claims and there's an issue of public interest here that needs to be addressed."
West said he was not alleging corruption or illegality.
The thread was originally posted by a Twitter user with the handle @MsVeruca and who goes by the name "Ronni Salt" on Twitter.

It contained accusations, strongly denied by Taylor, relating to alleged corrupt activity in a government water buyback deal with Eastern Australia Agriculture (EAA) and its parent company Eastern Australia Irrigation.
Taylor co-founded and was a director of Eastern Australia Irrigation prior to entering parliament in 2013.
A spokesperson for Taylor told BuzzFeed News: "Allegations currently online that link Minister Taylor with EAA's sale of water entitlements are incorrect.
"Minister Taylor has not had any direct or indirect financial interest in EAA or its parent company at any time. He has never been a shareholder or held an equitable interest in either company. He severed all advisory ties with EAA well before entering Parliament."
The @MsVeruca account disappeared from Twitter late last week and was reinstated briefly on Monday, before disappearing again. The thread itself has also been deleted.

BuzzFeed News understands the account was not deactivated or deleted by Twitter, and that Taylor has not been in contact with Twitter about the thread.