Anglican Leaders Slam Sydney Diocese's $1 Million Donation To The "No" Campaign
"It is an appalling and immoral use of money."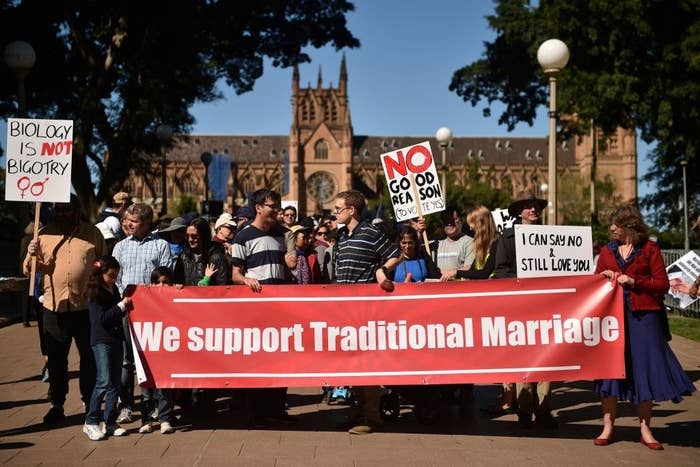 Anglican leaders and laypeople have slammed the Diocese of Sydney's decision to donate $1 million to the "no" campaign in Australia's same-sex marriage survey.

BuzzFeed News revealed on Monday evening that the diocese had donated the sum to leading "no" group, the Coalition for Marriage, last month. It is the first significant church donation to come to light in the campaign thus far.
The Diocese of Sydney is a founding member of the Coalition for Marriage, along with the Catholic Archdiocese of Sydney and political activist groups Marriage Alliance and the Australian Christian Lobby.
In his address to the 51st Synod of the diocese on Monday afternoon, archbishop Glenn Davies said "the stakes are high and the cost is high" in the marriage debate.
"Yet the cause is just and it is a consequence of our discipleship to uphold the gift of marriage as God has designed it — a creation ordinance for all people," he said. "By so doing, the wisdom of God is made manifest."
But many within the church disagree.
Reverend Andrew Sempell, rector of St James King Street in Sydney, told BuzzFeed News he thought the donation was "an unhelpful action" and "a poor use of church finances".
"I think this suggests we are more interested in politics than people, and I think that may be a bad thing for us," he said.
"What we should be doing is humbly trying to persuade people of a point of view rather than judging and condemning them. We're doing too much judging and condemning — and by putting our money into this sort of political process, we seem to be on the wrong side of grace."
The donation was approved by the standing committee — a body of church leaders with decision making power — and drawn from the Diocesan Endowment fund.
A spokesperson for the Diocese of Sydney told BuzzFeed News the fund is generally used for "the administration of the church".
Asked if such a significant donation had been made to a social cause or political campaign in the past, the spokesperson said: "There were drawdowns of up to $20 million for the diocesan mission in 2007 — most of which went towards the development of church facilities."
Sempell said the fact the donation was a decision of the standing committee, rather than the Synod, signalled a "bad attitude to governance".
"I'm surprised this action would be taken," he said. "Certainly the Synod can express an opinion and what have you, but to use the diocese funds is going further than that. The diocese should be for everybody, not just those who hold power."
Sempell, who is part of the Diocese of Sydney, said he would stand up and express his concerns if the donation is debated during the current Synod session and knew of "a number of clergy" who would do the same.
The Anglican dean of Brisbane, Peter Catt, told BuzzFeed News his first reaction to the donation was "there are so many other things that could have been spent on".

"Marriage equality is one of the issues that within the church is very divisive, but there are other issues that the church has a very unified approach to, such as the care of refugees, advocacy about homelessness," he said.

"It's regrettable that it was spent on something that's divisive rather than something the church has a unified view on."
Melbourne journalist and author Dr Muriel Porter, who has served on the Anglican Church's national General Synod for 30 years, told BuzzFeed News, "I am not surprised, but I am shocked," about the donation.
She said there is a fear among some Anglicans that the marriage equality debate will damage the church "in the minds of the secular community, and young people in particular".

"People will just think, for heaven's sake, that they are out of touch," she said. "It's the way the church has treated women. The Anglican Church's opposition to the full equality of women; their decades-long opposition to divorce and remarriage. That did huge damage to people.
"It hadn't just been the sex abuse crisis that damaged the churches, it's their attitudes to ordinary people and their ordinary lives."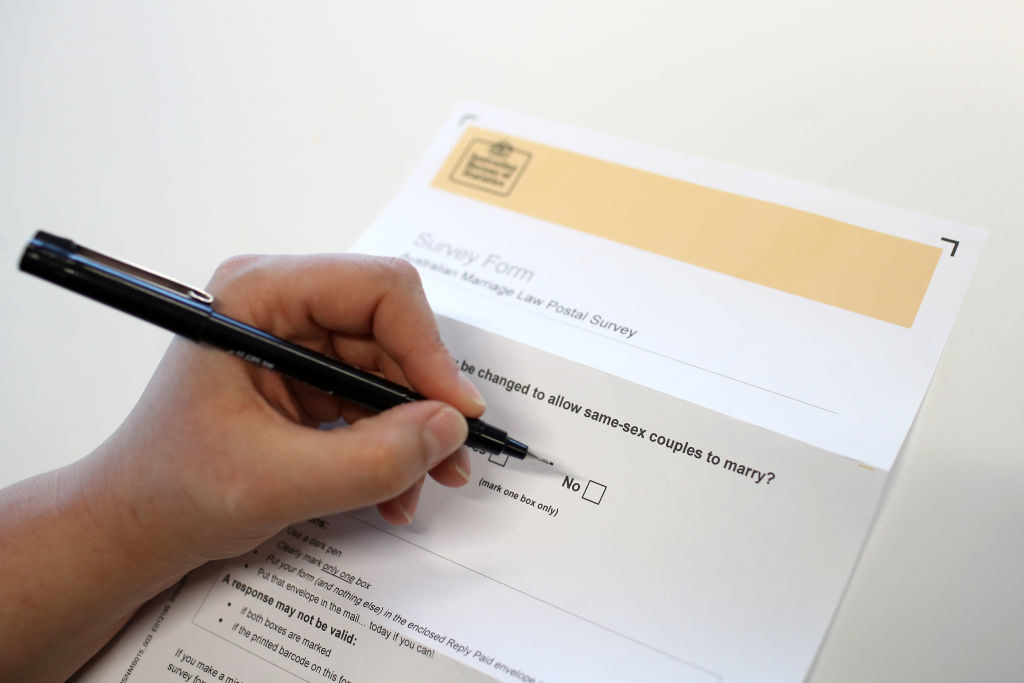 According to Porter, many Anglican dioceses have opted to take a more understated role in the postal survey — with Sydney's donation an outlier so far.

"It's an extraordinary use of church money," she said. "I suspect they're terrified of losing this battle, and if they lose it they will have egg on their faces.
"They are trying to shore up the 'no' campaign almost in panic because they are frightened they are going to lose."
Progressive Anglican priest Keith Mascord, who lost his license to preach in the Diocese of Sydney due to his support of same-sex marriage, agreed with Porter that the donation signalled "a certain measure of desperation".
"It is an appalling and immoral use of money," he said. "They bristle at being called homophobic, but they're exerting all this effort to stop these people from enjoying the wonderful fruits of marriage."
Mascord is an executive member of Equal Voices and a member of Australian Christians for Marriage Equality.
"That Sydney Anglican churches could commit so much money to an organisation headed up by the ACL and Lyle Shelton will damage the reputation of Sydney Anglicans for generations — especially given the inexcusable silence of Sydney when extreme and damaging statements are made, and when the campaign itself is based on dishonesty," he said.

"The 'no' case doesn't have to cause damage, but they've chosen to use a similar scare campaign to the US and Ireland. That's immoral. They have chosen to put money towards an immorally run campaign."
Davies said in his speech on Monday that he made "no apology" for encouraging Australians to vote "no" in the survey.
"I believe that a change in the definition of marriage is unwarranted, not just because it is in opposition to the teaching of scripture and our Lord himself in Matthew 19," he said
"But because I believe marriage, traditionally understood as a union of one man and one woman, is a positive good for our society, where marriage and the procreation of children are bound together as the foundational fabric of our society, notwithstanding the sad reality that not all married couples are able to conceive."
Donations have played a prominent role in media coverage of the postal survey — largely because of the opacity of both campaigns, which have sought to downplay how much money they have.
Donations made public so far include a $1 million personal donation to the "yes" campaign from Qantas CEO Alan Joyce, and anonymous donors matching up to $600,000 of donations to the "no" campaign.
In an email sent after the million-dollar donation from the Sydney Diocese had been received, Marriage Alliance CEO Damian Wyld claimed it was "funny" that "yes" campaign leader Tiernan Brady had suggested the "no" side had more cash.
"It sounded even funnier when Qantas CEO Alan Joyce tipped a cool million dollars out of his pay packet into the 'yes' campaign," Wyld said. "We don't have that sort of funding at our fingertips."
In response, Brady told BuzzFeed News "the other side has radically outspent us".
"It's not us making this up, it's clearly obvious from the amount of money thrown at TV ads and billboard campaigns that the 'no' side has literally, radically, outspent us," he said.