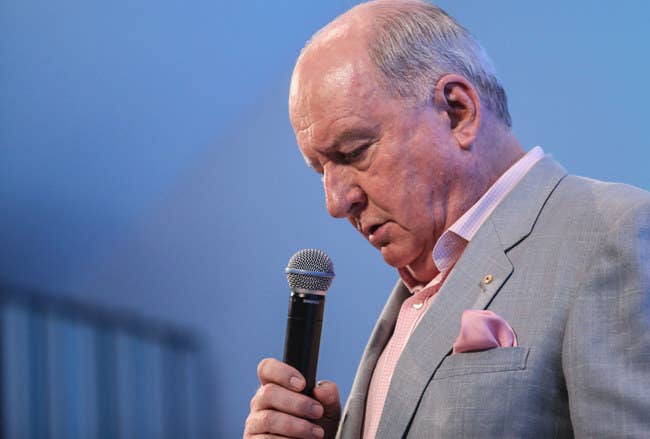 Broadcaster Alan Jones and two radio stations have been ordered to pay $3.4 million to four members of a Queensland family, after Jones defamed them by suggesting they were responsible for 12 deaths during the 2011 Grantham floods, after the wall of a quarry owned by the family collapsed.
The judgement in the high profile defamation case was handed down in the Queensland Supreme Court in Brisbane, Australia, on Wednesday morning.
Jones was found to have defamed Toowoomba brothers Denis, John, Neill and Joe Wagner in comments broadcast on Sydney radio station 2GB and Brisbane's 4BC in the period October 2014 to August 2015.
Jones made several defamatory allegations about the Wagners, suggesting they were responsible for 12 deaths in the floods, including two kids, after the wall of the quarry they owned collapsed; that they were involved in a massive cover up that included conspiring with the federal and state governments and selling the quarry to avoid legal liability; and that they had a corrupt relationship with government.
Jones argued defences of substantial truth and fair report, but failed.
Justice Peter Flanagan found that Jones' conduct was "unjustifiable" and that he had acted with a desire to injure the reputations of the Wagners.
The $3.4 million award consists of $750,000 to each of the four Wagners from Jones and 2GB, and $100,000 each from Jones and 4BC. With added interest, Jones and the stations must pay $3.75 million in total.

It is Australia's largest defamation payout. The record was briefly held by actor Rebel Wilson, who was awarded $4.5 million after she was defamed by magazine publisher Bauer Media, but then had the amount slashed to $600,000 on appeal.
"In Mr Jones' evidence, he gratuitously attacked the plaintiffs' reputations and repeated, as I have found above, many defamatory accusations. This included Mr Jones repeating his belief that the plaintiffs are responsible for the deaths of 12 people," Flanagan said in the judgement.
"The repeating of these defamatory imputations by Mr Jones in the course of his evidence makes vindication an important consideration. A substantial award of damages is required to represent a full vindication of the innocence of the plaintiffs, and to be sufficient to convince any bystander of the baselessness of the accusations levelled against the plaintiffs."

Jones has also been permanently restrained from further broadcasting the defamatory comments about the Wagners.

The veteran broadcaster's more recent scandals have included personally calling politicians to lobby against former prime minister Malcolm Turnbull during the recent leadership spill, and saying the n-word live on air.