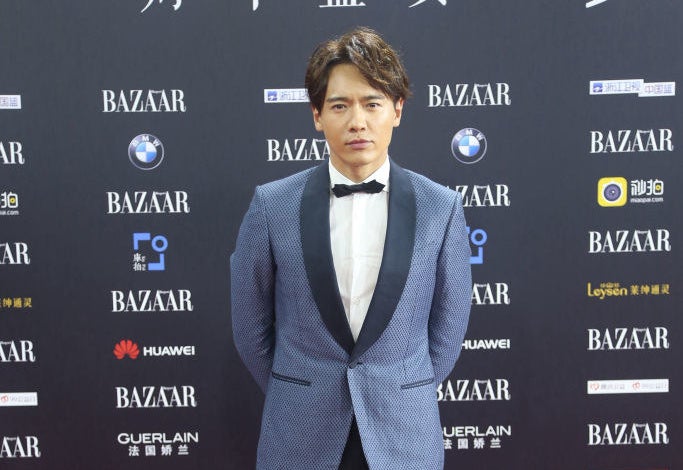 Jing Wang, the Chinese TV producer accused of raping a woman in Sydney, has been refused bail and will stay behind bars while waiting for trial, while his co-accused, film star Yunxiang Gao, is released under strict conditions.

Wang and Gao, both 35, were in Australia to film the TV show Love in Aranya earlier this year when they allegedly raped a woman in a hotel room after a night out at dinner and a karaoke bar to celebrate the wrap of production.
The two men have each been charged with aggravated sexual assault and aggravated sexual assault occasioning actual bodily harm over the alleged events early in the morning of March 27 at the Shangri-La Hotel in Sydney.
Consent is likely to be the issue at trial, with forensic and CCTV evidence expected to prove Gao and Wang were in the hotel room with the woman, the court has heard.
Wang was denied bail at the New South Wales Supreme Court on Wednesday afternoon.
At his bail hearing last week before Justice Elizabeth Fullerton, a witness named Wei Wei, who is involved in the Chinese film industry, testified that Wang could not flee to China because of his notoriety.
He told the court that he had seen numerous photos of Wang distributed across Chinese social media, particularly on Weibo and WeChat, since he was arrested.
Wei also said that if Wang did abscond, it would be seen as an admission of guilt and lead to him not being able to live or work in China.
"In China social media is very popular… This matter is a very hot topic. It has been pushed into everyone's smartphones as the hot topic," he said.
"You can't really speak on behalf of 1.3 billion people," said prosecutor Daniel Waldmann.
"I understand that, but my acquaintances in China in the film and media industry also share the common view he will be recognised by the general public," Wei said.
Wang's barrister Ian Lloyd QC argued that Wang should be released as he is being held in an area with 100 other prisoners, none of whom speak Mandarin, and he can only communicate with them via hand signals.
"He speaks no English whatsoever," Lloyd said. "Maybe 'Hello'."
Waldmann argued that the bail sureties offered for Wang were from people who didn't have a close relationship with him, which detracted from their worth in terms of mitigating Wang's flight risk.
"Money offered by his father, of all the sureties, is probably the only sum he would really not want to lose by breaching bail," Waldmann said.
The two bail hearings were separate proceedings before different judges. Fullerton noted during Wang's hearing that "there may well be two completely different bail outcomes".

Gao was granted bail by Justice Lucy McCallum late last month.
He is subject to a string of conditions, including electronic monitoring; reporting twice daily to police; surrendering his own passport and the passports of his wife, daughter, and mother; using only one mobile phone with the number provided to the police; not going within 1 kilometre of Sydney International Airport; a 9pm–5am curfew; and that he must not contact any prosecution witnesses. He has also provided sureties of more than $3 million.