Here's The Video Of An Aboriginal Man Yelling "I Can't Breathe" As Officers Hold Him Down
David Dungay was 26 when he died in custody. His family hope an inquest will bring answers and accountability.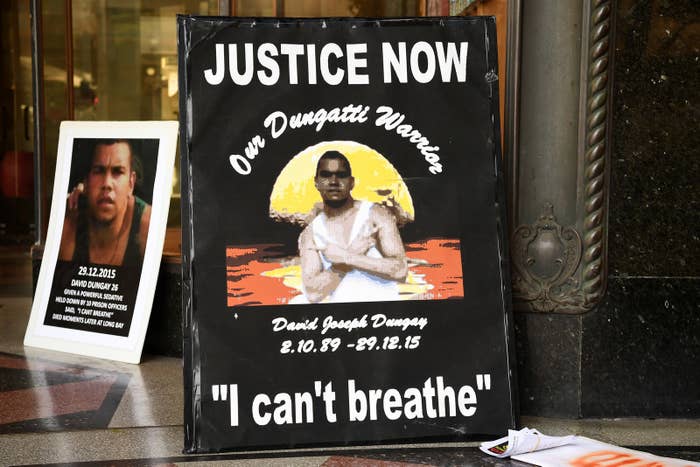 An Aboriginal man repeatedly yelled "I can't breathe" as he was being held face down on a bed by prison officers in the moments before he died, an inquest has heard.

David Dungay was 26 when he died in Long Bay Hospital in Sydney, New South Wales, on the afternoon of December 29, 2015.
Footage recorded by a handheld camera shows corrective services officers storming Dungay's cell, restraining him, and then a nurse injecting him with a sedative – after he refused to stop eating a packet of rice crackers.
An inquest before deputy state coroner Derek Lee began on Monday morning in the NSW Coroner's Court in the Sydney CBD. Dungay's family and their supporters filled the large courtroom, many sporting bright red t-shirts calling for an honest inquest into the death.
Outside court, they were supported by a representative from the US Black Lives Matter movement, who drew parallels between the death of Dungay and that of New York man Eric Garner, who was filmed saying "I can't breathe" as police officers held him down before he died.
Dungay was a Dunghutti man born to parents Leetona Dungay and David Hill on October 2, 1989. He was diagnosed with Type 1 diabetes around age five, and grew up "a sporty child", playing rugby league, the court heard.
At the time of his death, he was serving nine and a half years in prison for robbery, attempted aggravated sexual intercourse, and assault occasioning actual bodily harm.
Dungay suffered difficulties with management of his diabetes and also significant mental health problems while in custody. Records suggest he suffered a "fairly serious psychosis" during his time in custody, the court heard.
In November 2015, after a number of concerning mental health evaluations, he was transferred to Long Bay Hospital as a mental health in-patient.
Counsel assisting the coroner Jason Downing told the court that on the morning of Dungay's death, his blood sugar levels were checked by a nurse and were low in the morning, then at a high level by midday.

Dungay went out to the exercise yard that afternoon, and on the way back, grabbed a packet of rice crackers that he had bought from the commissary, Downing said.

Somebody (the nurse says corrective services officers, the officers say the nurse) raised a concern that Dungay eating the biscuits in his cell could affect his already high blood sugar levels, the court heard.

Officers spoke to Dungay and asked him to stop. "They suggest that Mr Dungay became angry and stated in unequivocal terms that they were his biscuits and he would do what he wanted," Downing said. "It appears that Mr Dungay then began to stuff the biscuits into his mouth."
It was then that the Immediate Action Team (IAT) – a group of officers specifically trained to respond to security and emergency situations – were called, the court heard.
Footage of the incident recorded on a handheld camera shows the men barrelling into the cell at around 2.40pm, a riot shield at the front, and pushing Dungay across the room and onto the bed, where they held him down.
The officers, who cannot be named for legal reasons and have been de-identified in the footage by the court, then moved Dungay to a different cell. He was heard saying repeatedly "I can't breathe", while officers told him to "Stop resisting".

"The officers observed Mr Dungay breathing and reassured him that because he was talking, he was breathing," Downing said.
Once in the second cell, a nurse could be seen injecting Dungay with a sedative. He then became unresponsive and could not be revived, the court heard. At 3.42pm, after receiving CPR, he was pronounced dead.
David Evenden, acting for Leetona Dungay and other maternal relatives, said the family wanted answers about why Dungay had been moved to a different cell, and why the IAT had been used at all.
The family wants to know "Why couldn't they have just done nothing?", Evenden said.

"The family cannot understand why the officers continued to do what they were doing despite David having been shouting out from the time he was first restrained that he couldn't breathe."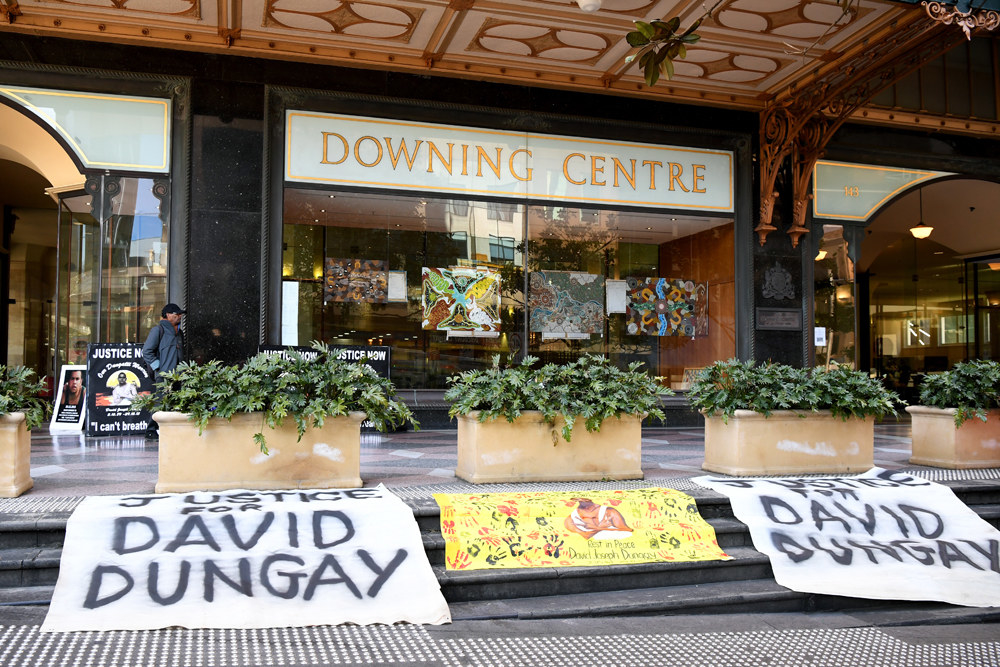 Outside court, Dungay's family held a smoking ceremony and held up signs calling for justice. His young nephew Paul told a waiting media pack that the traumatic loss would stay with him for the rest of his life.

"No parent, no mother should have to sit there and watch a loved one behind the bars of the justice system die at the hands of corrective officers," he said, adding that he wants the inquest to hold the officers involved accountable.
Hawk Newsome, a New York representative of the Black Lives Matter movement, said he saw the same "excuses from blue uniforms" in Australia that he did in the United States.
"It's the same story, different soil," he said. "It's the same thing from Long Bay to the USA. In Sydney, his name is David Dungay. In New York City, his name would be Eric Garner.
"Eric Garner called for his life 11 times. David Dungay called for his life 12 times. These eerie similarities cannot go ignored."

The inquest will canvass a number of issues, including the decision to involve the IAT and move Dungay to a different cell.
"There is evidence that in the past, where there were difficulties in dealing with Mr Dungay, particularly in relation to his blood sugar levels, Justice Health nurses, other Aboriginal inmates and an Aboriginal Delegate were able to speak to him and calm him down," Downing said.
"Whether that was an option that should have been tried on 29 December 2015 will be explored in the course of the evidence."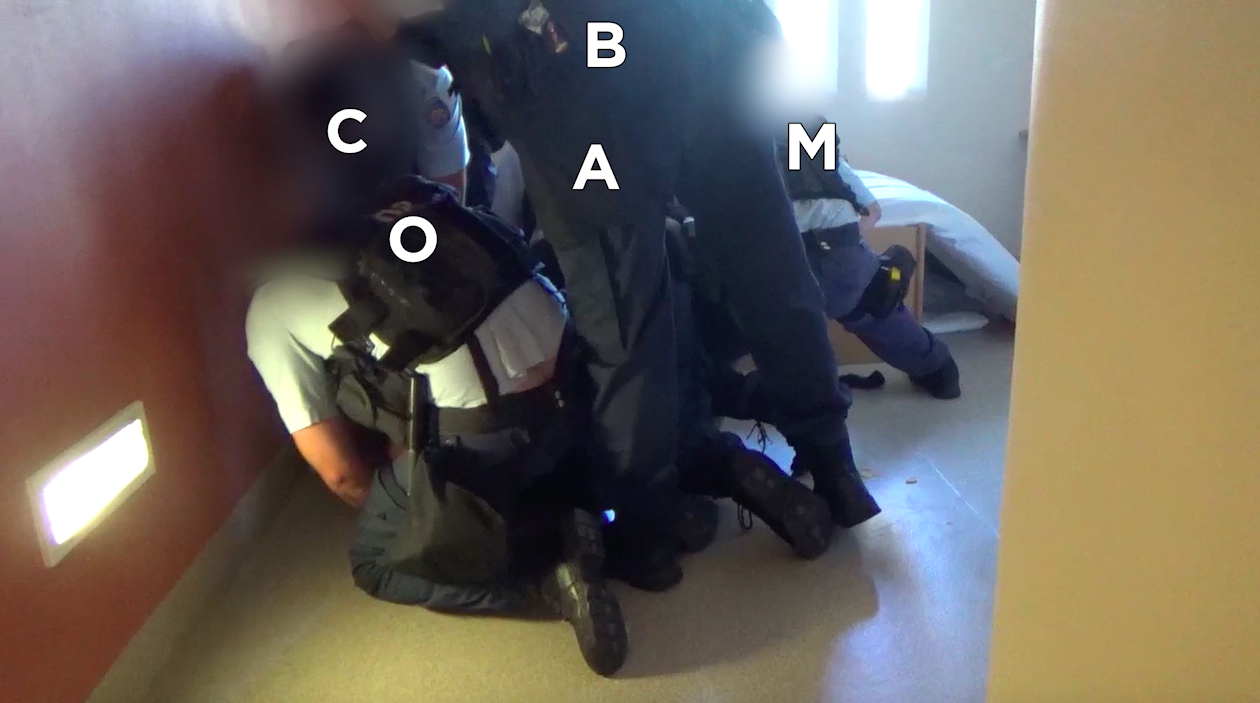 It will also look at whether Dungay should have been injected with the sedative and whether it was done safely, as well as the way he was restrained.

The cause of his death was ruled unclear in an autopsy report, but the inquest will hear evidence he suffered a cardiac arrest from being held down.
Downing said people have previously died from being restrained face down, also known as "positional asphyxia".

The inquest will hear that five out of the six officers that restrained Dungay were unaware of the risk of positional asphyxia, he said.
The inquest will also hear evidence that Dungay received substandard CPR from Justice Health staff that was "incompatible with survival", and lost whatever chance he might have had at being resuscitated, Downing said.