Guys, A Politician Proposed In The Middle Of The Same-Sex Marriage Debate
He said yes!
Australian politician Tim Wilson has proposed to his partner Ryan Bolger on the floor of parliament during a debate to legalise same-sex marriage.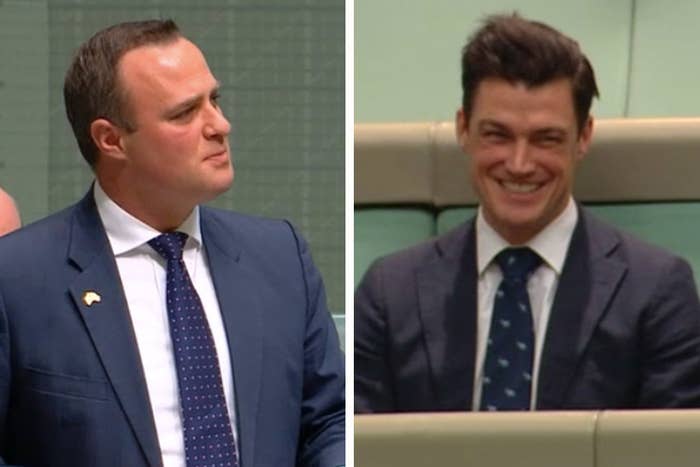 Wilson, a member of the centre-right Liberal government, is one of a handful of gay politicians in Australia's upper house, which is currently debating same-sex marriage.
The long-awaited debate comes after a national survey on the issue returned a "yes" vote last month. The parliament is now expected to legalise same-sex marriage before Christmas, and potentially by the end of this week.
The proposal was made at the end of Wilson's speech, when he turned to thank Bolger, who was sitting with marriage equality advocates in the public gallery, for his support.
The emotional moment — which appears to be the nation's first parliamentary proposal — is now recorded for posterity in Hansard, Australia's record of parliamentary proceedings.

Here's how it played out:

WILSON: "You have had to tolerate more than most because you have had to put up with me. Trust me! This debate has been the soundtrack to our relationship. We both know this issue isn't the reason we got involved in politics — give us tax reform any day. But in my first speech I defined our bond by the ring that sits on both of our left hands. And that they are the answer to the question we cannot ask. So there's only one thing left to do. Ryan Patrick Bolger, will you marry me?"

BOLGER: "Yes!"
WILSON: "We'll chuck that in the memoirs and the Hansard."

DEPUTY SPEAKER ROB MITCHELL: "I should let Hansard note that was a yes — congratulations."

WILSON: "Thank you speaker."

MITCHELL: "Well done mate."

People in the public gallery and politicians watching on applauded the happy couple.
Earlier in his speech, Wilson spoke about the moment seven years ago when he first offered a ring to Bolger during a sunrise on Hamilton Island. He has previously described the bands on their left hands as "the answer to a question we still cannot ask".

"I gave you the ring on our left hand and said,'I don't know what this ring represents or means, but will you take it as a sign of my commitment?'" Wilson told the parliament. "Anyone who has been engaged will know that moment in life. The joy amplified by the mutual celebration of others."
Wilson said that friends and family had been happy for them — and that environment minister Josh Frydenberg had sent flowers — but others "simply didn't know how to react".
"Many SMS went unresponded. In conversations, some people politely changed the topic or fell silent entirely. For a while Ryan kept pushing for an engagement party. In truth, I kept delaying it, perhaps wrongly, because the strong message I took from so many people's silence was that no-one would come. Informing one person of our news, they responded 'Why bother?'.
"At the time I fell silent. And I've never had an answer to that question. But the Australian people have now answered it for me."
Debate on the same-sex marriage bill kicked off in the House of Representatives on Monday morning, following the Senate passing the bill last Wednesday.

It was introduced by Liberal MP and long-time marriage equality advocate Warren Entsch.