A Judge Has Criticised Peter Dutton For Ignoring Urgent Medical Requests From Nauru
Dutton's silence was unexplained and "fell short" of how the government should act in lawsuits, a Federal Court justice said.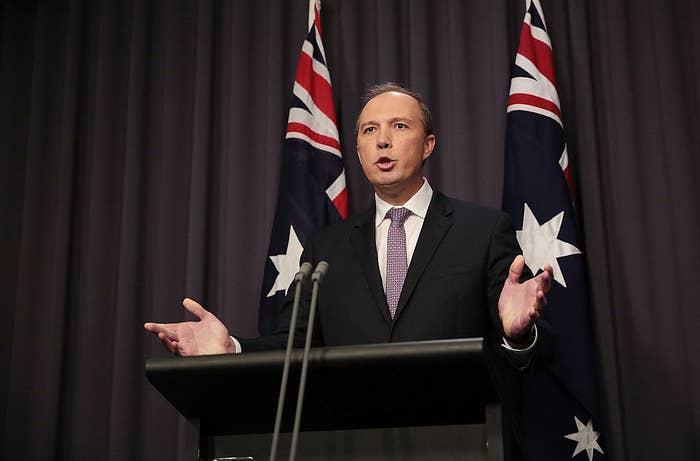 A judge has criticised Peter Dutton for repeatedly ignoring requests to transfer a critically ill family from Nauru to Australia for medical treatment, saying the immigration minister failed to meet expectations of how the government should behave in legal proceedings.

Federal Court justice Tom Thawley made the remarks in reasons, published on Tuesday, for a judgement on September 21 ordering the government to bring a mother, her son, and adult daughter-in-law to Australia.
Each was suffering severe health problems and had seriously deteriorated after the mother's other son killed himself on Nauru earlier this year, Thawley wrote.
The three family members had been detained on Nauru since January 2014.
They cannot be identified by name, age or country of origin for legal reasons. In the judgement, the mother is referred to as EWR18, her child as EXI18 and her daughter-in-law as EXJ18.
Thawley said the family had "no choice" but to take legal action after Dutton ignored multiple letters requesting an urgent medical transfer and warning of the lawsuit.
On July 26, 2018, solicitors at the National Justice Project sent a letter to Dutton and the Australian government solicitor (AGS) requesting an urgent medical transfer.
A second letter was sent to the AGS on August 14, a third on August 29, a fourth on September 13 and a fifth on September 19, before the lawsuit was filed on September 21.
The AGS replied to the first letter saying it had been forwarded to Dutton, and to the third saying "I have sought instructions". But Dutton did not respond at all.
These letters included "detailed accounts" of the conditions of the three family members and were supported by "substantial medical evidence" from treating doctors, Thawley wrote.
"The minister also had access to the medical records kept by International Health and Medical Services (IHMS) which contained extensive records in respect of the medical conditions of the applicants," Thawley wrote.
The IHMS records showed a number of requests for EWR18 to be removed from Nauru due to her severe gynaecological issues, dating back to February 2017.
Thawley said Dutton's failure to respond to the multiple letters from the family's lawyers was "left unexplained".
"The failure to communicate any substantive response to these letters fell short of what is expected of a model litigant," he wrote.

The model litigant guidelines provide expectations of how the government ought to act in legal proceedings. Thawley said these factors led to his decision to award costs to the three family members.
The family was brought to Australia in September per the court orders, according to a Guardian Australia report.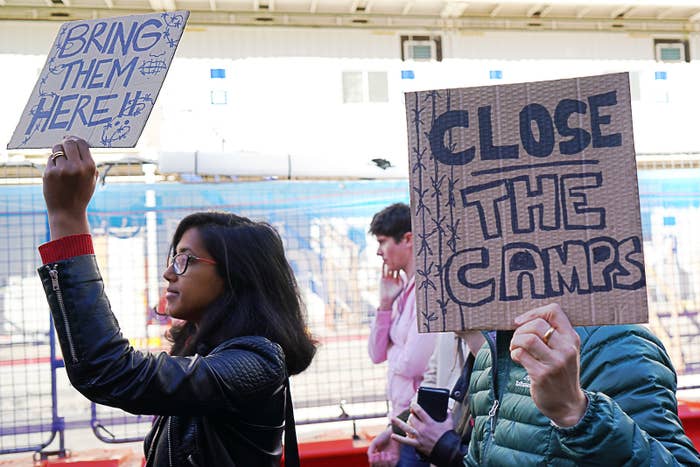 The judgement also provided shocking and tragic details of the significant deterioration of the three family members during their time in immigration detention on Nauru.

The first letter sent by solicitors on July 26 stated that EWR18 had attempted suicide and that her son EXI18 had self-harmed, was increasingly depressed, and had suicidal ideations to "be with his brother".

It also said that EXJ18 had been in "obvious distress" since her husband's suicide and had lain outside on a mattress in the heat next to a fence, on the other side of which was a container where her husband's dead body was being held.
"She decreased her food and fluid intake over a number of days and on 20 June 2018 began food and fluid refusal ... at times she took small amounts of oral fluid; and continually declined to engage with IHMS."
Reports from doctors said the family members each needed to be in an inpatient psychiatric unit for specialised care, and that the appropriate facilities were not available on Nauru.
Subsequent letters and reports chronicled the deterioration of the family.

A psychiatrist's report dated August 4 said EWR18 had reported multiple suicide attempts and felt guilty about the death of her son.
"[She] declared her life had ended with this loss: 'he was my son, my friend, my heart, my everything'," the report said. "[She] described the experience of staying next to her son's body in [the Regional Processing Centre] as an unbearable one. She stated thinking all the time about her son frozen in the refrigerator."
The report was written by Patricia Schmid, a psychiatrist with medical charity Médecins Sans Frontières, which was ordered to cease providing medical treatment to asylum seekers and refugees over the weekend.
The fourth letter, sent on September 13, said EXI18 had stopped engaging with people and placed a sheet around his bed.
"We are instructed that the only time he leaves the room is to go to the toilet, being just once a day. EXJ18 has to bring [him] noodles to his room for him to eat anything. This is his only meal each day," the letter said.
It also said that the mother was mostly consuming milk, eating only very occasionally, and barely talking.
"This family has resided in the Regional Processing Centre for three months now, which provides the most intense form of care that is available on Nauru, with no change in their presentation," the letter dated September 13 said.

The letters also stressed the importance of the family being moved as a unit.
Child psychiatrist Michael Gordon wrote in a report to the court that if EXI18 is transferred without his mother and sister-in-law, that he will become anxious and depressed about being away from them and it will be harder to treat him.

"EXI18 is very protective towards his mother. He is very worried about her," Gordon wrote. "[The three family members] have not responded over many years of treatment on Nauru. Their mental health has only declined. After the death of her son, EWR18 does not trust IHMS and will not accept treatment from their staff."
Thawley also ordered the family should not be treated by any doctors contracted to IHMS or to the Australian Border Force.
Advocates have increasingly warned of a serious mental health crisis unfolding among the hundreds of asylum seekers and refugees still detained on Nauru, and on Papua New Guinea's Manus Island, by the Australian government.

More than 35 children have been urgently evacuated from Nauru for medical treatment in the past year, and about 95 remain on the island.
A number of children are suffering from a severe withdrawal condition known as resignation syndrome, where they cease to eat, drink, talk or engage with the world around them due to severe trauma and a sense of hopelessness. The syndrome has been recorded among refugee children facing deportation in Sweden.