Here's What Happened Behind The Scenes At The Same-Sex Marriage High Court Decision
"I said, what, we just lost everything, completely? And she said, 'yep'."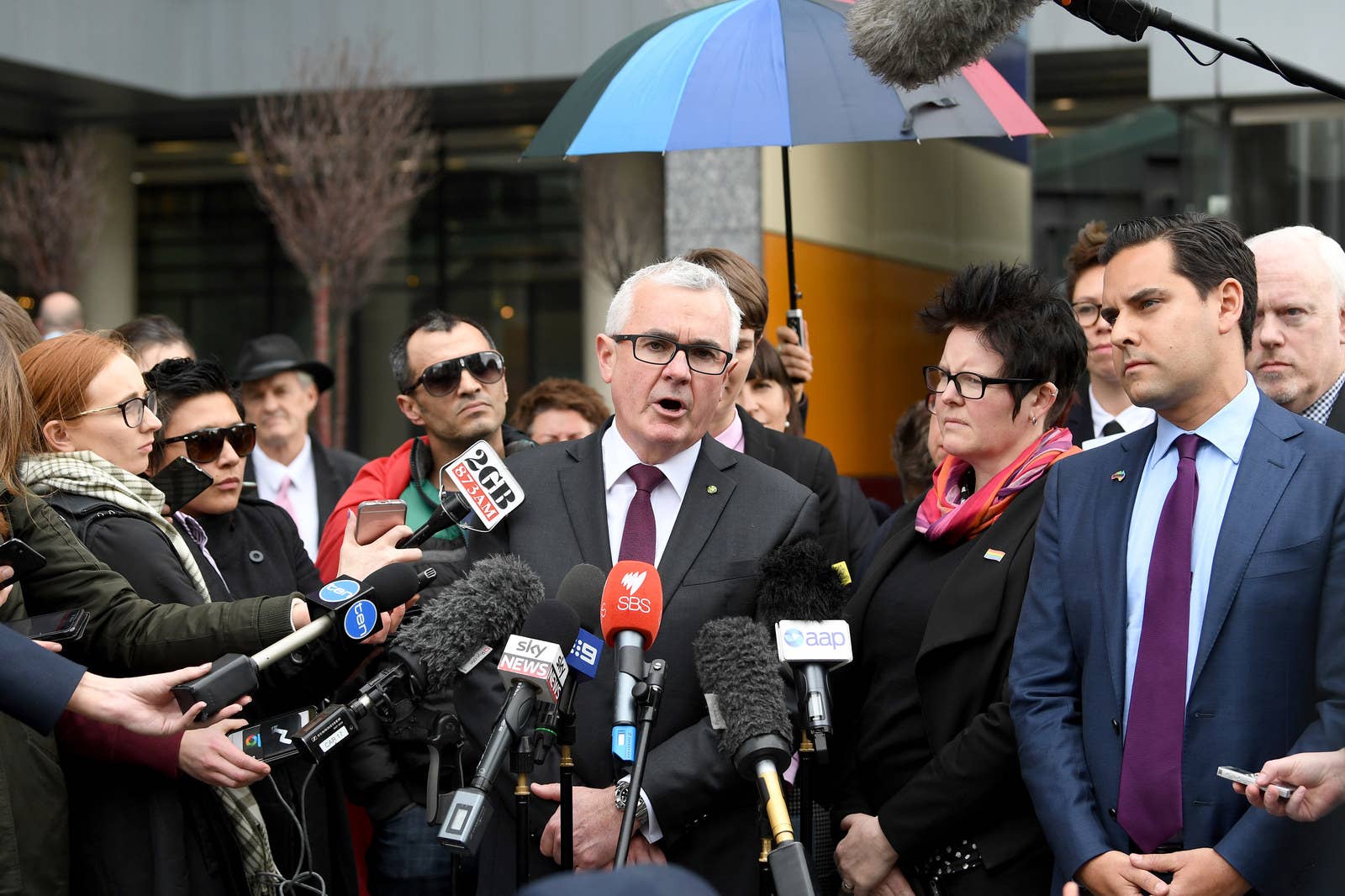 A couple of minutes before 2.15pm on Thursday, a hush fell over the High Court of Australia.

In a packed courtroom on the top floor of the Commonwealth Law Courts building in Melbourne, people waited for a knock at the door to signal the entry of the seven judges that make up the full bench of the court. Their assistants — young lawyers, known as associates — stood poised behind their bosses' chairs, while in a second courtroom nine stories down, about a hundred people silently watched them on a live feed. Journalists nervously checked their notes, praying they would be able to translate the legal directions soon to be handed down. And federal politicians sitting in parliamentary Question Time, 600km away in Canberra, refreshed their Twitter feeds.
Five minutes later, the country learned that Australia's same-sex marriage postal survey would go ahead.
Over Tuesday and Wednesday, the court heard arguments from two legal challenges that were a last-ditch effort to stop the country's two-year dance towards holding a public vote on same-sex marriage.
The first case was brought by independent MP Andrew Wilkie, lesbian mother-of-three Felicity Marlowe and Pflag's Shelley Argent, and the second by advocacy group Australian Marriage Equality (AME) and Greens senator Janet Rice. They contended that the government had illegally directed $122 million to be spent on the survey, and that the Australian Bureau of Statistics could not carry it out.
Anna Brown, the director of legal advocacy for the Human Rights Law Centre, was one of a handful of people in the courtroom sitting with her back to the judges, as one of the instructing solicitors in the AME case.
"All of the audience, all of the LGBTI people, my friends, our clients — were all looking at our faces to see our reaction to the decision," she told BuzzFeed News. "I was very conscious of that."
"In fact, I was worried I would have a brain freeze and not understand what the judge was saying, but obviously it was pretty clear from the outset. The Wilkie proceeding went down and then I thought, do we have any chance?"
Chief Justice Susan Kiefel quickly disposed of the Wilkie case, dismissing it in full and handing costs to the plaintiffs. The orders on the AME case took longer to make, as Kiefel read through each individual question. But the result was, eventually, the same.
"Each question I thought, maybe this question, maybe that question," Brown continued. "But it was no, no, no, no, no."
Meanwhile, Jacqui Tomlins was in the packed public gallery, looking to her wife, Sarah Nichols, for confirmation. The Melbourne couple, who have three kids, married in Canada 14 years ago and were central to former prime minister John Howard's decision to change the Marriage Act in 2004. He introduced legislation after Tomlins and Nichols, and another couple, sought to have their overseas marriages recognised in Australia.
Nichols, who is a lawyer, gave Tomlins the thumbs down.
"[After it finished] I just said, we lost? And she said, 'yep'," Tomlins told BuzzFeed News. "And I said, what, we just lost everything, completely? And she said, 'yep'."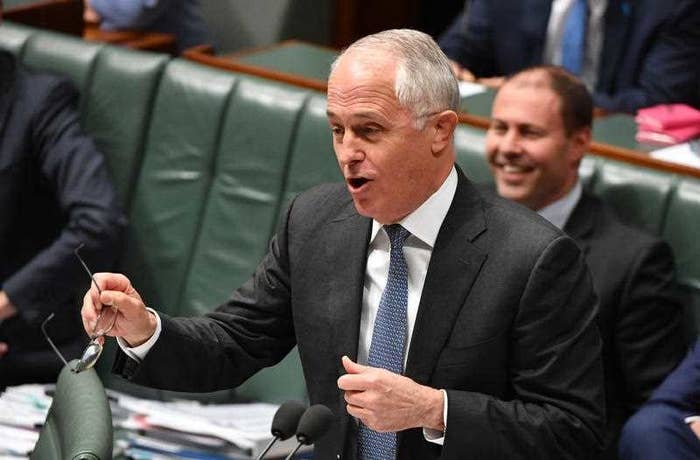 In Canberra, photographers lined up on opposite ends of the press gallery to capture the moment prime minister Malcolm Turnbull and opposition leader Bill Shorten heard the news. They captured Turnbull's elation, and Shorten's disappointment: a victory at last, for a government under siege.

Turnbull's strutting, raucous speech, filled with glee at the prospect of every Australian weighing in on same-sex marriage, was directed squarely at Shorten. But the court decision was less of a blow to the Opposition leader — Labor had distanced itself from a central role in the challenges — than it was to those people in the LGBTI community who are deeply fearful of what the survey has yet to unleash.
Back outside the court, Tomlins told BuzzFeed News she was worried.
"I will fall in a heap for a day or two, and then I will pick myself up and look around," she said. "I know there's going to be a massive push for a "yes" vote... But right now, in the raw thick of it, I just worry about our community."
In the weeks since the survey was announced, there has been intemperate language from people backing both campaigns, much of it on social media. Neither side can lay an exclusive claim to civility, but manners aside, it is undeniable that the bulk of anonymously printed flyers and posters provoked by the survey and amplified by media are aimed squarely at LGBTI people.
BuzzFeed News has spoken to several same-sex parented families who have enforced media blackouts, or taken away letterbox duties from their kids over the course of the survey.
"In my heart I never thought we would actually have to live through this process," Tomlins said. "You either get it or you don't, how awful this is."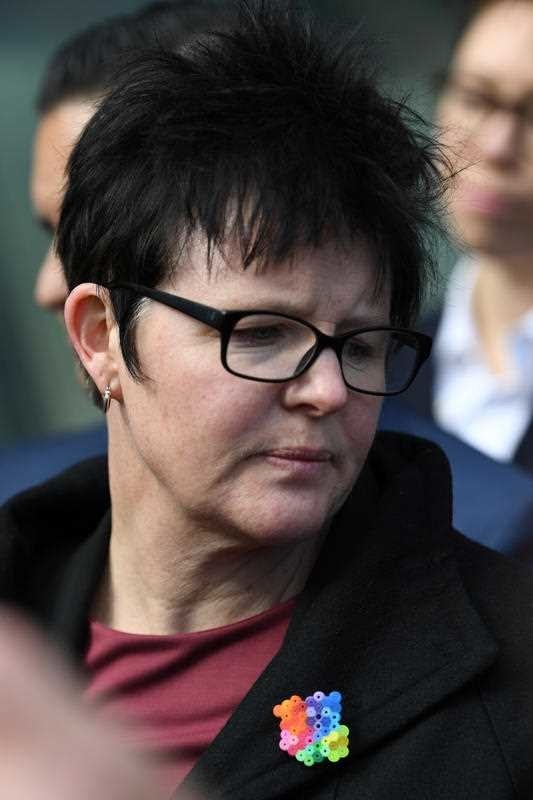 The two-day court hearing was a curious departure from the usual emotion that permeates almost every back-and-forth of the same-sex marriage debate.

As expected, the hearing addressed neither the merits of same-sex marriage itself nor the moral wrongs and rights of holding a postal survey on the issue. But one exchange did touch, however formally, on the anguish felt by many same-sex couples.
In an argument about "standing" — whether the plaintiffs have the legal right to bring the case forward — solicitor-general Stephen Donaghue was asked whether Marlowe might be afforded standing on the basis that receiving the survey form would cause offence as it asks others to cast judgment on her sexuality.
Donaghue contended the survey form "does no such thing" — but that Australia's current marriage law does.
"To the extent that there is any aspersion cast on the legitimacy of the family unit, that is a consequence of the existing law that imposes a distinction between same-sex couples and other couples," he told the court.
After the decision was handed down on Thursday, a security guard stopped a bunch of people who had been in the live stream courtroom on level eight: "Were you just in the court? That decision, was that on the vote thingy or was that actually gay marriage?"

There was a brief pause, as the gaggle of court watchers registered that people have lives outside of the constitutional validity of the postal survey. Someone explained that it was just to do with the vote. The guard nodded. "Right, right."
Outside, a wall of cameras waited as the plaintiffs and their lawyers exited the building to applause. (The government lawyers did not hold a press conference.) One by one, they stepped up to the waiting microphones and urged people to vote "yes" in the survey.
The second the decision came down, The Equality Campaign launched an ad campaign, featuring Olympian Ian Thorpe. People were deployed at train stations to hand out flyers. The pivot from hedging bets in the High Court to a full-blown campaign had begun.
But was the pivot too late? We won't know until November 15, and even then, there will be no definitive metric to belatedly dissect why the result is what it is. Either way, the "yes" campaign is acutely aware of the criticism it has copped for running the legal challenges at all.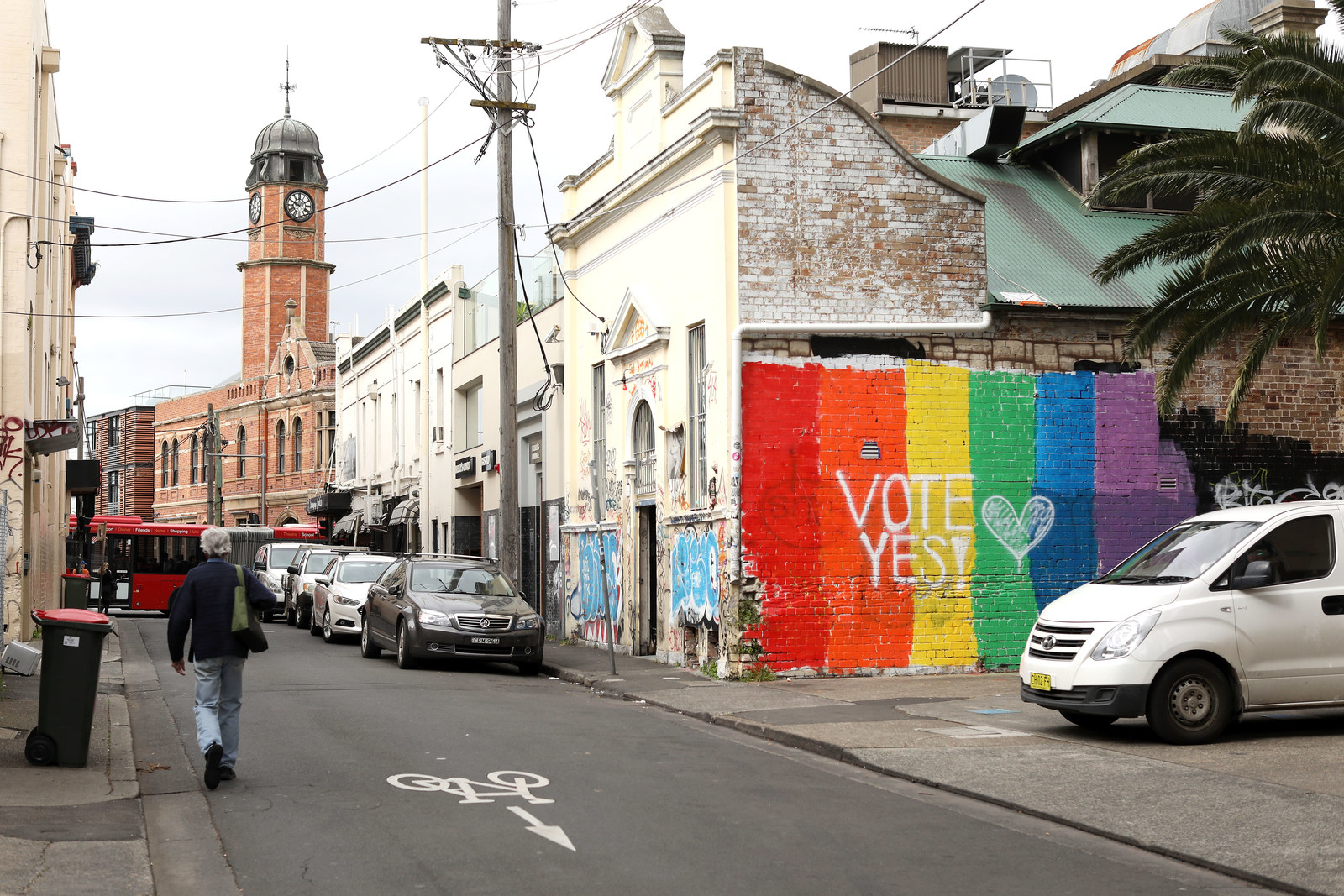 People on the "no" side, including prominent conservative backbencher Eric Abetz, have used the challenges as fodder. After the government's victory on Thursday, he said: "Following the High Court case brought by self-appointed elites trying to stifle the Australian people being thrown out, I am pleased that all Australians will have their say on marriage... Democracy is an infinite good and political elites should never seek to stand in the way of the people having their say."

"It is extraordinary that those pushing to redefine marriage went as far as taking the government to court to stop the Australian people having their say," said Damian Wyld from the Marriage Alliance.
But Rodney Croome, a long-time LGBTI rights activist who split from Australian Marriage Equality to campaign against an earlier iteration of the government's plebiscite policy in 2016, told BuzzFeed News that, despite the crushing loss, he did not regret "for a second" his efforts to stop a public vote, of any kind, on same-sex marriage. (Croome was a driving force behind the Wilkie case, despite not being a plaintiff himself.)
"That's because I have seen all this before in Tasmania in the 1990s [during the campaign to decriminalise homosexuality]," he said. "I've seen what hate can do. I've seen the damage that is done to individuals by high profile, public hatred."
In that same Tasmanian debate, Abetz argued against decriminalisation.
"Having come through that, I was determined to ensure we wouldn't see that kind of publicly enabled hatred again," Croome continued. "That's why I don't regret for a second trying to stop this."
Croome added that he felt the High Court had failed: "Now that the case is over I can say what I honestly feel. I think it's the role of the High Court to protect us from executive overreach and if it doesn't do that, it's not doing its job," he said.
"I'm doubly disappointed in this decision, not only because it means a postal vote will occur, but because the court has failed to do its core duty in protecting the people from an overreaching and overbearing government."
After the media pack disbanded, the campaigners and lawyers retired to a pub around the corner, where Brown fielded media calls, an Equality Campaign t-shirt pulled over the top of her court attire. She told BuzzFeed News that the campaign had been preparing for a postal survey before the High Court weighed in.

"We've been, for the last few weeks, doing both. And now we have some certainty," she said. "It's great that the High Court heard it urgently, but having this period of time of uncertainty, I think it has been really difficult for people. Everyone's felt like they don't quite know whether they have to be in full campaign mode or not. And now we just at least know one way or another."
Brown said she is "not too worried" about being saddled with costs, which The Daily Telegraph has reported may amount to $300,000, with the plaintiffs covering up to two thirds of that.
"There's been a lot of direct emails to try and raise funds and cover costs. GetUp helped with that as well," she said. "It's certainly a drop in the ocean compared to $122 million on a plebiscite, so it was worth the financial risk to the campaign."
At a table in the corner, Marlowe, Tomlins, their partners and a collection of other ordinary lesbian mums — joined by Argent, who they welcomed as an honorary member — were holding court, talking about how their kids were taking the news.
Meanwhile, staff from The Equality Campaign discussed how the new ad was landing as they picked at a bowl of hot chips. Other than a few wry remarks, there was little discussion of the court case: it was all forward, already.
"How are you feeling?" was the first question BuzzFeed News asked Brown after the decision.
Her response: "I'm feeling like we need to win a campaign."