This Legendary Cat Worked As A Stationmaster For Eight Years
RIP Tama.
After eight years in the position of stationmaster at the Kishi Railway Station in Japan, Tama the cat was farewelled in a beautiful funeral on Sunday. She was 16.
Tama was appointed stationmaster in 2007, a few years after the station was almost shut down due to financial ruin.
Prior to her employment, Tama lived near Kishi Station as a stray cat, and got to know and was eventually adopted by neighbourhood grocer Toshiko Koyama.
In 2006, Koyama was named stationmaster after the Wakayama Electric Railway selected employees from nearby businesses to run its stations in a cost-cutting measure. The next year, Tama usurped her owner to take on the position.
As stationmaster, Tama greeted passengers and established a successful cafe and souvenir store in her name. She is credited with bringing in a significant amount of revenue for the railway after visitors flocked to see her.
She was paid in cat food.
Tama died of heart failure earlier this month, and was farewelled at a ceremony on Sunday attended by 3,000 co-workers, friends, and fans.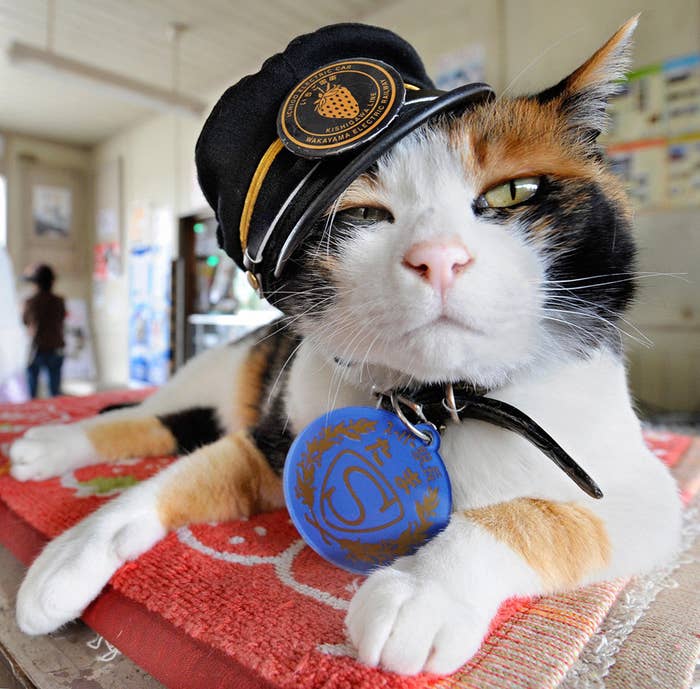 The president of the Wakayama Electric Railway, Mitsunobu Kojima, spoke at the funeral, thanking Tama for her achievements.
"Tama-chan really emerged like a saviour, a goddess. It was truly my honour to have been able to work with her," he said.
At the ceremony, mourners placed flowers and gifts of food underneath large portraits of Tama in her stationmasters hat.
During the Shinto ceremony, Tama was elevated to a goddess.
Rest in peace, Tama.