Please Enjoy These 15 Random Things We Found In This Year's Budget
There was way more stuff about ants than I think any of us anticipated.
by
,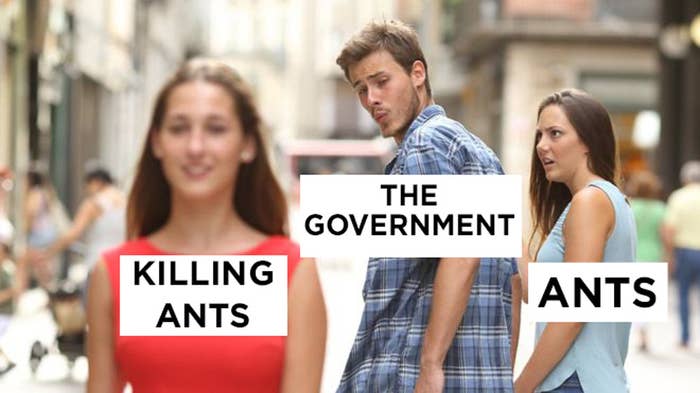 1. "Iconic" tourism infrastructure will get $50 million
The government says $50 million will go to developing and enhancing "iconic tourism infrastructure" — but unfortunately we don't know exactly what this money will be spent on because the department is yet to define "iconic". (This is a real thing, an official said.) It could mean the Opera House, it could mean the Big Banana (which is not even that big!!! I will die on this hill), or it could mean something that hasn't been built yet.
2. Speaking of iconic tourist destinations...

One for the kids: the government will spend $15 million over three years on expanding Questacon's education and outreach activities. This may delight you or terrify you, depending on how scared you were during your primary school excursion of the notorious Questacon drop slide.
3. There's going to be a $2 million light show at a festival called Dark Mofo, and the government is paying for three-quarters of it
If you know anyone who has set foot in Hobart in the last decade you've probably heard of the Museum of Old and New Art. It's the one with exhibitions dedicated to sex and death. Each winter, MoNA hosts a festival called Dark Mofo, which is getting a very expensive light show.

The government is pledging $1.5 million in 2019-20 to support the installation of the light show as part of the festival, and the Tasmanian government will chuck in the other $500,000. The idea is to encourage tourism to Tasmania while the Tahune AirWalk is closed due to recent bushfires.
4. Australia Day is getting some "additional support"
You know, Australia Day, that public holiday on Jan. 26. The day and its activities will get $800,000 of "additional support" from the government over three years. The money also includes funding for a review of the National Australia Day Council's programs.
5. The 2021 Census is going to very hopefully not be as bad as the 2016 Census
Remember when the census went digital and it was a disaster? In one of the most memorable censuses since the birth of Christ, back in 2016 the census website crashed, leaving many Australians frustrated and angry. It happened right around the time the government was talking about innovation. Now they're promising to give the Australian Bureau of Statistics $38.3 million over three years to help it deliver the 2021 Census. It will "address issues arising from the 2016 Census", according to budget papers.
6. We must fight the yellow crazy ants
We already knew about this one, but the government will spent $9.2 million on controlling yellow crazy ants in Queensland. (A not-very-fun-fact: these are the same ants wreaking havoc on the Christmas Island crabs.)
7. We also must fight the red imported fire ants
Our ant-murdering government is back at it! The government will spend $18.3 million over three years — bringing forward money that was slated for 2021 and beyond — to immediately commence eradicating fire ants in "newly defined areas".
8. And have you heard about the threat posed by the Argentine ants?
Just when you thought the budget had exhausted its allocation of ant-related funding, there's more — and this time it's for Norfolk Island. The government will provide an extra $8.4 million over two years for services on Norfolk, including a mission to "significantly advance the response to the biosecurity threat of Argentine ants". OK that's it, no more ant stuff.
9. Voting will get a technological facelift
The government has set aside $10.8 million over two years for the Australian Electoral Commission to go hunting for new polling place technology and upgrade its "ageing core ICT infrastructure". A department official told BuzzFeed News the idea is to make it easier to check voters off the list and make sure they haven't been marked off at another polling place.
10. "Beef Australia 2021"
Beef, meet Australia, meet the year 2021. Beef Australia 2021 is a national exposition held in Rockhampton in Queensland in May 2021. The government is dedicating $3.89 million over three years to support the event.
11. Sir John Monash and Sir Robert Menzies are logging on
$10 million over four years will go to a Digitisation Fund at the National Library of Australia to continue getting the library's collection online. According to the budget papers, some of the priorities are the digitisation of papers of "eminent Australians" like Sir John Monash and Sir Robert Menzies, and all Australian books, journals and newspapers published before Federation. This means it will all be available to everyone in Australia through Trove, the library's online database.
12. Female musicians will get mentored
The government has pledged $30.9 million over five years to support the Australian live music industry (don't tell Gladys Berejiklian). That includes $2.1 million for the Australian Music Industry Network to provide mentoring programs for female musicians, $2.7 million for a new grants program for Indigenous musicians, $22.5 million for a new grants program for live music venues and $1.6 million to raise the profile of our music industry in Asia.
13. One for the politicians
We're all still recovering from the shambolic citizenship crisis of 2017, during which multiple politicians were forced to resign after discovering they held dual citizenship and were ineligible to be in parliament under section 44 of the constitution. Perhaps inspired by this drama, the government has pledged $2 million to support stage two of the Australian Constitution Centre, which has been open since April 2018 and "aims to increase public understanding of Australia's constitutional framework". We can only hope our leaders will spend some time there.
14. Cricket visa applications waived
If you are a competitor or official competing in the International Cricket Council T20 World Cup in Australia in 2020, great news! The government plans to waive your visa application charges. This will cost $1.3 million. If you are not associated in any way with the Cricket World Cup, I regret to inform you that your visa charges must be paid as per usual.
15. How about those legal bills?
The government will provide an extra $17.3 million over four years for the Expensive Commonwealth Criminal Cases Fund. This reimburses legal aid commissions for the cost of representing people in serious, high cost Commonwealth prosecutions.