This post has not been vetted or endorsed by BuzzFeed's editorial staff. BuzzFeed Community is a place where anyone can create a post or quiz.
Try making your own!
ON THE FENCE ABOUT 'BATMAN V SUPERMAN'? READ ON.
The S stands for hope. Or, you know, another four-letter word starting with 'sh' and ending in 'it'.
Romance. Intrigue. Rain. No 'S' on Supes' cape. This doesn't look good.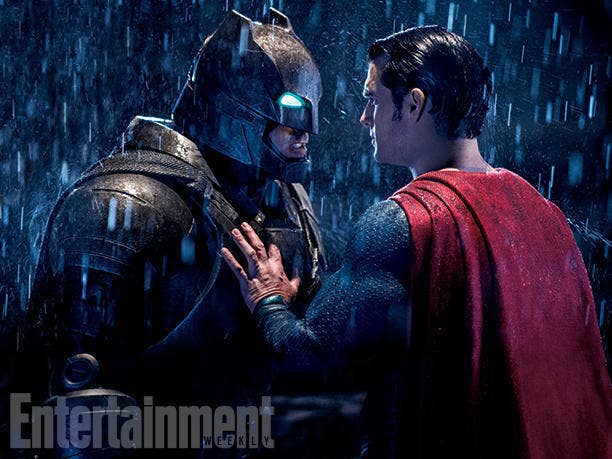 "The story, like the testicles of a weightlifter on steroids, dwindles away to nothing."
-Lawrence Toppman, Charlotte Observer
"Somebody stop Zack Snyder. Somebody save the world."
-Michael Roffman, Consequence of Sound
"Wagner's Der Ring des Nibelungen cycle feels like an antic 1930s screwball comedy compared to Zack Snyder's seriously patience-trying Sturm und Drang that signifies, well, nothing much, apart from the dawn of the forthcoming Justice League."
-Marc Savlov, Austin Chronicle
"For the life of me, after two and a half hours, I couldn't tell you why Batman and Superman were fighting.
-Josh Larsen, LarsonOnFilm
"Batman v Superman: Dawn of Justice is basically a dumpster fire."
-Neil Miller, Film School Rejects
"The studio has, in the usual way, begged and bullied critics not to reveal plot points, and I wouldn't dream of denying you the thrill of discovering just how overstuffed and preposterous a movie narrative can be."
-A.O. Scott, NY Times
"To call it ridden with plot holes would be a disservice to plot holes. These are plot caverns."
-Kristy Puchko, Comic Book Resources
"No major blockbuster in years has been this incoherently structured, this seemingly uninterested in telling a story with clarity and purpose."
Robbie Collin, Daily Telegraph
"Not as bad as Bush v. Gore, but close."
-J.R. Jones, Chicago Reader
And some thoughts from Devin Faraci, Birth. Movie. Death.:
"...it isn't that Zack Snyder misunderstands Superman, it's that he actually hates the character."
"People complain about Marvel's servicing of its connected universe, but the Justice League set-up in this film makes Iron Man 2 look like a strongly structured work of a single vision."
"The film reaches for an operatic thunder and ends up with a wet, limp raspberry."
"Henry Cavill is a wooden log throughout most of the film, giving a performance so lifeless and dull that it feels like a protest. His Superman alternates between being a mopey bore and a real asshole, two qualities for which the character is not usually known."
"Eisenberg is next-level terrible as Luthor."
"Eisenberg delivers every line like he thinks the villains on the 1966 Batman show were too nuanced."
"This film feels like Zack Snyder hobbling the entire upcoming DC Movieverse before it gets started."
"Because Snyder can't understand that aspect of Superman he undermines it at all times. His Superman engages in the bare minimum amount of heroism. We see Batman taking care of more business than Superman, who mostly helps the people closest to him (we also see Bruce Wayne save more people during the Battle of Metropolis than Superman did in Man of Steel). His Superman is an asshole, a pompous and condescending jerk who makes threats."
I'm bummed that the film appears to be everything the trailers promised. I hold out hope that we'll return to the hope that Superman is supposed to embody. In the meantime...
At least we can watch Adam West sing in full Batman costume, AMIRIGHT?