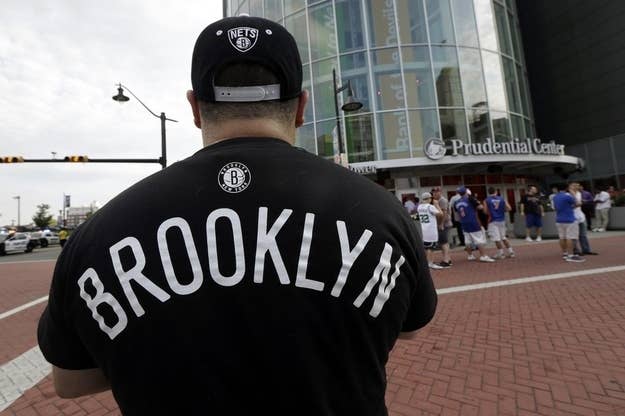 The Nets have been a bad team for quite a while now. Part of this was unintentional — missing out on LeBron James, missing out on Carmelo Anthony, gambling on overstuffed parade floats like Travis Outlaw. But part of it was entirely by design. The 2012 move to Brooklyn has been hanging over the New Jersey Nets for a minute now, and that kind of impending identity shift tends to force a team's philosophy toward always planning for the future and ignoring the present, even though it's the present that wins and loses games.
Now, with the Barclays Center slowly blossoming and Hova-esque merchandise — all-black errything — taking over the streets of New York, the Nets are no longer dealing with a hypothetical. And when you're staring down the possibility of starting your supposedly majestic new life with a core of Brook Lopez, MarShon Brooks, Johan Petro, and a platoon of poor-shooting ghosts, making moves becomes much, much easier, because all of that inertia is gone. Shockingly, based on their recent history of settling for useless space-fillers like Petro and Shelden Williams, Nets GM Billy King and co. have responded like people who care.
First there was that hilariously earnest rom-com maneuver of putting a billboard outside Deron Williams' house, which, while schmaltzy and desperate, rung with a note of sincerity that we don't see that often in professional sports. It even seemed to work, with reports emerging that the Mavs, Brooklyn's only competitor for the All Star point, had more or less conceded Williams in their own minds. Then the Nets signed the rock-solid Gerald Wallace to a four-year, $40 million contract.
Next, they pulled the trigger on what SHOULD have been a laughable overreach of a trade, bringing in Joe Johnson, whose contract is the basketball equivalent of owning a really nice second apartment that you only sleep in on Thursday. Except the way they did it — shipping out a bunch of expiring contracts, i.e. assets that are valuable only for their trade potential, plus a 2013 first-rounder that came from Houston — made total sense. By acquiring the expensive but effective Johnson, a move that Deron Williams was reportedly in favor of, the Nets could look forward to a starting five of D-Will, MarShon Brooks, Joe Johnson, Gerald Wallace, and Brook Lopez, a playoff team for the first Brooklyn year. Although that lineup has a ceiling somewhere in the vicinity of 50 wins and maybe the Eastern Conference finals, that's not a bad space to be in.
Of course, we aren't done. Now Chris Broussard says Brooklyn is conspiring to bring in Dwight Howard, the Holy Grail, by shipping out Lopez, Brooks, Kris Humphries, and 2013, 2015, and 2017 first-rounders. The number of variables that could stop this trade are mind-boggling, including but not limited to the calculus involved in keeping this lineup from incurring a GDP's worth of luxury taxes and the difficulty of persuading the Magic that this trade, in which they get completely fleeced, is worth it just to get past the Howard era. But. But.
A lineup of Deron Williams, Joe Johnson, Gerald Wallace, and Dwight Howard would instantly contend for the Eastern Conference title, even with a support system of rookies and veterans playing for the minimum. Howard firmly settles the situation in the paint, and, as one of the best defenders in the league, would instantly alleviate the problems on that end that a Lopez/Wallace frontcourt would have. Williams, Johnson, and Wallace are all flexible players, able to shift between the 1 and 2, 1 and 2 and 3, and 3 and 4, respectively, meaning that this core could readily accommodate a less-than-ideal cadre of bench players and peripheral assets. (Think about how Wade, LeBron, and Bosh can all play multiple positions — this kind of versatility is essential if you're putting your team largely in the hands of a few players.) And considering the entertaining vets that the Nets might be able to stash away — Jason Kidd, Adam Morrison, and Al Thornton are all possibilities — the Nets would be, at the very least, hilarious to watch.
Most importantly, the franchise is refusing to settle into the passive lockstep that has defined the last half-decade. Even if the Howard trade doesn't happen, which, let's face it, it probably won't (slash will; who the hell even knows), the Nets will be an enjoyable and exciting team to watch in 2012-2013, running the floor and trying to score in droves to compensate for the fact that they won't be able to play defense for shit. There's something to be said for at least knowing that your team wants to improve, which, contrary to what might seem like common sense, is far from a given in the money-dominated world of professional, for-profit sports. Like, for example, Michael Jordan's Charlotte Bobcats; if they have been trying to get better, than they've been doing it incomprehensibly.
If the Howard trade does happen? Then Brooklyn will become the basketball mecca it's meant to be, challenging the New York Knicks for Manhattan-media dominance and making multiple goofy and unpredictable runs into the playoffs. Yes, Howard's a soul-leeching maniac, but in a Brooklyn situation with these other guys around him, that kind of diva-posturing won't be as easily abetted. There is no one to stand up to Howard in Orlando; I mean, it's not like J.J. Redick or Ryan Anderson could've gone up to Howard in the locker room and told him to stop being a jackass. With the Nets, he could be just as irritating, but he'll have to take it as loud as he gives. It'd be fun to see how the notoriously sensitive Howard handles his regular dressing-downs at the hands of the New York media. It'll either turn him into a sobbing calamity or it'll make him finally grow up, concentrate on basketball, and seek refuge in the community of his team rather than blaming them for everything and hanging out on Twitter.
Whatever happens with Howard, the Nets have been remarkably ambitious in free-agency, and they haven't shied away from the task of making Deron Williams choose to remain in Brooklyn and not return to his childhood home. Prokhorov promised success for the franchise. Moving to Brooklyn, the Nets have made a play for relevance, and with these roster moves, they're actually becoming a team worthy of playing in one of the highest-wattage markets — and cities — in the world.