The Lakers' Unhinged, Maniac, Disappointing-But-Not-Disappointing Season (Maybe) Ends Tonight
How fitting that it all comes down to a single game (against Jeremy Lin) for the league's most melodramatic squad.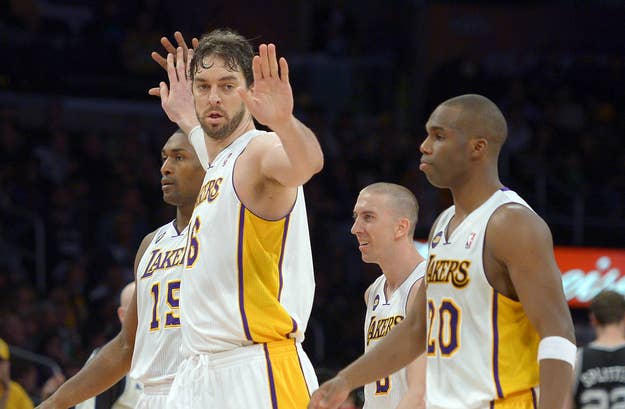 At the beginning of the 2012-13 NBA season, the Lakers' roster seemed so daunting. It wasn't a question of whether they'd make the Finals; it was whether they could beat the Heat. Some pundits thought they'd win 70 games. Reasonable people thought these things sincerely.
Obviously, none of this happened. Instead, the Lakers had one of the more fraught campaigns in NBA history. What happened? Well, let's review.
— They lost all of their preseason games, which at the time seemed like a fluke, then rapidly started to seem like less of a fluke.
— Kobe Bryant got coach Mike Brown fired. (Also, starting 1-4 got coach Mike Brown fired.)
— Kobe told Pau Gasol that he needed to "put [his] big-boy pants on," and then, when the Lakers lost shortly thereafter, an announcer said the Lakers had "just pooped their big-boy pants."
— Everyone hated Dwight Howard, ostensible superstar center, for being a kind of preening blowhard.
— The team realized it was "old as shit."
— Dwight, Kobe, and Coach Mike D'Antoni, who replaced Mike Brown, staged an unbelievably awkward photo-op that was supposed to play on the notion that they hated each other but instead just made them look dumb.
— Kobe lost his mind on Twitter.
— Kobe played Beethoven's "Moonlight Sonata" on a piano.
— Owner Jerry Buss, the one guy besides Kobe in the organization who had proved himself dependable and competent, passed away.
— Someone stole Kobe's towel.
— and Kobe Bryant tore his Achilles, potentially ending his career.
Along the way, the notion of the Lakers making the playoffs went from "guaranteed" to "they'll turn it around" to "maybe they won't turn it around" to "holy Kareem, they're actually not going to turn it around" to "OK, they've sort of turned it around" to where they are right now, which is at the precipice, toes dangling.
Tonight, the Lakers play James "Jim" Harden and Jeremy Lin and the shocking Houston Rockets, riding high on their surprise playoff berth. The Rockets are looking to lock up the West's seventh seed. Even if L.A. wins, and wins easily, they will still enter the playoffs in a vastly different position than they were expected to six months ago, as its lowest seed; plus, with Kobe and with Steve Nash still hobbled — hell, even with those two both 100% healthy — they're going to lose in four to the San Antonio Spurs.
If the Lakers lose, and the Utah Jazz beat the Memphis Grizzlies earlier in the night: well, then the Lakers are going home. Dwight Howard, who left a playoff-caliber Orlando team he claimed was filled with "players nobody wanted" for the Lakers, is going home; Steve Nash, who left the Suns to pursue his last chance at winning a championship, is going home. Metta World Peace is going home, but that's whatever.
It couldn't happen any other way.