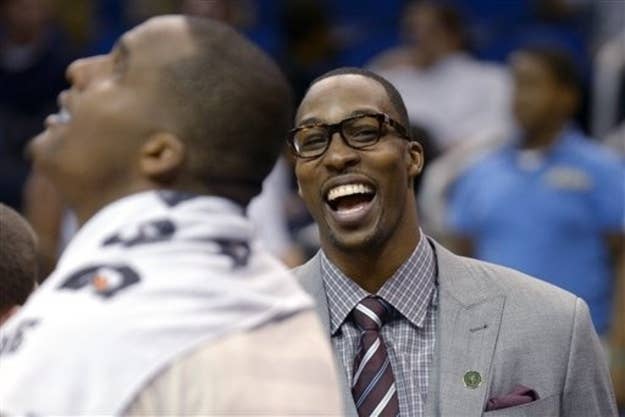 Dwight Howard is the best center in the NBA, and now he's a Laker, along with Steve Nash, Kobe Bryant, and Pau Gasol. At least on paper, next year's L.A. starting five is one of the best ever assembled, but that doesn't mean they'll be without competition in their quest for Howard and Nash's first NBA championships. In fact, impressive as they are, they might not even be favorites: last season's conference winners, the Miami Heat and the Oklahoma City Thunder, aren't getting worse, and the Heat added Ray Allen.
Howard is in L.A. to help the Lakers beat these two teams, one of which, the Thunder, dispatched them from the playoffs in 2012. Considering this, it's worth glancing at his stats from the last two years — the LeBron/Bosh/Wade era in Miami, and the Durant/Westbrook/Harden era in OKC — to see how he's performed against these opponents. For comparison, here are his overall averages in 2010-11 and 2011-12:

And here are his stats from the eight games against the Heat and the four games against the Thunder that he has played since the 2010-11 season:
The takeaways:
Howard's Magic performed remarkably well against the Miami Heat, considering how inferior they were in all facets of the game except "having Dwight Howard." Orlando went 4-4 against Miami in games Howard played in during the the '10-11 and '11-12 seasons, impressive against a team that won 70 percent of its games over that time. Howard's 19.13 PPG, .554 FG%, and 1.50 BPG in the contests are below his two-year averages, but his 16.75 RPG is above. With the Heat's lack of a solid center, there was no way to stop Howard from gobbling up rebounds. LeBron and Bosh proved sufficient forces to at least contain Howard defensively (remember: LeBron, who at 6'8" and 250 lbs is about the same size as Miami center Joel Anthony, is playing some center for Team U.S.A.). But the Lakers will have a few other scoring options — like two of the best guards ever — and Howard will give them a big advantage on the boards.
Over the last two years, Howard has destroyed the Thunder on offense. Although the Magic are only 1-3 against OKC in that time, Howard has torched them. This was likely deliberate — by letting Howard do his thing inside but shutting down the rest of the Magic, the Thunder ensured that they'd win the 1-4 position battles by such a huge margin that even the most Herculean effort from Howard wouldn't be enough. But again: that's not something they'll have the luxury of doing against next year's Lakers.
Howard has the potential to annihilate OKC and Miami as a part of the Lakers. It's well-known that center is each team's weakest position, and the numbers confirm that Howard has dominated those teams' big men. Now he's part of a lineup that can actually stay with the Heat and Thunder on the perimeter and wing. Don't be surprised if OKC and Miami start next season deploying rosters whose dregs are full of mediocre, but very large, centers: their likely play against Howard is to sacrifice big men by fouling him to keep him on the free-throw, since that's the one aspect of his game that isn't All-Star level.
Speaking of which: it's time for the Thunder and Heat to evolve. It's up to both teams to readjust their strategies so that they can deal with the Voltron that is the Lakers. Historically regarded as a Howard-stopper, Kendrick Perkins instantly becomes a weird kind of role player for the Thunder — as in, his role will be to exert himself to the point of death during Lakers games. Miami, in the East, will have longer to determine its strategy, but rest assured that Erik Spoelstra has already started thinking about it.