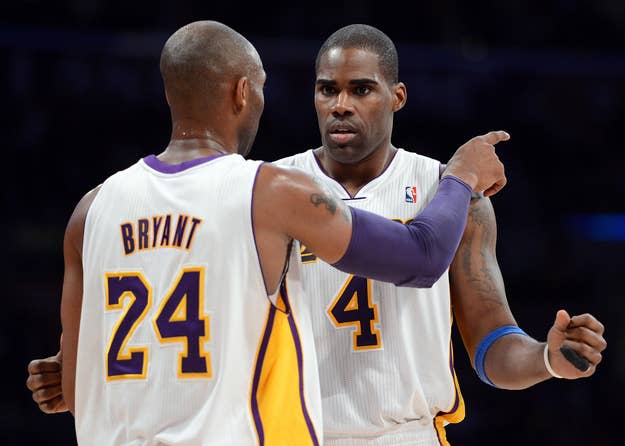 Antawn Jamison is a forward for the Los Angeles Lakers. There he is above, being told what to do by Kobe Bryant, a position he probably finds himself in often. Like most NBA players, Jamison has a personal, official website extolling his virtues and telling his story. Unlike most NBA players, Jamison's personal, official website spells his name wrong. Multiple times.
The website's header starts out promisingly: there's his name! It's spelled correctly! "Antawn"!

So does the "About Antawn" section, which starts with something by his mother. (Awww.)

But when we get a little farther into the essay — which is ostensibly by his mother — something stands out.

The same thing happens twice more, as we continue to alternate between the correct and incorrect spellings of his name.

So, in sum: on Antawn Jamison's personal website, an essay by his mother, which hilariously features a section in the middle about his college years that reads like a Wikipedia page, spells Jamison's name wrong three times. I mean, it's kind of understandable. Antawn Jamison's name is actually spelled wrong, in that it's from the Dwyane Wade school of spelling names: it's pronounced "an-twan" but spelled "an-tawn," just like Dwyane Wade's named is pronounced "dwayne" when, if you read it phonetically, it would be pronounced "dwuh-ih-ane" or "dwy-ane."
Well, it could be worse.