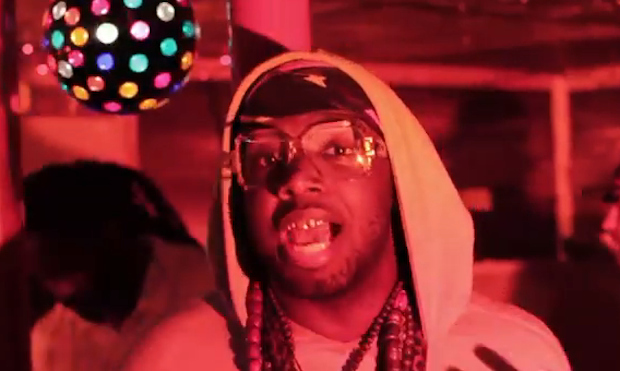 If you're a rapper named Mr. Muthafuckin' eXquire and your blowup mixtape has a seven-minute song called "Cockmeat Sandwich/Pissin' Between Train Cars," and the tape's single, "Huzzah," is a dizzy ode to drunk driving, people might form some misconceptions about you. And that's fine; hip-hop at its heart is all about misconceptions, intentional and otherwise. But eXquire, a native of Brooklyn projects, clearly wants to be about more than that — he just needs to figure out what that more is.
When eXquire got signed to Universal Republic, it counted as one of the most unlikely major-label jumps in years. That's not any knock against eXquire; the dude comes across as both lecherous and hyperintelligent on the Lost in Translation tape. He has Method Man's style with MF Doom's preoccupations, and his flow is a pugilistic, combative knock. Although he trades in many of the typical tropes of hardcore rap, he is frequently introspective and personal, like a weirder Freddie Gibbs.
It's hard to know what to expect from this dude on a major label. He could go deeper into the scuzzy, cotton-mouthed grinding of songs like "Fire Marshall Bill" or keep going in the direction of the tape's last song. That track, a remix of "Huzzah," featuring Das Racist, El-P, Danny Brown, and Despot, is like a who's who of what you might call hip-hop's Strange New York scene. (Brown's from Detroit, but fits right in.) The beat on "Huzzah" is a spooky B-movie tremble with plenty of space for all the players to go in, and the finished product was one of the best tracks of last year, a party song full of stupidly knotted rhyming. eXquire goes last, and he seems unsure about what's to come: "Fuck the throne, watch the project bench covered in pigeon shit … Will I make it out the projects? I guess it depends."
One year later, he's going by Mr. MFN eXquire, and he has released Power & Passion, his first record for Universal. The EP mostly sounds like eXquire trying to convince himself that he's rich and famous now, and it's only sporadically effective. He unfurls his shiniest verses and flow on "AGGIN LAER," switching from deftly paced cadences to flustered double-time to a breathy roll that barely even sounds like him. "Coal turned into a diamond in the projects / and niggas scheming on some money I ain't got yet," he raps. "They say I'm up next / I can tell by the press / but I can't tell by the checks." He sounds hopeful but entirely aware that he's in a precarious situation, and lines like, "Staring at my life through a kaleidoscope / 10 different mes, I don't know how to cope" sum up that pressure to commit to some version of himself. In an industry that tends to obliterate weirdness as quickly as it can, the chances are good that he'll topple to one side or another. Here's to hoping he doesn't.