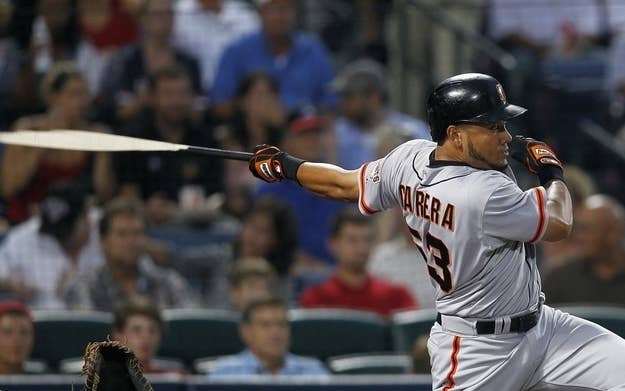 Melky Cabrera's pretty good at baseball. He's batting .346/.390/.516 this year, and his .906 OPS is the 16th best in the MLB, so like I said: pretty good at baseball. (Although he's only second among players named Cabrera. What a fraud.) And he was the MVP of the All-Star Game, which doesn't really say anything about how good he is at baseball but is cool and fun nonetheless.
However, these accomplishments, and probably anything else Melky Cabrera has ever done in his life — like that one time he got an A- on his final project in Home Ec in seventh grade; he made a stuffed duck animal — have been called into question. Cabrera has been suspended 50 games after testing positive for testosterone.
(What? No, I mean, yeah, obviously he must have other testosterone in his body, all humans do. Yes, even women, though they have less than men. Presumably, this is extra testosterone that he put into his body in a way other than the natural process that testosterone is produced. No, I will not explain that process to you.)
Usually at this point in the saga of a banned-substances suspension, we get to wonder what seemingly innocuous medicinal/food product will be blamed for triggering the false positive. (Yogurt! Penis enhancement pills! Actual, real medication for keeping the player alive!) But Cabrera has sapped all the fun from this particular incident. Per a statement released by the union.
"My positive test was the result of my use of a substance I should not have used. I accept my suspension under the Joint Drug Program and I will try to move on with my life. I am deeply sorry for my mistake and I apologize to my teammates, to the San Francisco Giants organization and to the fans for letting them down."
So yeah, story's over, nothing to see here: Cabrera doped. He's the second Giants player to get caught this year, after Guillermo Mota, and the fourth in the MLB. Previously, he had the nicknames Melk Man, Melky Way, and Leche, but in honor of his demise, I have a new suggestion: