Jason Kidd Is Turning Into A Ghost
The veteran has played big minutes in six straight games without scoring a single point.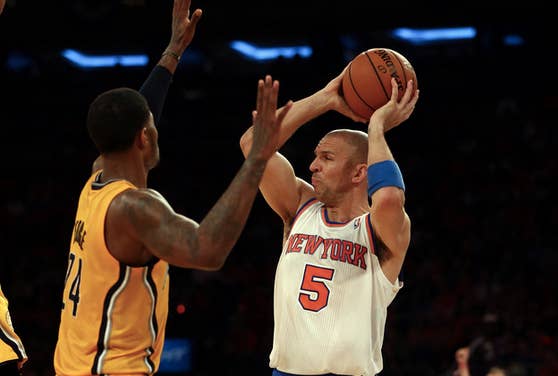 As far as basketball goes, Jason Kidd doesn't have anything to apologize for. Over 19 seasons in the NBA, Kidd's averaged 12.6 points and 8.7 assists per game. He averaged a double-double in three seasons. He's second all-time in assists. He's one of the best rebounding guards ever. He won an NBA championship and made 10 All-Star teams. He dyed his hair blonde.
Ever since his improbable championship with the Mavericks in 2011, Kidd's been on a downward slope career-wise, but one that has been remarkably gentle considering his advanced age — he was 38 and still playing more than 30 minutes a game when Dallas beat Miami in the Finals. You can chalk this up to a few things: remarkable durability, which is a gift from nature; the fact that he basically stopped turning the ball over in 2008, which is the kind of mental improvement necessary for an aging basketball player to compensate for physical decline; and the much-discussed evolution of his three-point shot. (Sort of a misconception, actually — Kidd shot 38%, 41%, and 43% from 2007-2010, but in 2010-11 he regressed below league average, and he's only been about average in the last two seasons.)
But things done changed in 2013. Through the 50 games Kidd has played in the 2013 calendar year, his stats are ghastly: 32.8% shooting from the field, 28.9% from three, and a cumulative 4.5 points and 2.8 assists a game in 25.4 minutes per contest. These are not good numbers. Although he continues to be effective in some ways — he steals the ball more than he turns it over — a Roomba would be a more effective scorer for the Knicks than Jason Kidd is right now.
These issues have come to a particular head during the playoffs. Check out his statistics through the Knicks' seven postseason games so far, including their 4-2 series win against Boston and their single loss to the Indiana Pacers.
Jason Kidd hasn't scored a point in 137 minutes of play. That is abhorrent. And based on his one shot attempt in nearly 17 minutes of action against Indiana, it's not hard to see why.
After getting a wide-open look on the perimeter, Kidd then wastes it by pump-faking. Thanks to his delay, Sam Young is able to slide onto J.R. Smith, and Tyler Hansbrough picks up Kidd, leaving him no choice but to shoot — which he does, barely catching the front of the rim. It's a disastrous sequence for a number of reasons, including but not limited to the complete absence of Kidd's confidence. And that awkward-as-hell little jab step on the pump fake just compounds matters. You almost want to clap for Kidd because he didn't travel. He looks like a guy playing his first pickup game in three years.
Kidd occupies a unique role tailored to Mike Woodson's offense, one he'd be able to fill on few other squads: that of the second point guard, helping to shuttle the ball around the perimeter and find the open three-point shooter. Even if he isn't creating baskets on his own, he works as a conduit for the Knicks' impressive ball movement. Now that he's completely lost his shooting touch, though, even the usefulness of his defense and ball movement can barely justify playing time.
The old Jason Kidd would go through a drought, then shatter doubts by exploding for five three-pointers to single-handedly win Game 2. Maybe the Old Jason Kidd is still capable of this explosion, but, at this point, it'll be a surprise the next time he scores a basket.
h/t Eric T.
UPDATE: Kidd failed to score again in Game 2, going 0-3 from the field, all three-pointers. He did have two rebounds, four assists, and two steals. And then there's this: