If You Want To Lose, Sign These Basketball Players
Rashard Lewis surrenders 14 more points per 100 possessions than he produces. The Heat just signed him. If you're trying to give up more points than you score, here are some other guys who will help a bunch.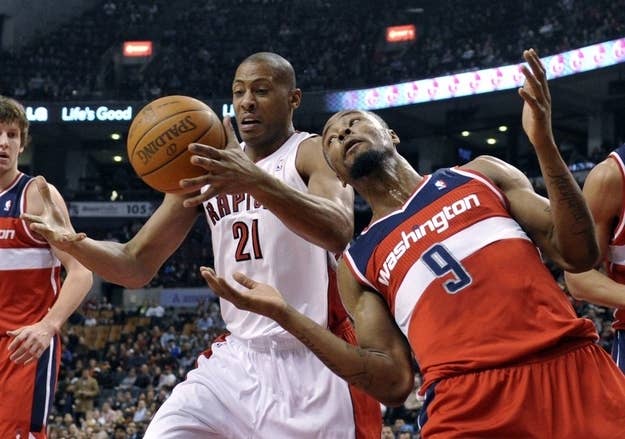 The Miami Heat just signed Rashard Lewis. Rashard Lewis used to be good. He used to be good enough that the Orlando Magic thought they should pay him $118 million over six years after acquiring him from the Seattle SuperSonics in 2007, following a season in which he scored 22.4 points per game.
He is not good anymore. Last season, in the final year of his huge Magic deal, Lewis produced an atrocious line of 7.8 points per game, 3.9 rebounds per game, 1.0 assists per game, .385 FG%, .239 3pt%, .457 true-shooting %, 94 offensive rating, 108 defensive rating, and 9.3 player efficiency rating for the Washington Wizards. The key elements here are the offensive and defensive ratings, which are calculated based on how many points a player produces or allows based on points, turnovers, assists, rebounds, and the like. The offensive rating has more to do with the individual player, and the defensive rating more reflects the performance of the team while that player is on the floor, but both give some idea of how a player fits in to a lineup.
That 14-point gap between Lewis' offensive rating and defensive rating is particularly atrocious: it means that, every 100 possessions, Lewis produced 14 fewer points than he allowed. Part of that, as mentioned, has to do with how bad the Wizards were; it isn't like Lewis was getting a ton of open shots or otherwise being supported on defense. But at the same time, part of the reason why the Wizards were bad is that they relied on players like Lewis.
(At least they got him for the veteran's minimum of $1.5 million on a one-year deal — a ~$20 million pay cut from his $21,136,631 salary in 2011-12, prorated because of the lockout.)
Lewis' futility made us wonder: how bad was that gap between his offensive and defensive ratings compared with the other least-productive players in the league?
I used Lewis' 729 minutes as the minimum, so as to exclude statistically insignificant samples. (Last year, the median number of minutes played for the 478 NBA players listed by basketball-reference.com was 940.)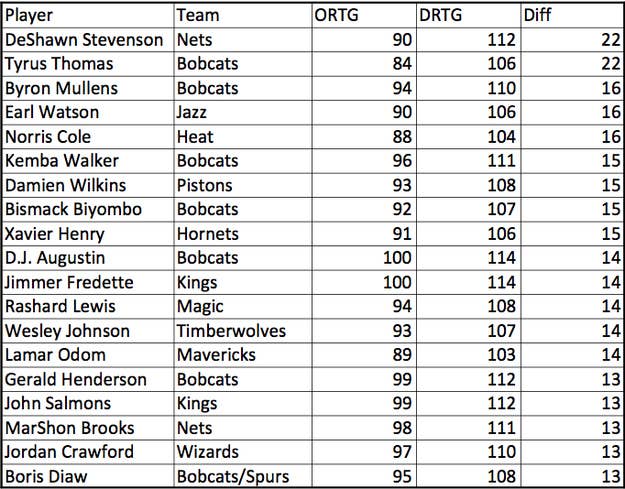 Lewis was tied for the 10th-worst aggregate rating in the league, with D.J. Augustin of the 2012 Bobcats — an unsurprisingly high number of Bobcats, who had the worst single-season win-percentage of any team ever, also made this list — Jimmer Fredette of the Kings, Wesley Johnson of the Timberwolves, and Lamar Odom of the Mavericks. Unsurprisingly, four of these five players' PERs also reflect how terrible they were in '11-12: Fredette's was 10.8, Johnson's 8.0, and Odom's 9.2. (D.J. Augustin had a 14.1, a click below league average; his defensive rating certainly suffered as a result of how bad his team was, but he's also an inefficient volume scorer, the one type of bad player that PER tends to go easy on.)
Of course, who had the worst aggregate rating in the league? None other than the player I already declared as 2011-12's least effective, DeShawn Stevenson! Stevenson had the worst PER of any player with decent minutes, and now, we learn that he also has the worst gap between his offensive and defensive ratings, meaning that you probably shouldn't ever let him play basketball for your team, even in a pickup game. (Tyrus Thomas tied with him, also, but Thomas' PER of 9.0 is more than double Steveson's 4.3. FOUR POINT THREE.)
A couple of other interesting points, aside from the Bobcats' remarkable futility. Highly regarded rookie MarShon Brooks comes off looking pretty bad here, and it's not only because of his ugly defense — his 98 offensive rating ranks in the bottom half of the league. And Norris Cole has a dreadful rating despite playing for the Heat, the league's best team. Cole showed promise at times during his rookie season, but his performance was incredibly inefficient: .452 TS% and a 7.9 PER, even though he used the ball 21.8% of the time, or just slightly above his fair share.
You can't completely measure efficacy with advanced metrics: Norris Cole hit some huge shots in the playoffs, and Stevenson was around more because he's cheap and the other players like him than for any on-court reason other than his situational isolation and PnR defense. (The idea that he's one of the top 40 defenders in the league is overblown; of Nets players with significant minutes, Stevenson's defensive rating was the third-worst, meaning that only Jordan Farmar and Anthony Morrow lineups allowed more points.) But if you're looking for a player to actually produce as a part of a basketball team, you should probably stay away from these guys, Rashard Lewis included.