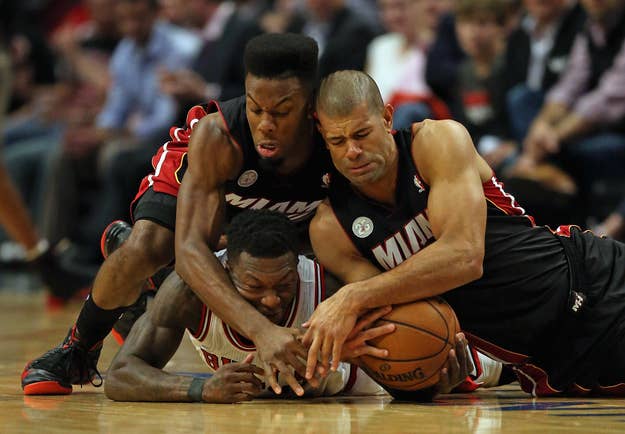 Along with the Golden State Warriors' Stephen Curry and Klay Thompson and teammate Jimmy Butler, the Chicago Bulls' Nate Robinson had been a major part of the success story of this year's playoffs. After seven years of wandering the NBA — first the New York Knicks, then, briefly, the Boston Celtics, Oklahoma City Thunder, and Golden State Warriors — the 5'9" point guard had become better known for the stupid things he did, like getting in fights and shooting on his own basket, then the fact that, when he focused for more than 12 seconds, he could score in droves.
In 2012-13, it looked like Robinson had finally maybe found a place. Playing in all 82 games for the first time in his career, Robinson seemed to have adjusted to coach Tom Thibodeau's disciplined, demanding style, and when the playoffs rolled around, the shorthanded Bulls, expected to fall early because of their overmatched, backup-filled lineup, managed to beat the Nets in seven — including a 34-point Robinson performance in a double-OT win. Then, adding to the surprise, the Bulls beat Miami in Game 1, with 27 points from Robinson. He was becoming a folk hero, and Chicago had a potential miracle on its hands.
That didn't happen. The Bulls lost their next three, reaching their nadir Monday night during a 23-point loss. Struggling most of all was Robinson. Here's a supercut of his missed shots last night as a sort of tribute and memorial to Chicago's gallant playoff run without Derrick Rose. Thanks for the memories, Nate.