Here is the 2013 NCAA Tournament bracket, via CBS. Your top four seeds are Louisville, Kansas, Indiana, and Gonzaga.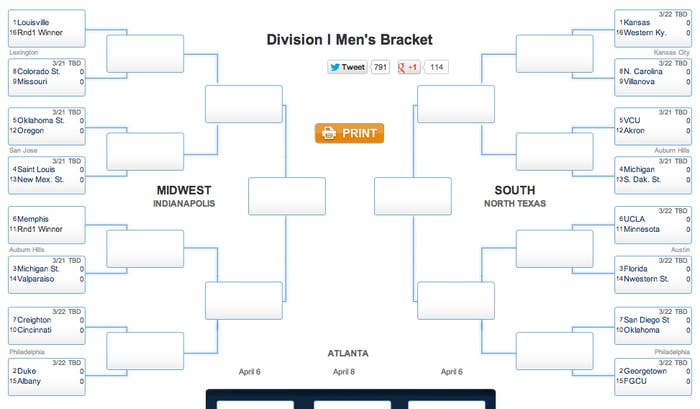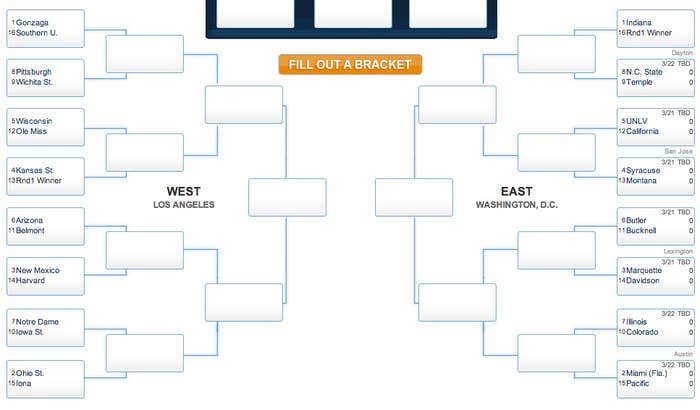 Bracket via CBS Sports.
Despite being the first overall seed in the tournament, Louisville drew a murderer's row of a region, with Duke and Michigan State at #2 and #3. In addition to being two of NCAA basketball's most historically successful franchises, Duke was in the conversation for a #1 seed, and Michigan State's coach, Tom Izzo, could get 12 out-of-shape goats to the Final Four. On the flip side, the West appears at first glance to be the tournament's weakest region: #1 seed Gonzaga has yet to beat anyone of note, and Ohio State and Kansas State are solid but unspectacular squads. #3 New Mexico is definitely salivating.
Other noteworthy points: ACC regular-season and tourney champion Miami fell short of a #1 seed, probably because they lost to Florida Gulf Coast early in the season; North Carolina coach Roy Williams could end up in a match-up with his old team if UNC beats Villanova and Kansas wins their first-round game (which they will); and Oregon receives a #12 seed despite winning the Pac-12 tournament and finishing second in the conference during the regular season.
The four play-in games take place on Tuesday and Wednesday, and tournament play begins in earnest Thursday.