British Prime Minister David Cameron Forgot His 8-Year-Old Daughter In A Pub
David Cameron, a known "chillaxer," left his daughter in a pub on a day packed wall-to-wall with sports. Did the dedicated tennis fan get distracted?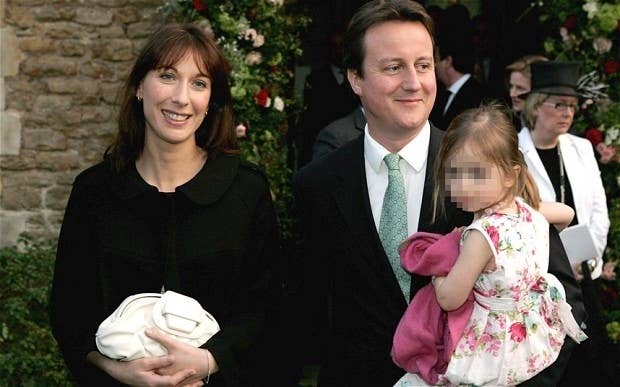 The Prime Minister thought Nancy was in the car with his wife, while Samantha thought she had jumped in with her father. It was only when both cars pulled up to Chequers, two miles away, that they realised

she was not there

.A Downing Street source said the "distraught" parents rushed inside and telephoned the pub, where staff reassured them that their daughter had been found alone in the lavatory and was being looked after.
So, the Prime Minister of Great Britain, his bodyguards, and his wife managed to leave their eight-year-old daughter behind in a pub. Not sure how this is even possible — I mean, shouldn't that girl have her own personal security detail? — but I have a theory as to how it happened.
According to a newly updated biography, the Prime Minister is a master of the art of switching off. "If there was an Olympic gold medal for 'chillaxing'," said an unnamed ally, "he would win it." ...He's not averse to three or four glasses of wine with Sunday lunch, and likes to settle down on the sofa to tackle a DVD box set with Samantha. His love of tennis has been well publicised, but now we learn that he calls his tennis machine the "Clegger".
Exhibit B: yesterday featured the final of the French Open, featuring Rafael Nadal and Novak Djokovic, beginning at 1 p.m. Greenwich Mean Time. At 5 p.m., Spain played Italy in the most anticipated match of the first round of the Euro 2012 soccer tournament. That means wall-to-wall sports for the entire afternoon, an afternoon that PM Cameron spent in a pub. And, if the above article is to be believed, Cameron was probably 3-4 glasses of wine deep.
CONCLUSION: Here's what we know: we know David Cameron loves tennis. We know David Cameron loves drinking on a Sunday. We know David Cameron loves pubs. And because of rain delays, one of the best tennis matches of the year, between the sport's two greatest practitioners, was ongoing throughout the afternoon. Presumably, Cameron was watching that match, and he must have left during either that or the soccer games, meaning he was in a rush to get home.
Did watching tennis and soccer — "chillaxing," if you will — cause David Cameron to leave his daughter in a pub? Almost definitely. Is David Cameron secretly a lax bro? It's entirely possible! And we can all rest assured that heads of state are just as liable to make parenting mistakes as we are.